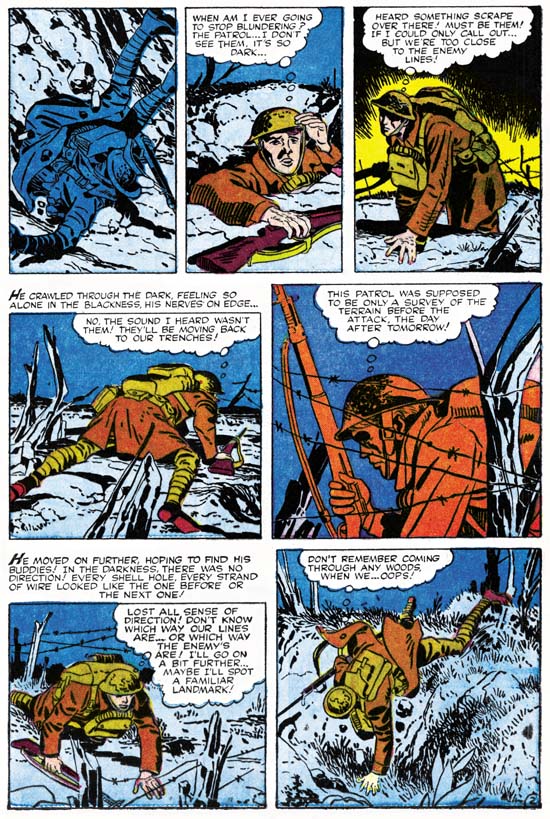 Battleground #14 (November, 1956) "Mine Field" page 2 pencils and inks by Jack Kirby
Jack Kirby turned to freelancing when the Simon and Kirby studio failed. Battleground #14 (November 1956) was the first of his freelance jobs to be published. It also marked Kirby's return to a company that he left almost 15 years before. Jack probably still remembered Goodman's unfulfilled promise of royalties for Captain America, but Kirby had a family to support and so had to swallow his pride. His reentry job was a short five page war story called "Mine Field". The job should have been easy for Jack, only a couple of years before Kirby drew, wrote and edited for Foxhole, a war comic for Simon and Kirby's own publishing company called Mainline. One story for that title, "Hot Box", was only two pages long and Jack still managed to make it a masterpiece.
"Mine Field" is a simple tale. A somewhat bumbler of a soldier gets separated from his outfit during a night patrol. He becomes lost in the dark and by daybreak finds himself close to the enemy's position. From his observations he realizes the Germans plans to lure the Americans into a mine field. Upon dark the soldier rearranges the German marker and finds the way back with the outfit. The table has turned and the enemy falls into their own trap. It is a good story, just not one that plays on what would normally be considered Kirby's strengths. Jack likes his war action up close and personal and that is not what this story is about, although Jack does manage to sneak in some typical Kirby action in the last panel. But it is because the story does not have a lot of action that it provides a showcase for how good an artist Kirby was. I provide an example page above. Note that there really is not a lot happening on this page. We find the hapless soldier fall into a shell hole and his unsuccessful attempt to find his comrades. Yet by altering the view point and careful use of the landscape Jack manages to make it all interesting. Kirby is able to do this throughout the story. This sort of low action story may not have been the best vehicle for Jack, but he still managed to make it look easy.
Jack's pencils are always at their best when inked by his greatest inker, Kirby himself. For this story Jack's inked in a manner which I referred to as the S&K Studio style. That style is categorized by bold brushwork and some unusual techniques. In the image I provide above, note the use of the picket fence pattern (see inking glossary) in the second and fifth panels. By itself there is nothing unusual about Jack's inking in the Studio style, he had often used it in the past. What is surprising is that this style appeared in a work at this late date. At this time Jack had adopted a similar style but with a finer brush for Prize romance covers or a simpler style without techniques like the picket fence brushing for romance story art. However the inking in "Mine Field" does show one important trait agreeing with both the Fine Studio and Austere styles. Spotting has been downplayed giving the entire art a lighter look. Black areas tend to be limited coverage but when used are done by filling the area with ink. The inking for this story was not as masterful as Jack would shortly do for Atlas in Yellow Claw #2 and #3. However in its own understated way it is a beautiful job without any signs of rushing and loss of control found in "Afraid To Dream" that Kirby also did in the next month.
I have already remarked above how the plot for "Mine Field" was not typical for Kirby. I also find that the actual text writing does not have Kirby's "voice". Jack's writing usually includes exclamations that are a little over the top. I find none of that quality in the script for "Mine Field". Therefore I do not believe that Jack had much to do with the writing for this story and that he was working from a script supplied by Atlas. This sets this story apart from most pre-Implosion Atlas work which either Kirby seemed to have a lot of control over the writing (Yellow Claw, "Afraid to Dream", "No Man Can Outdraw Him" and "Pokerface") or at least some input to the plot (Black Rider Rides Again).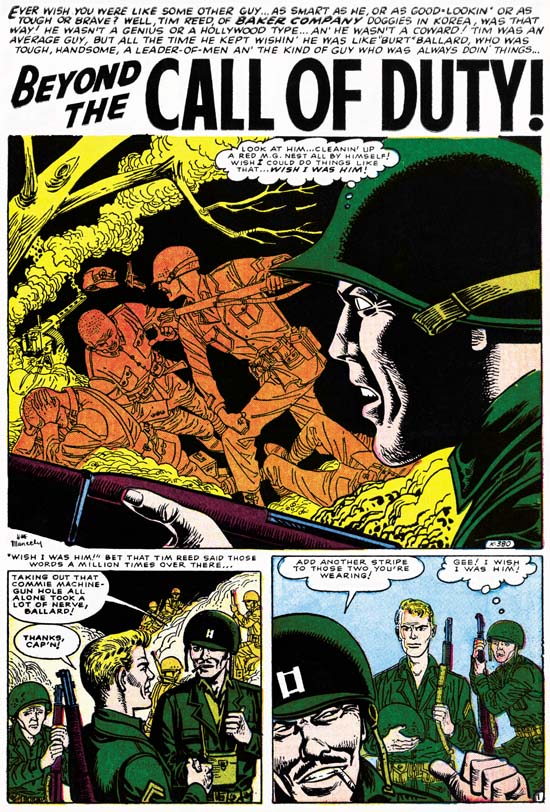 Battleground #14 (November, 1956) "Beyond the Call of Duty" art by Joe Maneely
In my posts for this blog I generally avoid comparing other artists to Jack Kirby. It really is not fair and can result in overlooking the special talents these comic book artists possessed. Effectively Atlas made just such a comparison between Jack Kirby and Joe Maneely and judged Maneely as the better artist. Presumably this judgment was made by Stan Lee and it continued as long as Joe Maneely was alive. It was Joe that was the most frequent Atlas cover artist while Jack did not even get to do the covers for comic books titles where he did all the interior story art. In Battleground #14 Joe got the most important first story while Jack's contribution was delegated towards the back. But this does not seem to reflect the actual merits of the two stories. Maneely is working from a script with much more action then what Kirby had. For a war title this should almost insure a more interesting story, yet Kirby's piece is a much better read. Maneely just does not seem to know how to make the action exciting. Under Joe's hands all of the artwork seems dry and unmoving. Even today there are those who say Joe Maneely was a great artist. I just do not understand exactly what they feel Maneely did so well.