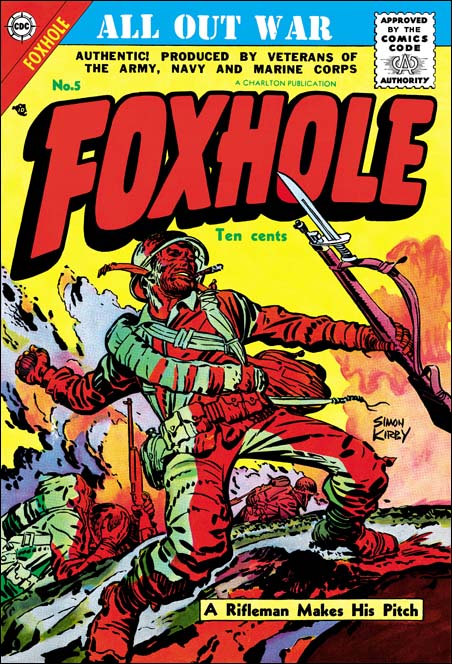 Foxhole #5 (April 1954) by Jack Kirby
This was another cover selected by someone in the recent Featured Cover Contest as their favorite Simon and Kirby cover. I have previously commented on the general excellence of Mainline's Foxhole covers. I noted that these covers particularly showed exceptional coloring and suggested that Simon or Kirby may have been more directly involved in producing the color guides. Foxhole #5 was published by Charlton but shares these characteristics. Although I describe it as a water coloring effect, Foxhole #5 looks like it was actually done by airbrush. Now if the color separation from the color guide was done by a photographic technique, this would suggest that perhaps Joe might have been responsible since he was adept at using the airbrush while Jack was not. However for comic books color separation was usually done by hand by someone at the printers. So the use of airbrush for the coloring of Foxhole #5 was likely not to have been done by Joe.
Foxhole was the only real war genre that Simon and Kirby had produced. I exclude Boy Commandos because that is really more of a kid gang comic. It is regrettable that Mainline had failed as Foxhole along with Bullseye were really exceptional comics. That is not to disparage In Love or Police Trap, but S&K had done a lot of crime and romance work so the loss of those two titles is not as significant. Regrettably the original Foxhole and Bullseye comics are pricey so it is unfortunate that they have not received the sort of reprinting that Boys' Ranch and Fighting American had. Super Comics did do reprints of both in the 60's but without the original covers. Some of these are still be found at reasonable prices and are well worth it even if there are not a lot stories actually drawn by Jack Kirby.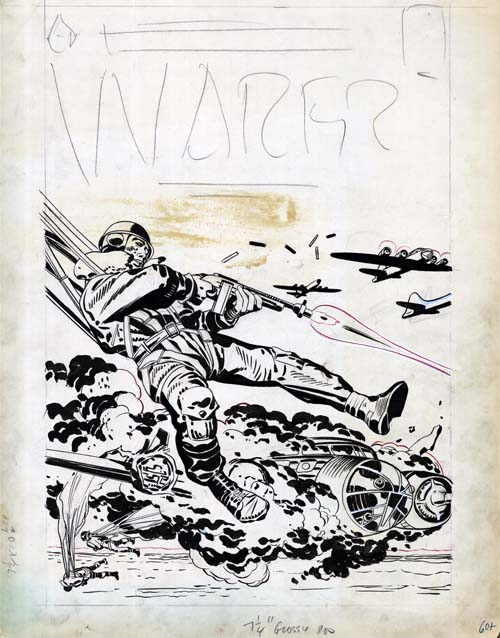 Warfront #28 (January 1956) original art
Although S&K did not produce any war comics other then Foxhole, they were involved in covers for some of Harvey's Warfront. I have posted on two of these covers (#28 and #29) in a chapter of The End of Simon and Kirby. Some believe that Warfront #30 and #34 were also drawn by Jack Kirby, but I am inclined to disagree. I have seen the original art for #30 and #34 and, like the cover art done by Kirby for Harvey romances, the art was done on Bristol board. This board is rather thin, unlike the thicker Illustration board that were previously used for Simon and Kirby productions. Interestingly the original art for Warfront #28 was also done on Illustration board. Further the art and especially the inking style is much closer to Foxhole and other Mainline comics. Particularly look how the lower leg and both forearms are spotted by large puddles of black that leave just small un-inked areas. Finally the #28 cover depicts a scene from a story called "Hot Box" published in Foxhole #2. Because of this I believe that the art for the cover of Warfront #28 was an originally unused one meant for Foxhole #2.
The red lines on the original art were used to indicate limits to a colored area. The red lines were not supposed to show up as line art on the black plate, but somehow this was ignored when the cover was actually published. The positions of the two right planes and one bullet shell were shifted on the published cover. The brown stain is from rubber cement which suggests that the art once had something pasted in that position.