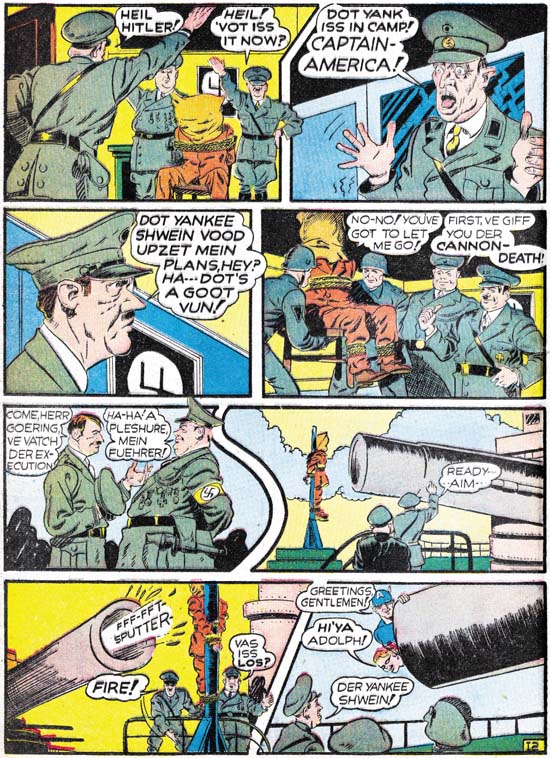 Captain America #2 (April 1941) "Trapped in the Nazi Stronghold", art by Jack Kirby
Simon and Kirby really hit it big with Captain America. I am sure an important reason about why it became such a large selling comic was the cover. The U.S. was not yet in the war but there were still many who could appreciate a depiction of Captain America slugging Adolp Hitler. What fictional villain could compare with the evil of the all too real Hitler? But brute force was not the only means that Simon and Kirby would use to take Hitler down a peg or two, humor was used as well. It should be obvious from the image above that S&K portrayed Hitler as somewhat of a buffoon.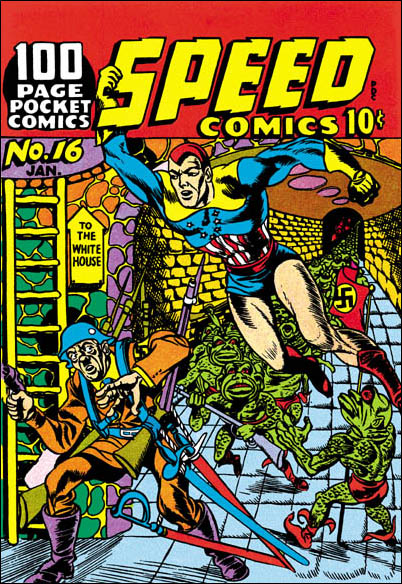 Speed #16 (January 1942), art by Al Avison
Of course once Hitler graced the pages of Simon and Kirby comics, other artists would use Adolf as well. Al Avison had a special advantage, he was one of the crew working for Joe at Timely. Al even drew some Captain America stories. Avison's efforts never made it into Cap comics, they were recycled as the Patriot in USA #1. (Other then Kirby, the only artist to draw Captain America in the early issues was Simon.) Avison also did some work for Harvey Comics and you tell he learned a lot from Jack. For the cover of Speed #16 Al provides Hitler leading an attack on the White House. Armed with a gun, four rifles and four swords, Avison has also makes Hitler out to be a buffoon. But Avison has overplayed his hand, Adolf and his army are so ridiculous that they hardly seem a threat to Captain Freedom.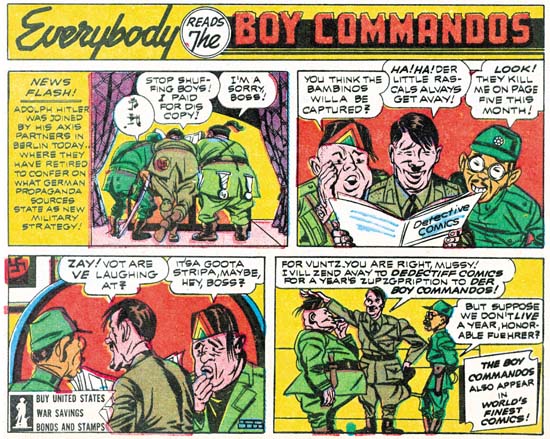 Adventure #83 (February 1943) house ad at the end of a Sandman story, by Jack Kirby
Just because Joe and Jack left Timely and Captain America does not mean that they stopped making fun of Adolf Hitler. Far from it. The original Axis of Evil was jokingly portrayed in a house ad for the Boy Commandos. Only four panels but that is all S&K need. I guess the Axis leaders were the original Three Stooges.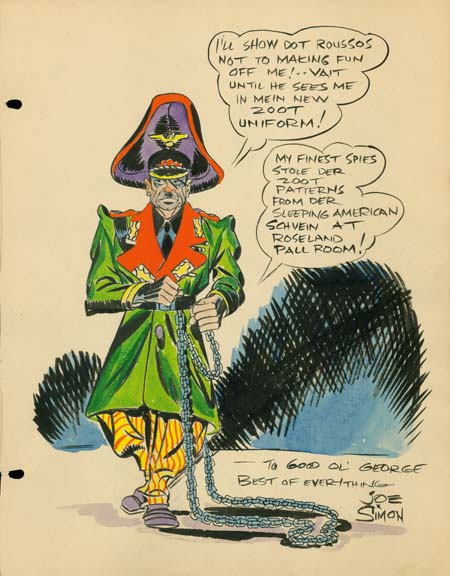 Sketch for George Roussos by Joe Simon (1942)
The above sketch is one of the reasons I have been thinking of Adolf Hitler lately. It is undated but it was from the same George Roussos sketch book that included a drawing by Jack Kirby dated as 1942. Further Joe would shortly be joining the Coast Guard during which I doubt that Roussos would have the opportunity to have Joe add something to his sketch book.
George Roussos was not only a talented artist, he was also an early fanboy. He had some of the greatest talents of the day provide drawings for his book. What a treasure it was. I say was because it recently has been disassembled and the individual pages auctioned off. It is a shame that it was not published before it was taken apart. If you are willing to register with Heritage Auction Galleries you can see the work by searching their Auction Results Archives under original art for George Roussos. Joe's entry is not dated, but it must have been done about the same time as Jack's, 1942.
Joe Simon has his own particular brand of visual humor of which this is a very early example. What could be more incongruous then Adolf Hitler in a Zoot suit? Where did he every come up with that? I have no idea. But this sort of irreverent humor would show up again when Joe produced the Mad-close magazine called Sick. In fact it still shows up in the art that he produces today.
I remember years ago someone criticizing Mel Brooks for his movie The Producers. They asked me how anyone could find something funny in Adolf Hitler. Make no mistake about it, Hitler was a monster, the most evil person of our century. We should never forgive or forget the horrible things he did. That however is not enough. There are people who will try to praise Hitler for some of those very awful things. So we must add ridicule on top of our scorn. That is something Joe Simon still understands very well.