I believe that I was digitally restoring comic book art before anyone else. I say that because I began when consumer scanners first became available. Having my own personal scanner opened up new possibilities. Previously I had used Photoshop to work on my fine arts printmaking. I would have to take my photographic slides to a commercial lab for scanning. It was inconvenient and expensive. After a week or so I would get back a Photo CD. These were special CDs for storing the scans, at the time there were no drives that could burn a standard CD. This was fine for slides, especially since I had no other choice, but having old comic books scanned by a commercial lab was completely out of the question. But when scanners became available to consumers I quickly realized their potential for comic book art restoration. Printers were a different problem as there were few color printers available and they way too expensive. Even the black and white laser printer I bought was a huge investment. But once I assembled these devices I began working on how to use Photoshop to restore the line art from the scans.
After some of what I would describe as trial work I started an ambitious project, to restore the line art for all the Simon and Kirby covers. When I look back I cannot believe decided to do that project. Not only would it require an incredible amount of work but also I did not have all the comics in my collection. It took a long time but I persevered. When I had restored all the covers I bound them by hand into books another time consuming project. In the end I had 24 sets of books (each set consisting of two volumes). Half of these went to Joe Simon for the help he supplied and because, well he was Joe Simon. Some sets went to various people for the scans they provided and a few went out as gifts. A lot of the covers were under copyright protection so it was never my plan to sell any copies and I might add I never have. I have no idea what these books are worth on the market because apparently the recipients valued them so much that none of the books have ever been offered for sale.
With those volumes completed I began to think of my next project. I was a little unhappy about only restoring the line art because comic books were meant to have color, or at least the comics during the period that Simon and Kirby were producing them. Fortunately by then color printers had become affordable. So I decided to begin restoring Simon and Kirby work in full color. This time restoring all the Simon and Kirby stories was not considered an option. It would be great if I succeeded in restoring everything but that would be way too many pages to accomplish in any reasonable amount of time. Once again I would hand bind restorations into books. The books would serve more than a personal purpose, we would use them to show publishers what could be done in the way of reprinting Simon and Kirby. This time I would only make two copies of whatever I restored, one for Joe and one for me. In exchange for his copy Joe would provide mine with some art. This was done on the end paper of the book. Now if Joe had just added pencil sketches there would be no problems since mistakes could be erased. But Joe liked to work in color which meant there was little that could be done with any errors.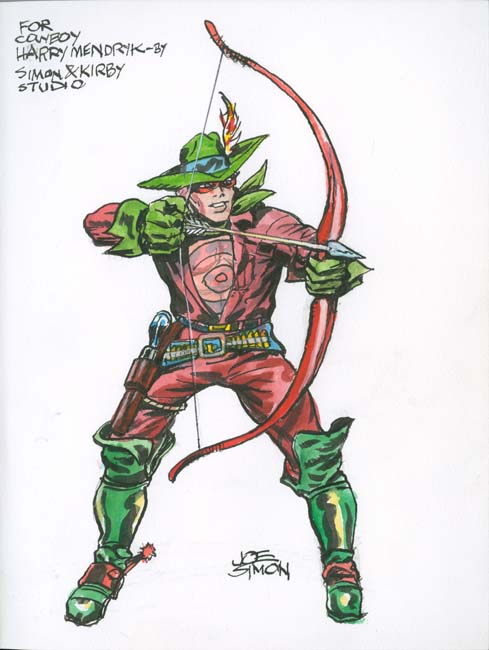 Bullseye volume
What I expected Joe to provide would be the standard character sketches that comic book artists do all the time. Joe did just that sort of thing for the Bullseye book basing his piece on a drawing that Jack Kirby had done.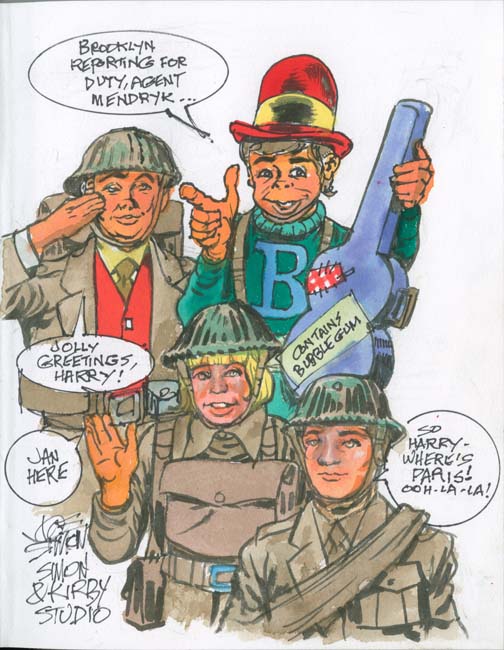 Boy Commandos volume
While the Bullseye was a more traditional character drawing, all the others that Joe did incorporated elements of humor. Not necessarily of the side-splitting variety but you can tell he just was not satisfied with just providing a sketch.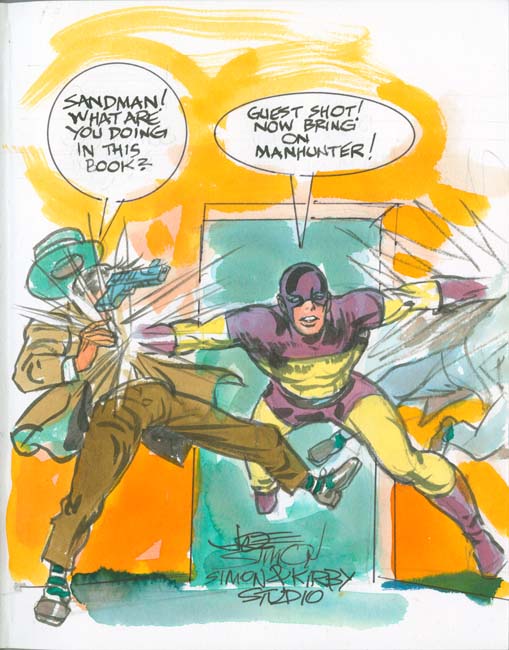 Manhunter volume
Surprisingly Joe drew Sandman in a book of Manhunter stories. The accompanying texts suggest that this was not an accident.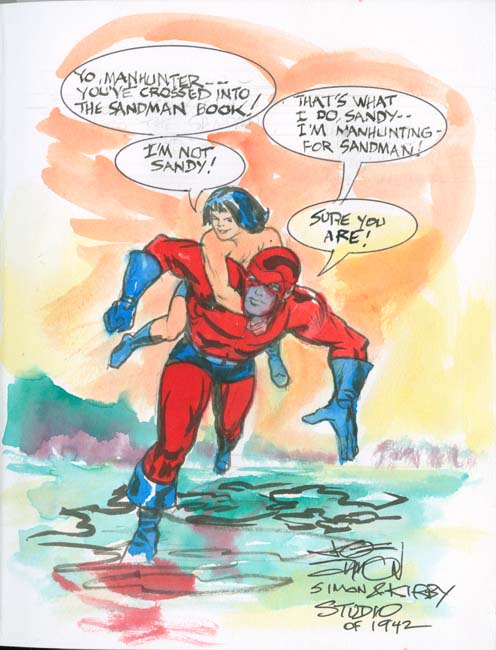 Sandman volume
With Sandman appearing in the Manhunter book it is not too surprising that Manhunter appeared in the Sandman book. Once again the text indicates this was deliberately done.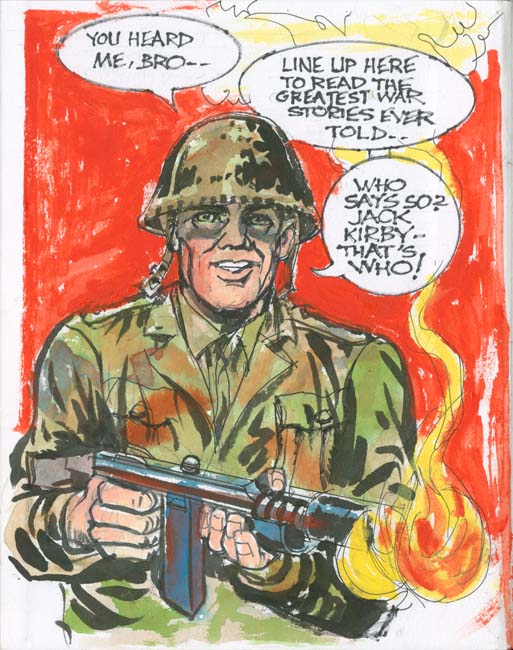 Foxhole volume
A soldier appears in the Foxhole volume but the text imply that this is not just any soldier but is meant to be Jack Kirby. All of Joe's sketches were done on the end paper at the front of the book except this one which was done on the inside cover.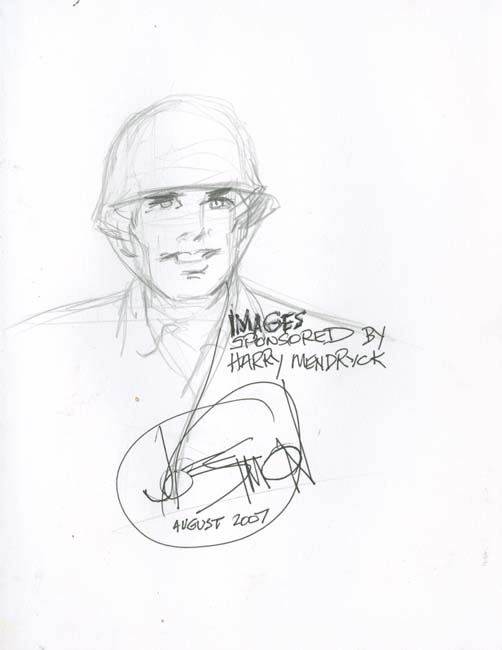 Foxhole volume
The Foxhole contained two sketches; a colored one on the inside cover (shown earlier) and a pencil sketch on the opposite end paper. This was the only book that got this double treatment as well as the only one dated. Usually Joe got the spelling of my name correctly but here he adds an extra 'c'.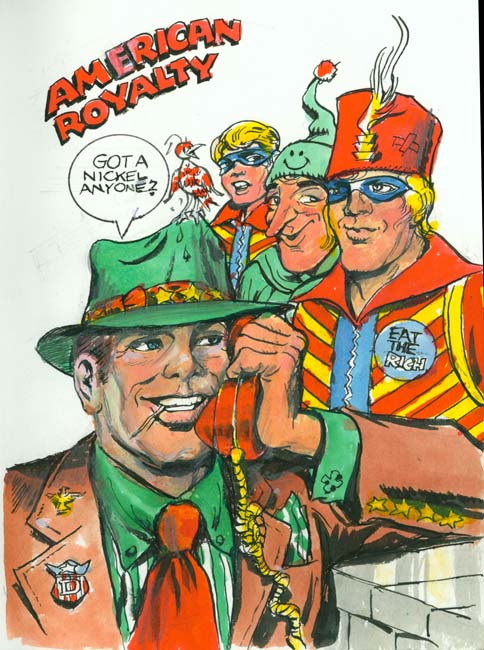 Duke of Broadway and the Vagabond Prince volume
Years before the current debate about growing disparity between the rich and the 99%, Joe provided his irreverent solution, "Eat the Rich" indeed.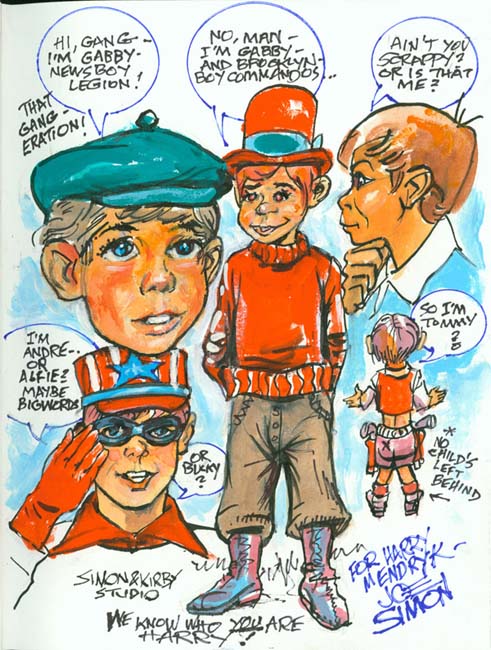 Newsboy Legion volume
Joe sometimes commented about how one youthful character would with minor changes be transformed into another.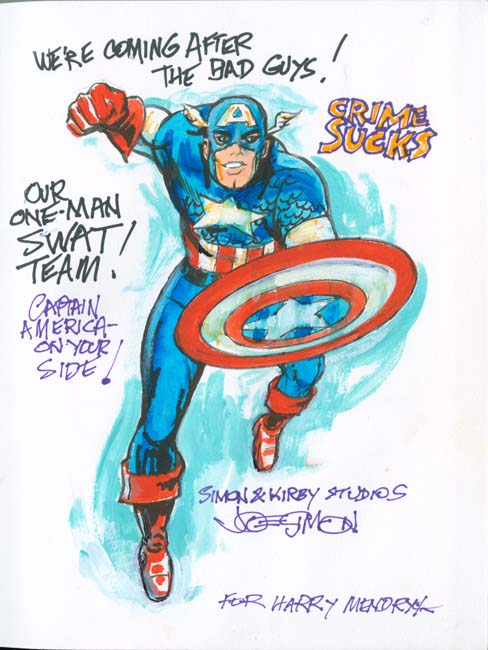 Headline volume
I am not sure why Joe put Captain America in a book of crime stories. Perhaps he felt that his humor was not appropriate for the crime genre? But I am not one to complain about getting Captain America art from one of his creators.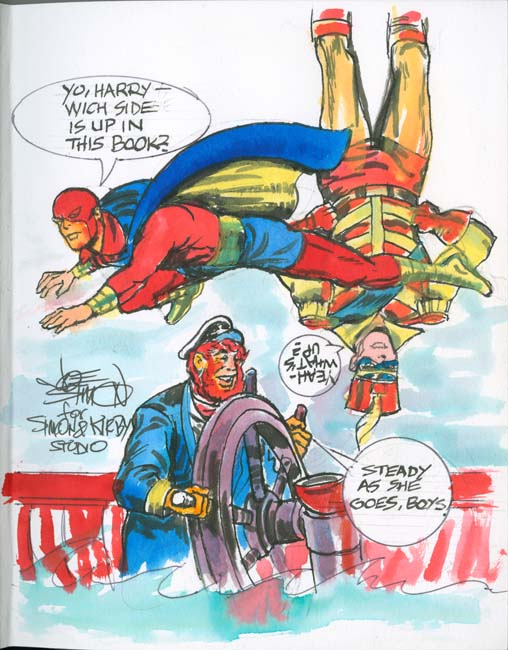 Stuntman and Boy Explorers volume
I inadvertently put the cover on upside down for one of Stuntman and Boy Explorer books. Needless to say I was very annoyed at myself about this but there was no way I was going to give the flawed volume to Joe. With his art Joe turned this defective book into something special.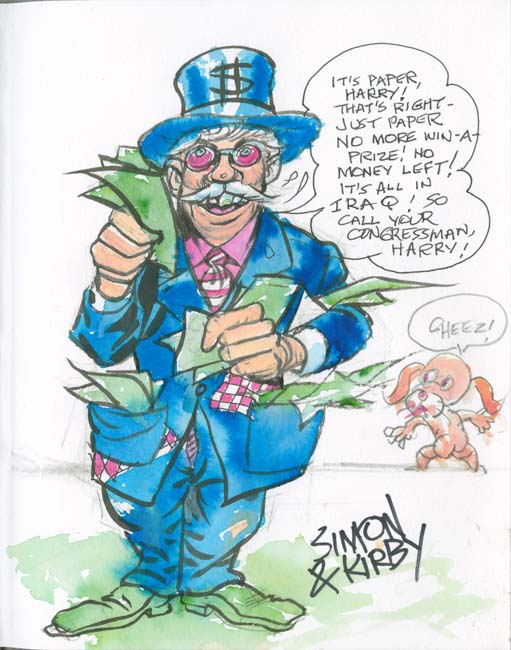 Win A Prize volume
Uncle Giveaway offered prizes to the readers of Win A Prize Comics. Here Joe jokes that money is just paper but there was none left because it all went to Iraq. Joe was a lifelong Republican but he did not like Bush and he felt the Iraq war was a mistake. I believe Joe was still the kind of Republican that was not that unusual when he was younger but today is pretty much extinct, a least on the national level, that is a moderate Republican. Joe was very proud of the work he did to support John D. Rockefeller and similar Republicans.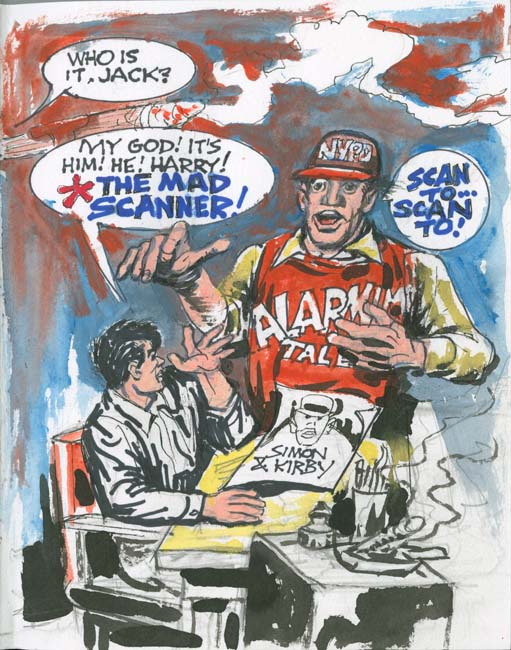 Alarming Tales volume
A personal favorite because here I am depicted in the company of Joe Simon and Jack Kirby.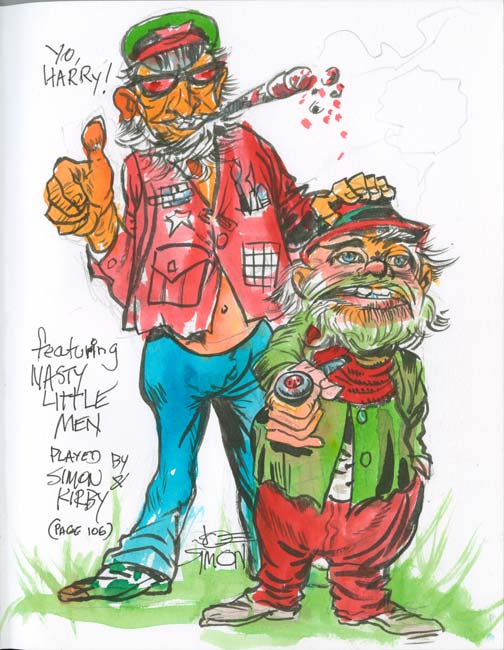 Black Magic volume
Nobody would describe Joe as little and nobody that actually knew him would call him nasty. I never met Jack but nasty does not seem appropriate for him either. While not literally a portrait as far as I know this was the last time Joe drew himself with his old partner Jack.
I made a few more reprint volumes that Joe never added art to. I do not remember why that was but I am sure it was not due to any reluctance on Joe's part. These final volumes were made about the time that negotiations had begun with Titan to reprint Simon and Kirby material. I think we both had other things on our minds. Now I treasure the volumes that Joe did provide his art and humor.