Normally I provide at least one post every week. This is often difficult because I have a full time day time and in my "spare time" I am actively working on restorations for Titan's Simon and Kirby library. The only way I can succeed in keeping my blog going is plan my post ahead of time and write it during my lunch hour. Unfortunately this week when I came to do the actually writing I realized that my planned subject (an opinion piece) really did not warrant posting. But with my tight schedule I was unable to switch to another topic. So this will be one of those rare weeks when I will have to take a brief pause. I should return to my normal blogging next week.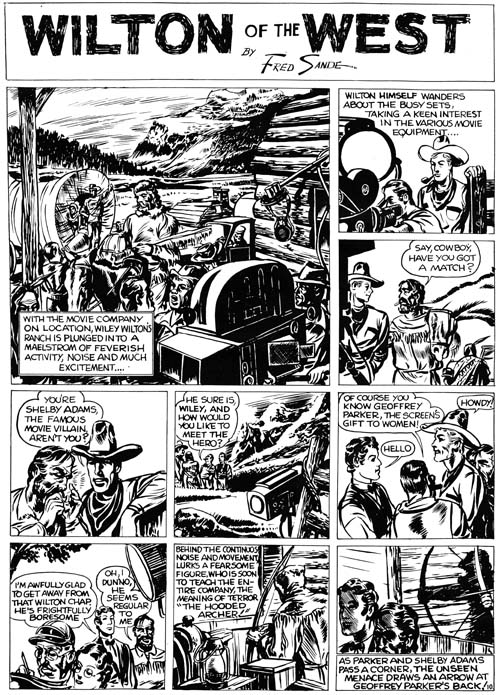 "Wilton of the West", pencils and inks by Jack Kirby
However, I do not want to leave my readers without something to look at so I will follow the example of an earlier pause (A Brief Pause) and provide an image from Jack Kirby's early work for the Eisner and Iger studio. This particular strip appeared in Jumbo Comics #3 (November 1938) but my image is from a scan of what was either a proof or presentation piece. Presentation pieces were made to be provide potential clients with examples of a proposed syndication strip. The nice thing about proofs like this one is that the paper was of a much higher quality and so provides a superior copy.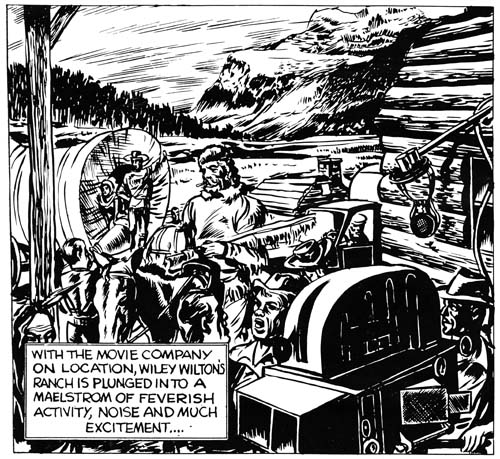 "Wilton of the West" panel 1, pencils and inks by Jack Kirby
The work that Kirby did for Eisner is interesting because you can see him learning his trade. Jack was already better than many of the contemporary comic book artists but that is not saying much because there were a lot of really poor comic book artists at that time. However Kirby was not yet as talented as the artist then working on published syndication strips. On this particular "Wilton of the West" you can see Jack not completely successful experimenting on his inking. Kirby has put a lot of effort into the brush work, particularly on the splash like panel I show above, but it is not very effective. I believe much of the problem is that all parts of the panel seem to get the same amount treatment. The final result seems cluttered and unfocused. Kirby quickly learned from his mistakes and had already improved in a Dr. Hayward strip done a short time later (shown in the same A Brief Pause post that I linked to before).
On a different subject, the reader might be interested in a recent interview that Joe Simon gave Big Shiny Robot.