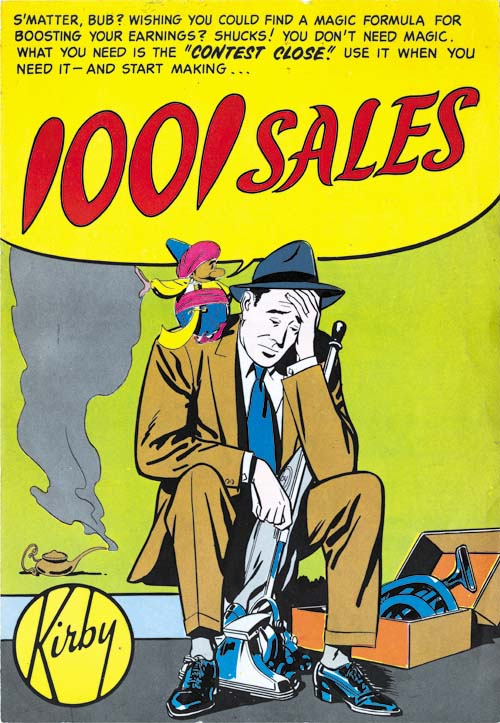 "1001 Sales", pencils and inks by Marvin Stein
I have to admit when I decided to write a post about some recent commercial comics that I have come across I thought about giving it the title "A Newly Discovered Kirby Comic". Such a title would surely attract attention and yes the cover to "1001 Sales" has a conspicuously Kirby marking. However it is not Jack Kirby that is referred to but Kirby Vacuum Cleaners. The artist to this commercial comic and two others that I will also discuss was Marvin Stein.
"1001 Sales" is a slim 4 page comic book. Really nothing more than a single sheet that has been folded. The paper is newsprint although perhaps a little better quality than the paper of typical comic books. But otherwise clearly recognizable as a comic book. Political and commercial comics were not that unusual years ago but have are pretty disappeared today.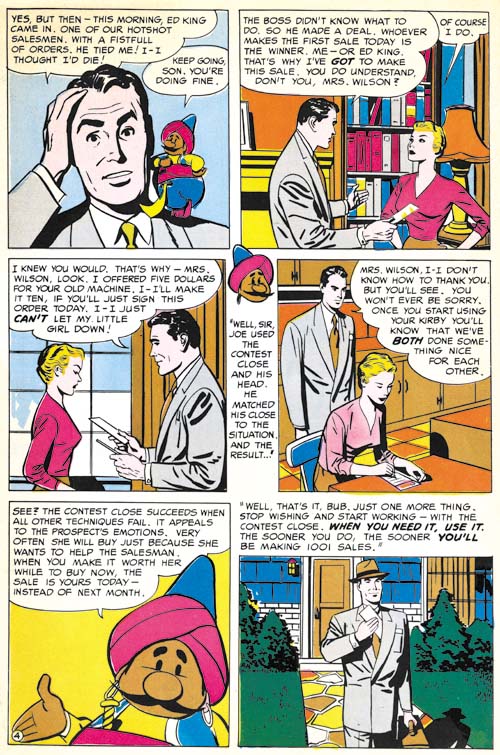 "1001 Sales" page 4, pencils and inks by Marvin Stein
The first page, which passes as a cover, may not be immediately recognizable as drawn by Stein. But this is due to the unusual pose and expression, at least compared to Marvin's comic book work. But the art style found on the other pages clearly belong to Stein. The art was a bit more polished than his typical comic book work but this is to be expected for commercial publications. Actually Marvin's commercial art seems much less dry than typical for this type of work as done by other comic book artists. Stein's inking plays an important part of what makes this work so appealing.
"1001 Sales" is undated and the only marking on it is "produced by Visual Medium Co., Massapequa, N.Y.". But the style matches Marvin's work from 1955 to 1958 (after which Stein stopped drawing for comic books) that it was probably executed not long after.
I cannot resists a comment about the theme of "1001 Sales". This comic was obviously aimed at Kirby salesmen to promote the use of the "contest close". This was a device to achieve sales by appealing to potential customer's better natures. Clearly there really was no contest which offered a special doll as a reward for the most sales. The mention of a daughter expecting the salesman to bring home this prize was obviously nothing more than a technique aimed at a customer's maternal feelings. It really is surprising that such a blatant lie was being used to increase sales. However a check of Consumer Affairs suggest that similarly objectionable techniques may still be used by Kirby sales personal.

"Engin-Surance", pencils and inks by Marvin Stein
Stein created another comic "Engin-Surance". Once again a short four page work, that is nothing more than just a folded sheet. This comic is marked as "Litho in U.S.A. by Visual Medium Co., Massapequa, N.Y.". This is the same company that "produced" the "1001 Sales" comic. This suggests that Visual Medium was not an advertisement agency but the printer.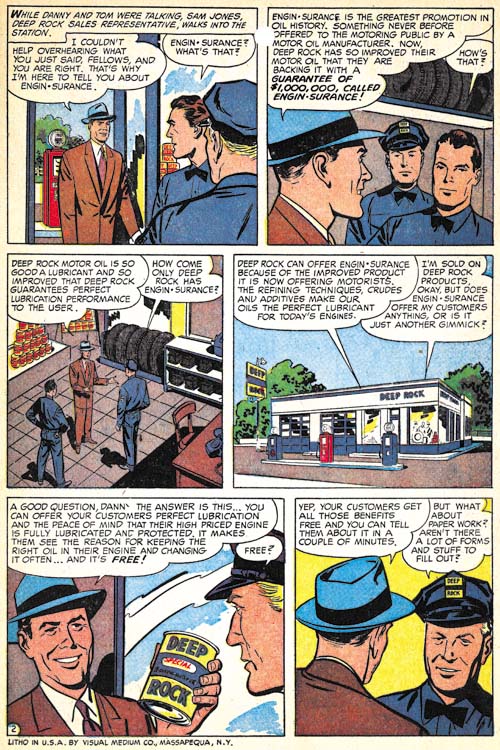 "Engin-Surance" page 2, pencils and inks by Marvin Stein
Once again Marvin Stein's hand is not as obvious on the cover art as it is in the interior pages but I do believe he did the cover as well. Frankly the art for "Engin-Surance" is nowhere nears as nice as in "1001 Sales". It suffers from being a bit dry which is a typical failure of commercial art.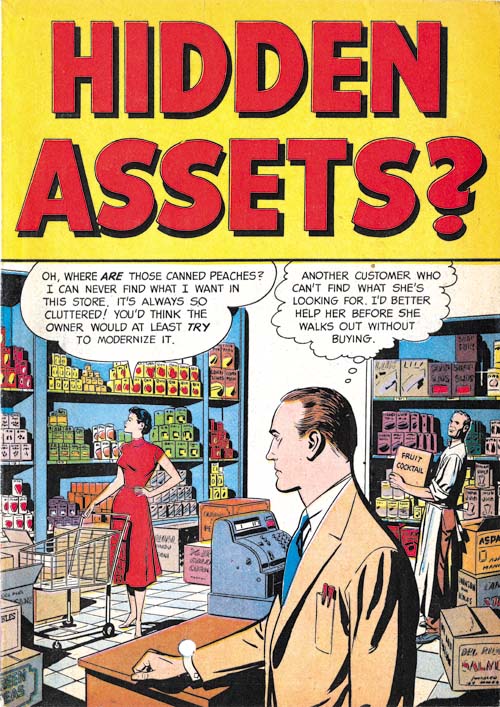 "Hidden Assets?", pencils and inks by Marvin Stein
The final commercial comic by Marvin Stein that I have come across is "Hidden Assets?". Unlike the previous examples, this comic is eight pages long. The two sheets that formed the book were not stapled together but rather glued. There are no markings to indicate who produced this comic.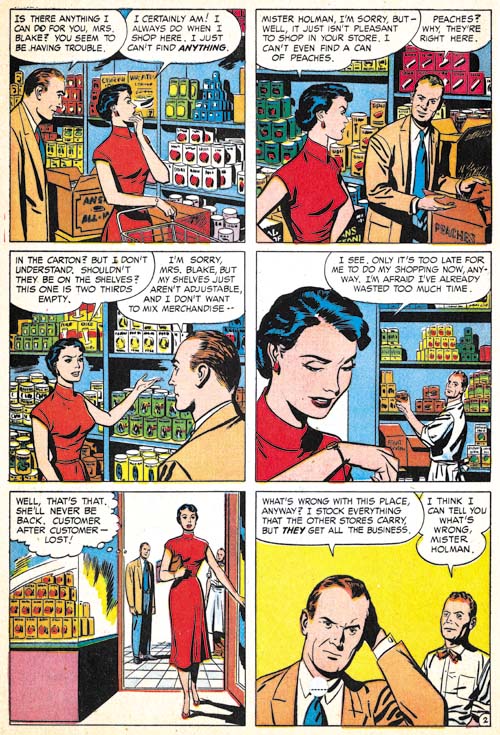 "Hidden Assets?" page 2, pencils and inks by Marvin Stein
The quality of the art falls somewhere between the two previous examples. Note the woman in panel 4. The way her head tilts down and to the side somewhat is a typical Stein pose. Also typical for Marvin is the particular way the perspective does not seemed to be handled quite correctly. The distortion is not enough to make to detract from the beauty of the drawing but enough to be distinctive.
I have seen commercial work by other comic book artists such as George Roussos for General Electric. But I have to say that normally I find the art much too dry for my tastes. But I rather like what Marvin Stein did commercially, particularly "1001 Sales". Stein never received much recognition but he really was a talented artist.