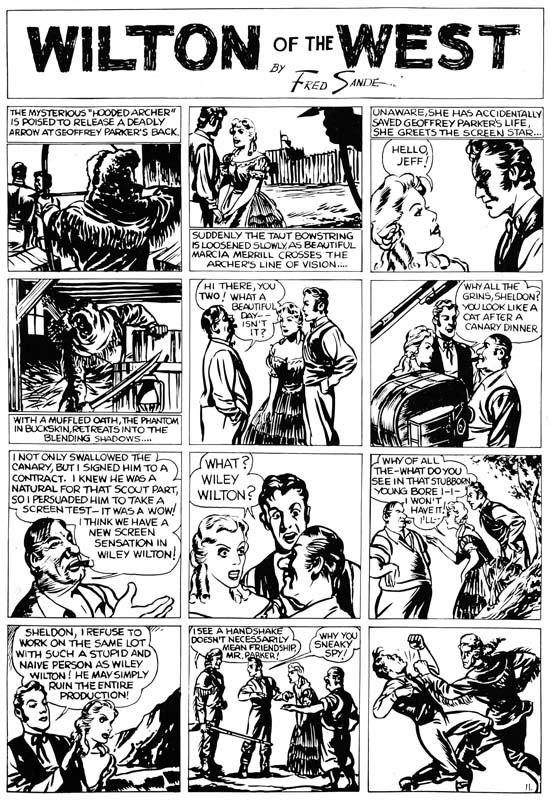 Wilton of the West, pencils, inks and letters by Jack Kirby
Mark Evanier provides an image of a Campbell's Soup on his blog can when he announces that he is too busy to continue normal posting. It seems I have developed my own tradition, one where I use a scan of a Kirby page from Jumbo comics (see A Brief Pause and Another Brief Pause). Last weekend found me struggling with some particular difficult restorations while remaining determine not to let my schedule slip. In the end I kept to my schedule but was left without any spare time to initiate a post for this blog. So instead I provide a scan of Wilton of the West. This was one of the syndication strips that Kirby did for the Eisner and Iger studio. Some were used in early issues of Jumbo Comics but the image I provide was scanned from a presentation piece which provided higher quality reproduction.
I find Kirby's work for Eisner and Iger particularly interesting because they show Jack in the process of learning his trade. I know there are some fans who continue to insist that Kirby had already reached a high level of skills but to me this was clearly not the case. Had Kirby's comic career ended with his work for Eisner and Iger he would have become nothing more than a footnote in the history of comics. Talking heads dominate this page which would have presented a problem for any comic book artist. Kirby tries to keep it interesting by changing the viewing distance as well as adding various props. Jack was not completely successful in this attempt but you can tell he is trying. The page ends with a fist fight. Kirby was famous for his slugfests but here the depicted punch seems rather awkward. The inking is improved over the last page I presented. Kirby varies his inking depending from darker panels such as the first and fourth to simpler lighter ones such as the eighth panel. Here Kirby is still a long way from his mature inking style but that is what makes these pages so interesting. Jack did the lettering as well. Kirby's lettering here is adequate but nothing more. While his lettering would improve somewhat, Jack never became a master letterer. But then again I cannot think of any golden age comic book artist that was good at both drawing and lettering.
My schedule will remain pretty tough over about the next month so I cannot guaranty that I will not be forced to put up a Jumbo scan again. However I hope that will not be the case because my recent post on the Police Trap pinup reminds me that I have not yet covered that title.