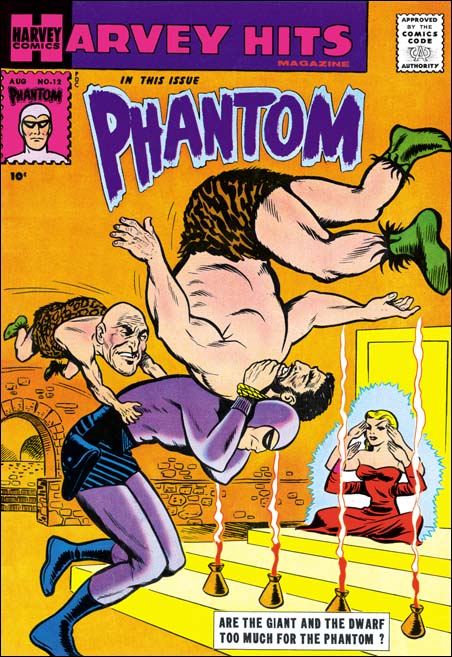 Harvey Hits #12 (August 1958) by Joe Simon
The S&K publishing attempt, Mainline Comics, had failed. The last titles from this company were published by Charlton but that ended in September 1955 (cover date). Further Simon and Kirby productions would follow but without much success. By 1957 Jack Kirby was doing freelance work for DC (Challengers of the Unknown) and Atlas (Yellow Claw). Still further attempts to reboot S&K followed but no financial jackpots. Although there is some evidence that Joe did some solo editorial work for Harvey, unlike Jack he did not seem to do any art. Perhaps Harvey Hits #12 (August 1958) is Joe's first standard comic book art since the breakup. I use the term standard because there was an advertisement comic Joe produced earlier. I have also seen a proof marked Harvey Hits #1 but I do not know if it was actually published.
Perhaps it is an unfair comparison because Joe had a larger area to work with, but I feel Joe did a much better job on the Phantom and characters then the artist who did the story inside. The story probably was a reprint of the syndication strips. Joe has combined two different scenes, the fight and the appearance of the four armed lady. This rather odd throw that the Phantom uses comes from the story, but Simon makes it a lot more interesting. He even has the dwarf jump in like some sort of tag team wrestling match.
I rather like the cover that Joe has come up with here. Joe does not have Jack Kirby's talent (who did?) but he still can do a great job. But it is hard to believe that anyone would mistake this for a Kirby piece. However that is exactly what the Overstreet guide does. Using that as an authority, dealers continually sell this comic because of the Kirby attribution. What do you think, willful ignorance?
Art by Joe Simon, Appendix 4, Daring Adventure #16