When I started this serial post on Joe Simon's art, I outlined for myself what topics I was going to cover. Initially my plan was to end about the time of the Simon and Kirby breakup. I wanted to avoid the final part of Joe's career as a comic artist because frankly I do not have a very good handle on all of it. But in the end I have decided to discuss what little I know and admit my ignorance. Joe writes about this part of his career in his book "The Comic Book Makers". But if you are not careful, it is easy to come away from a reading of what he says with the idea that this was an unimportant part of his career. The fact is the covers Joe drew after the breakup of Simon and Kirby outnumbers what he did earlier.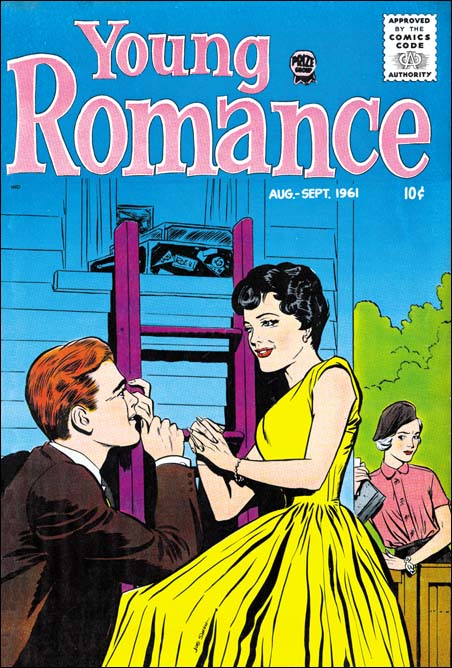 Young Romance v14 n5 (August 1961) by Joe Simon (signed)
With the exception of one publication (Sick), most of what Joe did after S&K was unsigned and for low budget titles. Outside of Sick, the above Young Romance cover is the only signed late work by Joe Simon that I am aware of. Joe was the editor for some of the Prize comics (Young Love, Young Romance and Black Magic) towards the end of those titles. In Chapter 9 of "The End of Simon and Kirby" I had included an image of another of Joe's Prize work Young Love #77 (August 1960). As I said in the beginning of this post I do not have a very good handle of Joe's style, that is particularly true with these romances. I believe there are other Young Love and Young Romance covers by Joe. Although I have not located a convincing example yet, I strongly suspect that Joe also did some covers for the relaunched Black Magic series.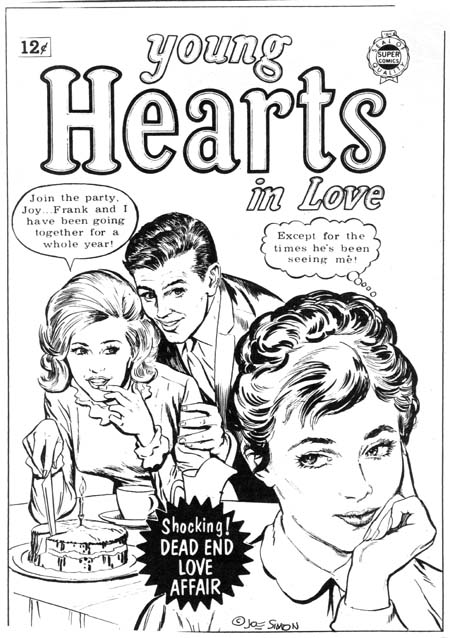 Young Hearts In Love #17 (from proof) by Joe Simon
Joe Simon also did cover work for Super Comics. That publisher would buy art from failed comic books and reprint the material with new covers. In his book Joe describes selling them some of the S&K Mainline comics. Super Comics had a lot of different titles but were probably not big sellers and I do not have access to very many of them. The above image of Young Hearts #17 is from a proof in Joe's collection. Notice the similarity of the title lettering to that originally used for Young Love and Young Romance. Joe also did the cover for Young Hearts #18.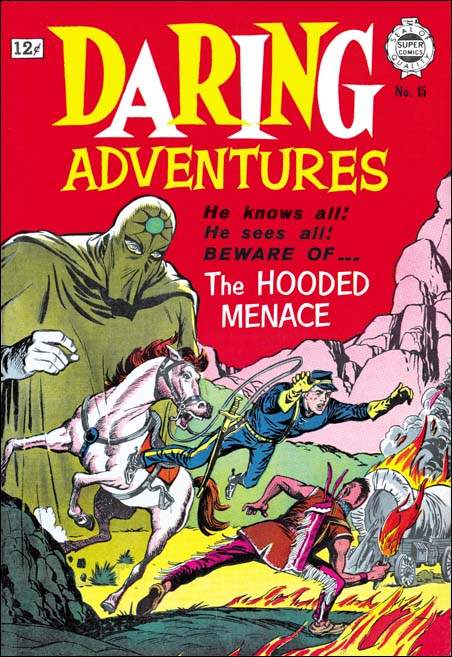 Daring Adventure #15 (1964) by Joe Simon
But Joe not only did romance covers for Super Comics, he also did some superheroes. I believe he did the covers for Daring Adventures #10 to #17 (1963 and 1964). For these Joe used the rather simple style we saw before in Alarming Tales #4. But notice on DA #15 the Kirby-ish leaping figure. Also note the use of the oversized figure, in this case of the villain, that we have seen Simon use all the way back on his work on Blue Beetle for Fox Comics. Joe also did the cover for The Spirit #12 (1964) where unexpectedly the Spirit is attacking a foe with the villain's own robot.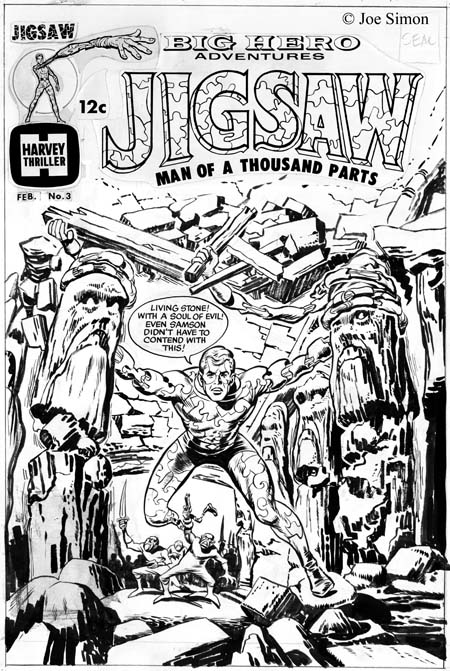 Jigsaw #3 (unpublished, from original art) by Joe Simon
From 1965 until 1967 Joe did some editorial work for Harvey Comics on some, mostly superhero, titles. I do not believe he did any of the stories, but Joe did supply some of the covers. Perhaps because they were done for his long time friend's company, I feel Joe put more effort into them then he did on the Super Comics covers. Although Simon still mostly worked in the simpler drawing and inking style, in the cover for Jigsaw #3 he returned to a bold inking not much removed from the old S&K shop style. Joe commented to me that he thought he had copied the Jigsaw figure from the splash page of the story. But I am unable to confirm that since Jigsaw #3 was never published.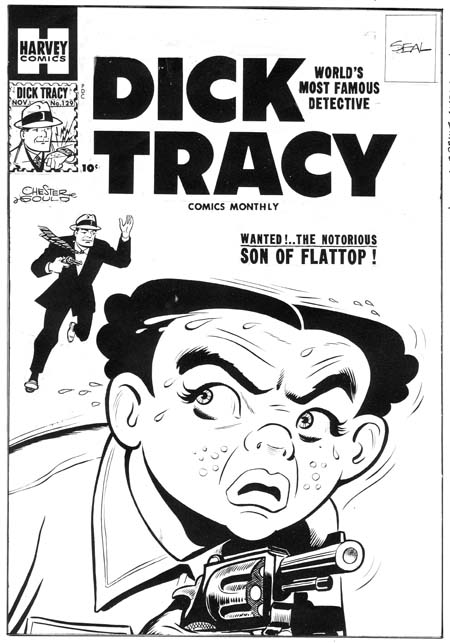 Dick Tracy #129 (from proof) by Joe Simon
But the late 60's covers were not the only ones Joe did for Harvey. Earlier he also did some Dick Tracy covers. Determining which ones is a bit of a problem. Joe was essentially ghosting on these covers, adopting the rather simple and stylized drawing of the original newspaper strips. To make it even more difficult Al Avison was also doing some of these covers at about the same time. The above proof is from Joe's collection so we can be pretty certain it was done by him.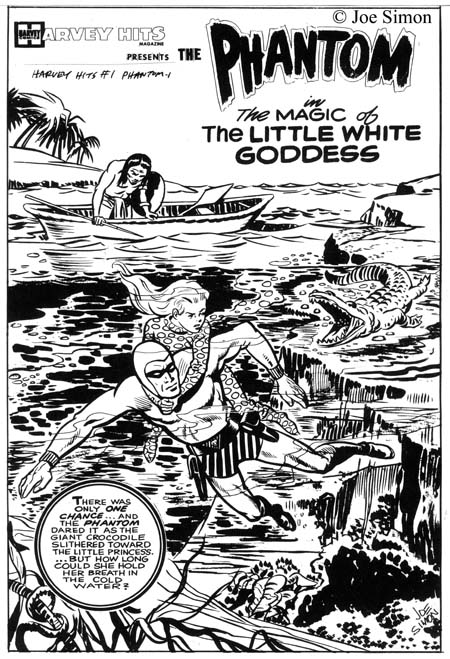 Harvey Hits Magazine (from proof) by Joe Simon
Simon also did some Phantom covers for Harvey. Here he did not have to copy another's style. To me they seem like standard Simon art for after the S&K breakup and do not at all suggest work by Jack Kirby. But apparently there must be something in them to suggest Jack, because dealers often credit Kirby for these covers.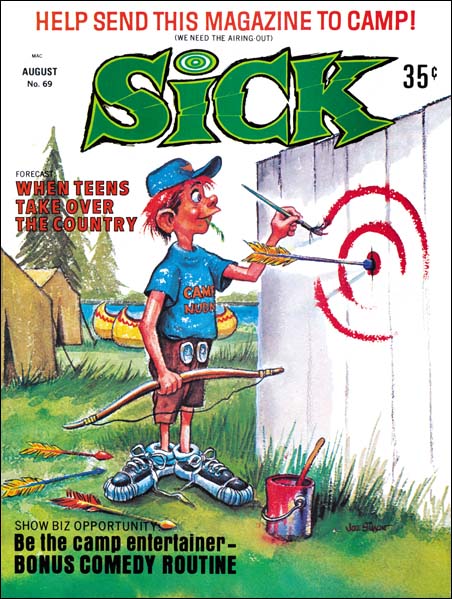 Sick #69 (August 1969) by Joe Simon
However it is the covers to Sick Magazine that comprises most of the art work Joe did after Simon and Kirby. Joe was editor for this Mad imitation for a number of years (1960 to 1968) during which he did many of the covers but even afterwards he continued to supply cover art. In this work Joe let loose his visual humor and he obviously put much effort into these covers.
Well that wraps up my serial post on the Art of Joe Simon. I have added a checklist but like all my checklists it is a work in progress. Joe was a talented artist, better them most people give him credit for. Unfortunately that talent, particularly his talent for adopting different styles, has led many experts and scholars to attribute some of his works to other artists. Over and over again I get the uncomfortable feeling that critics have used quality of the work as a means of distinguishing between artists; if a page is good Kirby must have done it, otherwise it was done by Simon. I feel this is a flawed technique and the proper way to determine artistic credit is to examine a piece of work for the traits of the individual artists. It is also to keep in mind that when one artists tries to mimic another that some traits are easy to copy and should not be relied upon. Other features are more unique to one artists and are harder for another artist to duplicate; these are the ones useful for attributions. I did not do this serial post with the idea of convincing everyone of the correctness of the work I credit to Simon. But it would be great if I could help move the problem of attributions toward a discussion of the evidence from the art itself and away from the simple credit declarations that the experts are so fond of.
Art by Joe Simon, Chapter 12, Covering the Fly