Harvey released a new title, Alarming Tales, with a cover date of September 1957. This is the same month that Black Cat Mystic #59 was released. Both titles covered the same genre, horror and science fiction. In fact the cover story for Alarming Tales #1 ("Donnegan's Daffy Chair") was originally intended to be used in Black Cat Mystic #59 (as shown by the original art for an used cover). Since both titles were bimonthly publications, it was unusual that they would have the same schedule. Normally such similar comics would alternate months (such as Simon and Kirby's Young Romance and Young Love did). The original art for the unused cover of Black Cat Mystery #59 has a July cover date so perhaps the original intent was for alternating months but something delayed it.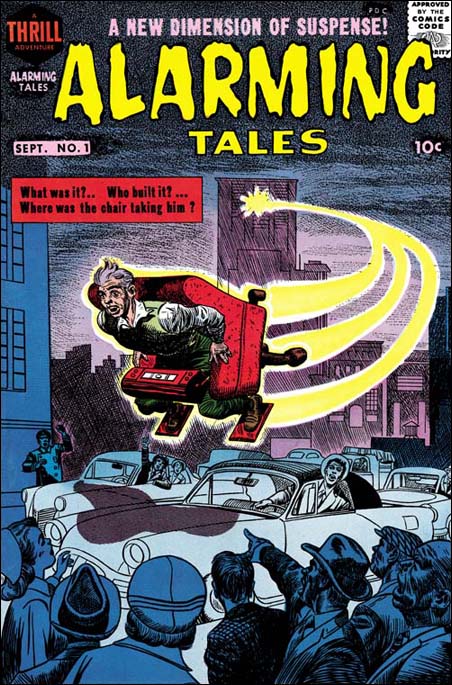 Alarming Tales #1 (September 1957) pencils by Joe Simon and Jack Kirby
I had previously credit the cover art for AT #1 to Joe Simon alone but I now realize that the art is a "Frankenstein" made from different pieces of art. It was not that unusual for Joe to piece together different art (see Cover for Alarming Tales #2, My Third Attribution Attempt). In this case that lower portion came from art that Jack Kirby drew while the upper portion was done by Simon. I suspect that the original art that Kirby made included a figure in a fly chair very much like the one in the actual story. That is the way that the unused cover for BCM #59 was done. That included goggles that covered the figure's eyes. Such an depiction would fit the story but Joe probably felt (and I agree) that the cover would be more dramatic with the full face exposed. The portion of the art that Simon did was done on a craft tint board with irregularly shaped dots that sometimes is referred to as a mezzotint pattern. Lines were then "inked" over this with a pen to provide interesting dotted lines.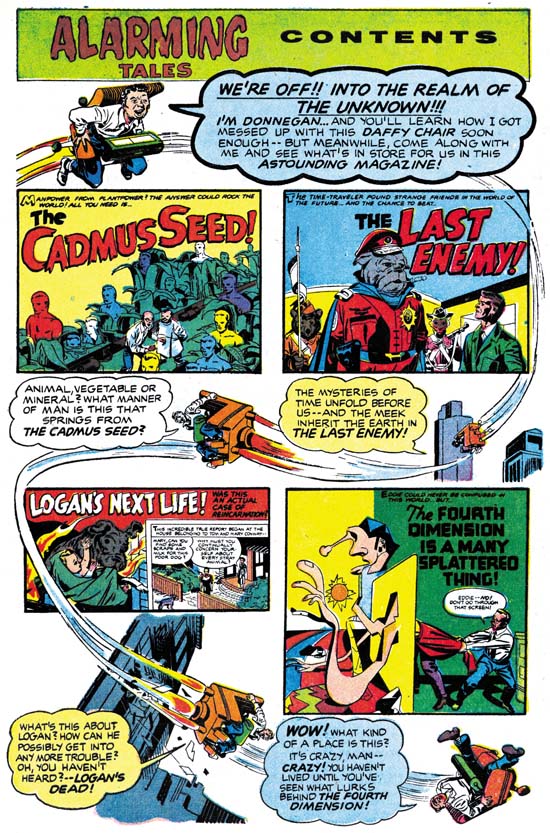 Alarming Tales #1 (September 1957) "Contents", pencils by Joe Simon and Jack Kirby
It appears that except for the lettering the contents page was created entirely by stats from parts of the book. Simon and Kirby did not do use stats to create comic pages very often while they had their own studio but apparently Harvey either had a stat camera or used a service bureau to provide copies. I love the way the images of Donnegan's chair are woven through the contents page.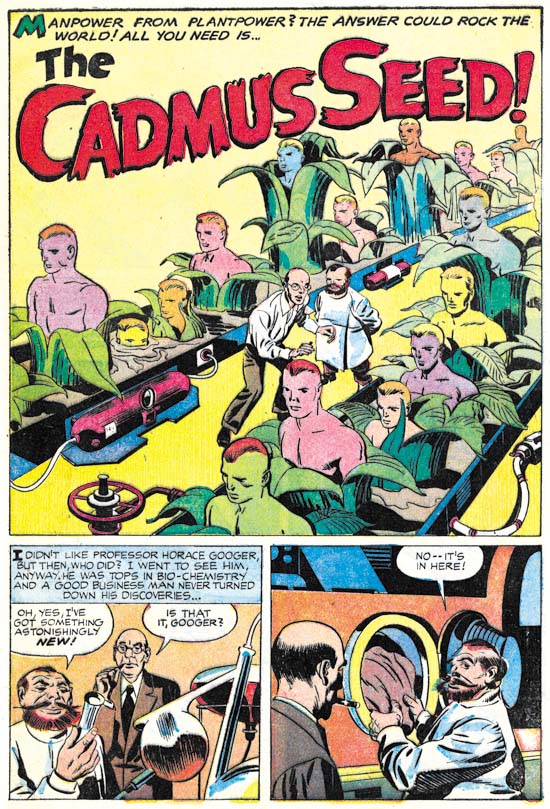 Alarming Tales #1 (September 1957) "The Cadmus Seed", pencils and inks by Jack Kirby
Scientifically engineered humans sounds like something out of more recent newspapers. However the Simon and Kirby story never mentions DNA or cloning. The structure of DNA had been discovered by this time and it's importance was well known in the scientific world. But science fiction had not yet caught up with science fact. Nonetheless "The Cadmus Seed" is a delightful story with a mildly humorous ending.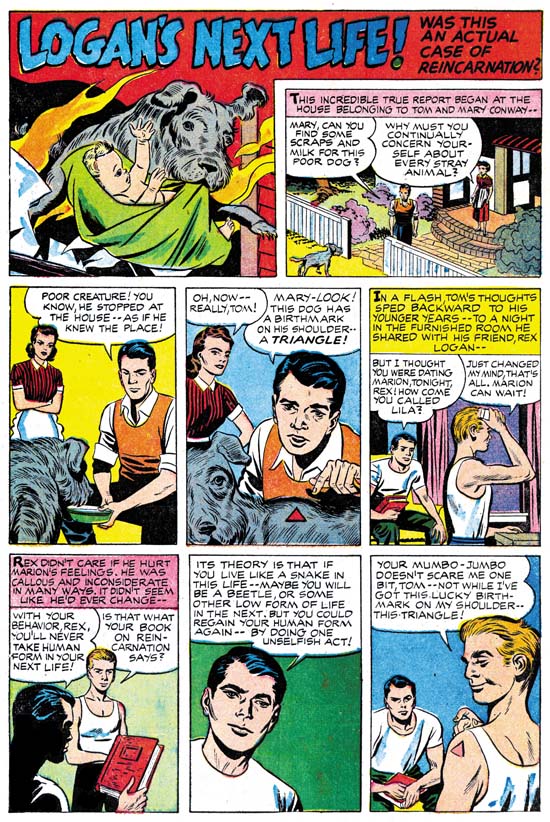 Alarming Tales #1 (September 1957) "Logan's Next Life", pencils by Jack Kirby, inks by Joe Simon
"Logan's Next Life" is the only story in AT #1 that could be describe as belonging to the horror genre. Since is consisted of only two pages it was not that much of a contribution to AT #1. Most of the stories from the Alarming Tales and it's companion title Black Cat Mystic could best be described as science fiction. But despite being in the minority horror stories would still play a significant part of these titles.
The art for "Logan's Next Life" was based on an earlier story named "When I Live Again" that had appeared in Black Magic #13 (June 1952, see Little Shop of Horrors, Chapter 5). The original story was penciled and inked by Bill Draut. While Kirby was known to do an occasional swipe, such extensive swiping for a single story would be rare. One example would be "Invisible Irving" from Fighting American #5 (December 1954, see A Simon and Kirby Swipe). Another example of an extensive Simon and Kirby swipe appears to be "Deadly Doolittle from Fighting American #6 (February 1955, see Fighting American, Jumping the Shark) but in that case it was Joe Simon doing the swiping.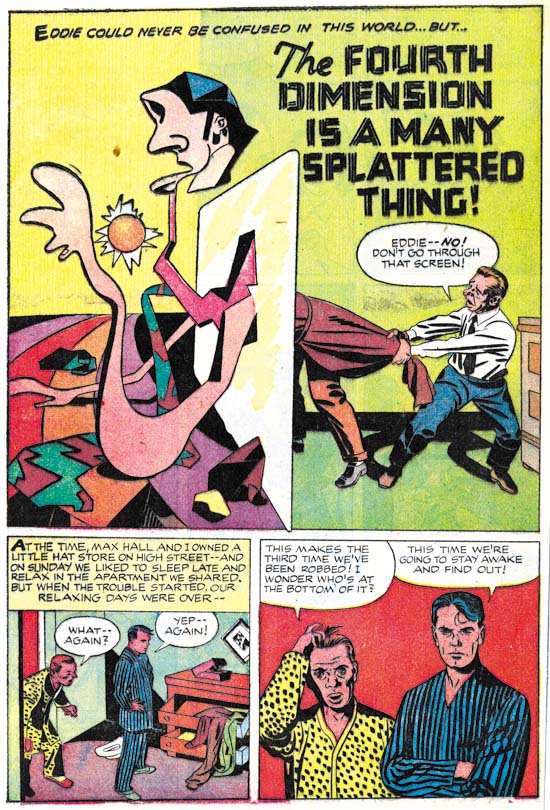 Alarming Tales #1 (September 1957) "The Fourth Dimension Is A Many Splattered Thing", pencils and inks by Jack Kirby
This story was included in a recent post concerning Kirby's use of extra-dimensional traveling (Jack Kirby's Trips to the Fourth Dimension).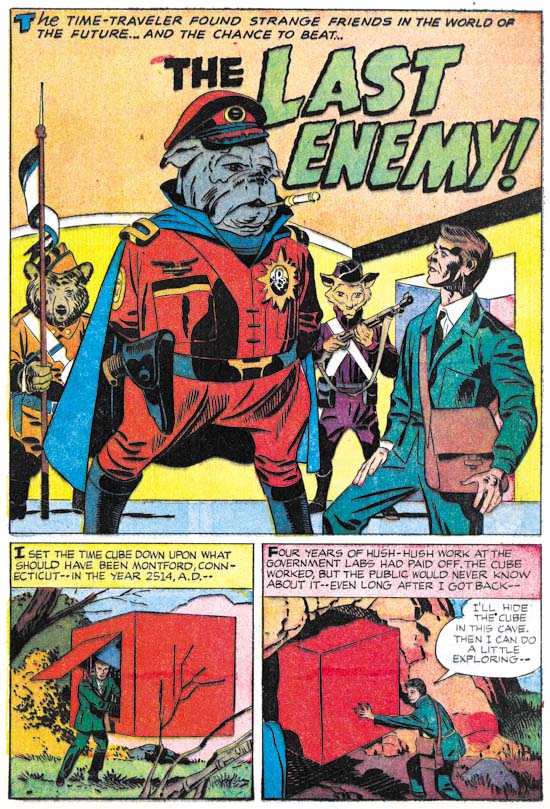 Alarming Tales #1 (September 1957) "The Last Enemy", pencils and inks by Jack Kirby
This story has longed been recognized as a prototype for Kamandi title that Kirby did for DC from 1972 until 1976. The most significant change is that while except for the protagonist, humans were completely absent from "The Last Enemy" they were present in Kamandi but usually as nothing more than speechless animals. But otherwise the theme of talking animals taking over the world was common to both. Frankly I do not recall how this change was explained in Kamandi, but in "The Last Enemy" it was the results of an atomic war. While that is a perfectly understandable explanation for the lack of humans it is not clear how the change in animals occurred.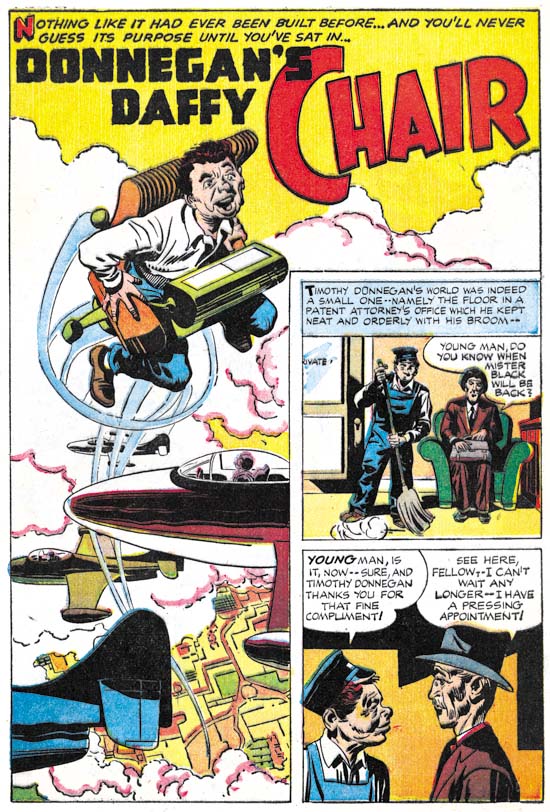 Alarming Tales #1 (September 1957) "Donnegan's Daffy Chair", pencils and inks by Jack Kirby
Oddly the story featured on the cover of AT #1 was the second shortest in the book. Stories from Black Cat Mystic and Alarming Tales were pretty consistently five pages long but "Donnegan's Daffy Chair" was only four.