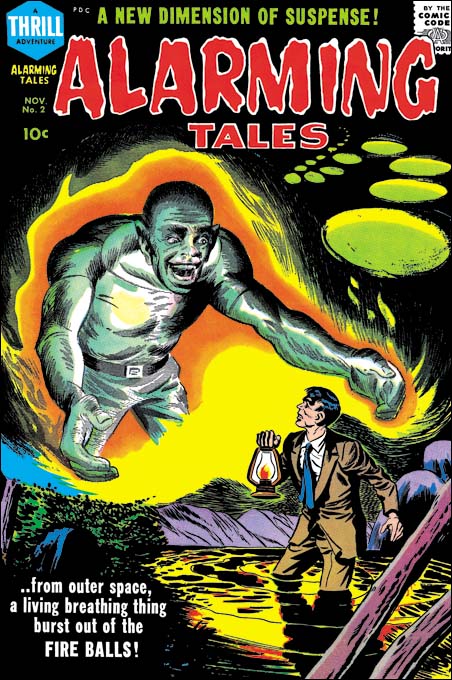 Alarming Tales #2 (November 1957)
Trying to provide the proper credit for comic book art is always filled with uncertainties in certain cases. All one can do is use what evidence is available and make the best judgment possible. The willingness to try must be joined with acceptance of the errors that will sometimes be made. Case in point, the cover for Alarming Tales #2.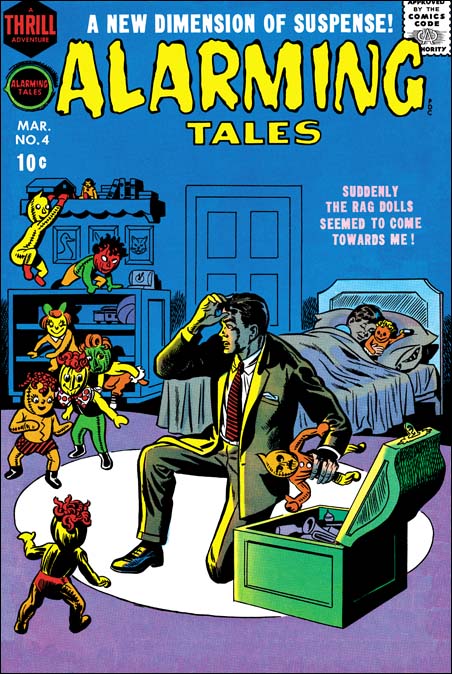 Alarming Tales #4 (March 1958), art by Joe Simon
My original take on the cover for AT #2 was that Joe Simon was the artist. Joe can be a difficult artist to identify. While he signed much of his work at the start of his career a lot of his later work lacks a signature. An even greater difficulty lies in Joe's skill in adopting different styles. Experts have attributed some Fox covers to Lou Fine having overlooked Joe's small signature. Joe did so good a job at mimicking Jack Kirby that much of the admittedly limited amount of work Simon did while collaborating with Kirby continues to be attributed to Jack. I do not claim to be able to identify all Joe Simon's work; there is some late romance cover work that I do not a good understanding of and I sometimes doubt that it will ever be possible to confidently determine which Dick Tracy covers Simon ghosted. The Art of Joe Simon provides an overview of Joe's career although I have changed my opinion about a few of the attributions in that serial post*. Among the styles Joe used was one more personal in that it does not seem to be an attempt at mimicking another artist. One of the best examples of this style can be found on the cover for Alarming Tales #4. The man in the cover for Alarming Tales #2 shares that style and for that reason I first assigned AT #2 to Joe Simon.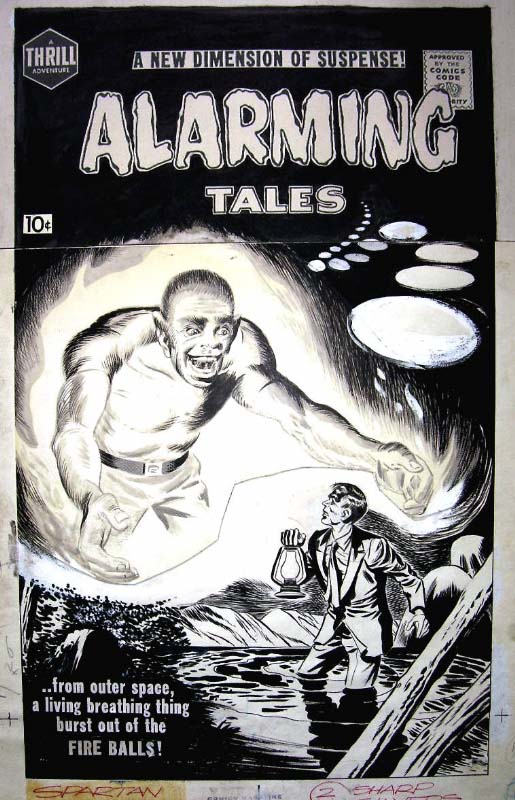 Alarming Tales #2, original art from the collection of Paul Handler
But there were problems with my original attribution of this cover to Joe Simon, the most important of which was that the spaceman look like he was done by Mort Meskin. Mort Meskin had not worked for Joe Simon since the breakup of the Simon and Kirby studio and there are no examples of Mort's work in any Joe's productions after that time. However when the original art for the cover surfaced I reevaluated my position. The original art clearly shows that the cover was made by joining two separate pieces of art. I therefore concluded that Joe had used an old piece of art by Mort Meskin combined with new art by his own hand. But a Simon and Meskin joint attributions was not completely satisfactory. What was the original source for the Meskin art? It was too large to be story art. The only comic that the art might have been meant for was Black Magic. Jack Kirby did all the covers for the first run of Black Magic so this left the possibility that the spaceman was originally for a splash page of a story meant for Black Magic left over from the sudden cancellation of that title.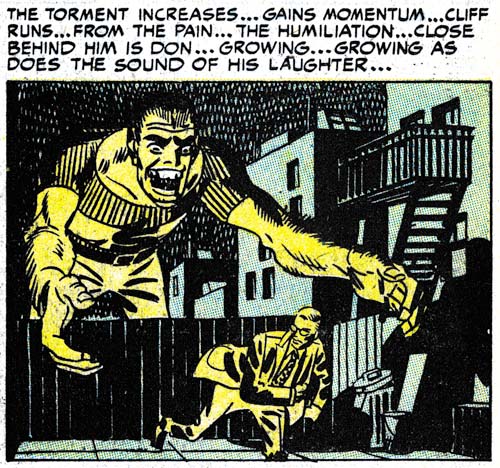 Black Magic #5 (June 1951) "Sleep, Perchance to Die" page 3 panel 4, art by Mort Meskin
That is how my opinion stood for almost two years. Recently, however, I was reviewing some Black Magic comics when I noticed a page from Mort Meskin's "Sleep, Perchance to Die". The story concerns a rivalry so intense that it carried over into prophetic dreams. The protagonist was a bookish student and one of his dream involved being chases by an overgrown version of his athletic rival (but no bites from a radioactive spider). There can be no doubt that the oversized and somewhat monstrous figure was the bases for the spaceman of the Alarming Tales #2 cover. The final, and almost certainly the correct, conclusion was that Joe Simon drew the entire AT #2 cover using the panel from Meskin's Black Magic story from 1951 as source material. While the AT #2 figure retains enough of the original that Meskin's touch can still be recognized, a comparison between the two shows how much Simon has transformed it. This is the first case of Simon swiping from Meskin that I have seen but I am sure there are other examples yet to be found. Joe still has great admiration for Mort Meskin's talent. The Joe Simon collection includes a group of proofs of various Meskin splash pages. No other artist received a similar treatment, not even Jack Kirby.
footnotes:
* I no longer believe Joe Simon penciled "The Woman Who Discovered America 67 Years Before Columbus" (Black Cat Mystic #60, November 1957) or the cover for The Spirit #12 (Super Comics, 1963).