Black Cat Mystic #60 (November 1957) was another all Kirby issue. Previously that was quite unusual but with the launch of Challengers of the Unknown (Showcase #6, February 1957) all Kirby comics became more common. In my opinion BCM #60 was not quite as good as BCM #59 or Alarming Tales #1 it is still a rather nice read.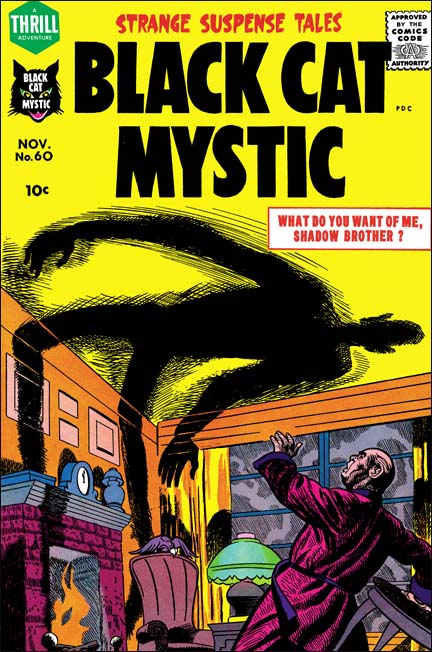 Black Cat Mystic #60 (November 1957), pencils by Joe Simon
Some people still attribute this cover to Jack Kirby but that position is hard to understand. Kirby was the master of comic book perspective. One look at the gentleman's raised hand should convince anyone that this was not drawn by Kirby. It was Joe Simon that actually drew this cover. Joe was quite good at adopting styles used by other artists, particularly Kirby's.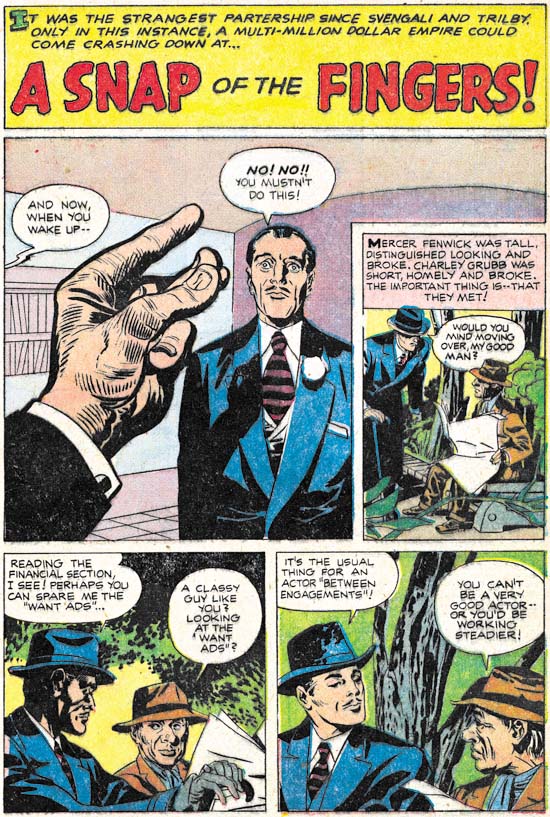 Black Cat Mystic #60 (November 1957) "A Snap Of The Fingers", pencils and inks by Jack Kirby
Success requires a good appearance and exceptional talent, at least according to "A Snap Of The Fingers". Two down and out individuals lack one or the other quality so they join forces. Of course this tale belongs to the horror genre so this story does not end with happy ever after. I have to say that I suspect that the story has been modified to get past the Comic Code. In the story an accident occurs that I believe originally was planned murder. The change would not affect the art work only some of the text.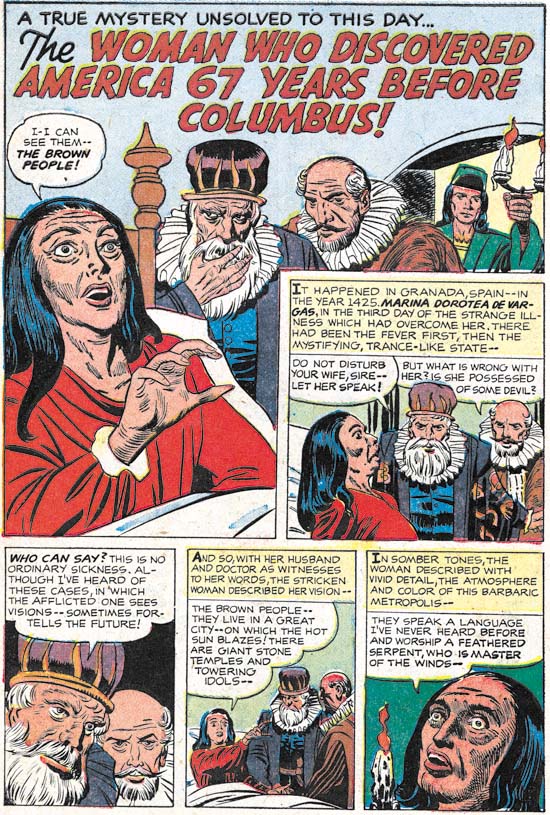 Black Cat Mystic #60 (November 1957) "The Woman Who Discovered America", pencils by Jack Kirby, inks by Joe Simon
At one time I thought this piece had been drawn by Joe Simon but I later realized it was Simon's inking that gave the appearance that he had penciled it as well. This is a short piece (two pages) that is about a supposedly true prophecy of the discoverer of the new world. I wonder what Simon and Kirby's source was for this tale. I had thought it might have been "Stranger Than Science" by Frank Edwards. I remember reading Edwards' book when I was young and it was full of such stories. However "Stranger Than Science" was first published in 1959 and so is too late to be the source.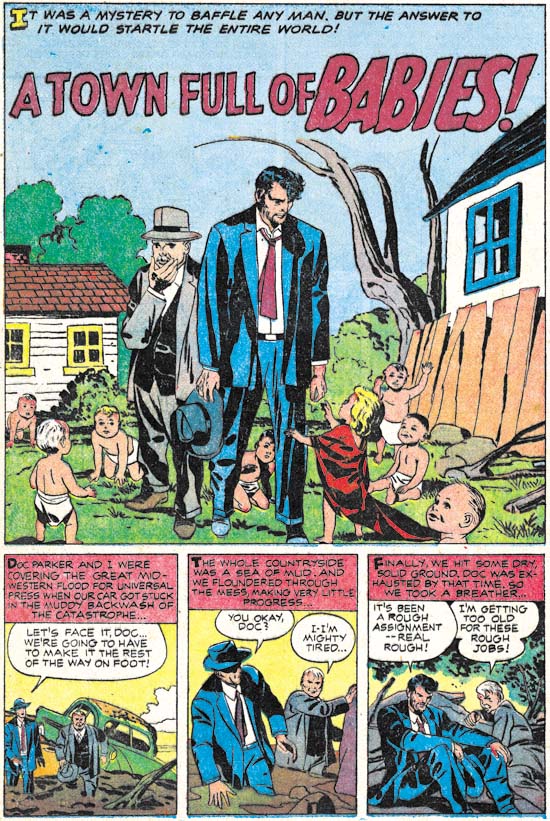 Black Cat Mystic #60 (November 1957) "A Town Full Of Babies", pencils and inks by Jack Kirby
This story was inked by Kirby himself except for the last page. I am not sure who did that page but it was not Joe Simon. The theme of getting a chance to relive one's life was used once before by Simon and Kirby. I have to say that somehow this would seem more like a death sentence unless somehow they retained their original memories. But even that might not be such a great gift. Would anyone really want to relive their childhood while retaining the memories of an adult?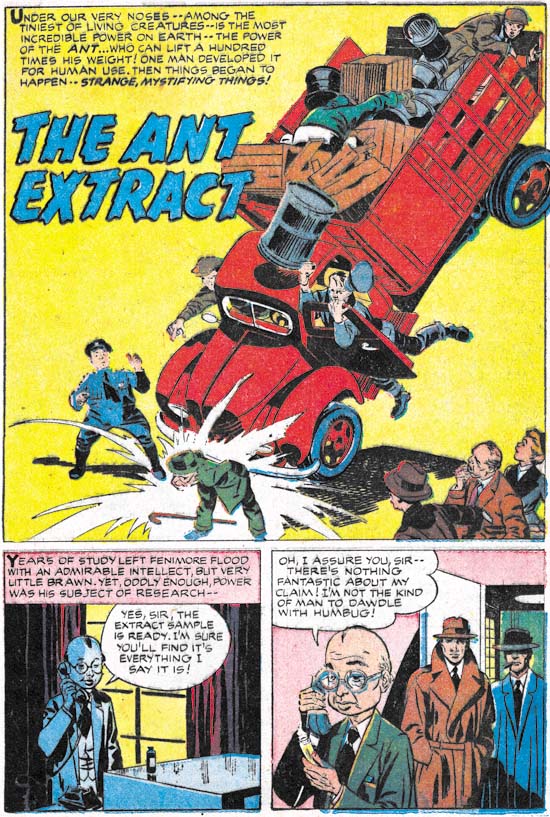 Black Cat Mystic #60 (November 1957) "The Ant Extract", pencils and inks by Jack Kirby
A diminutive scientist creates a solution that endows the drinker with amazing strength. What is particularly surprising about this discovery is that the scientists announces it before he has even tested it. Simon and Kirby had a rather peculiar idea about what a scientist was and how he would go about his work. But while it was not an accurate portrayal it did make for an interesting story. What would society do with his new scientific breakthrough? It is a humorous story but I will not reveal anything more. You will just have to wait for Titan to release the next volume from the Simon and Kirby Library.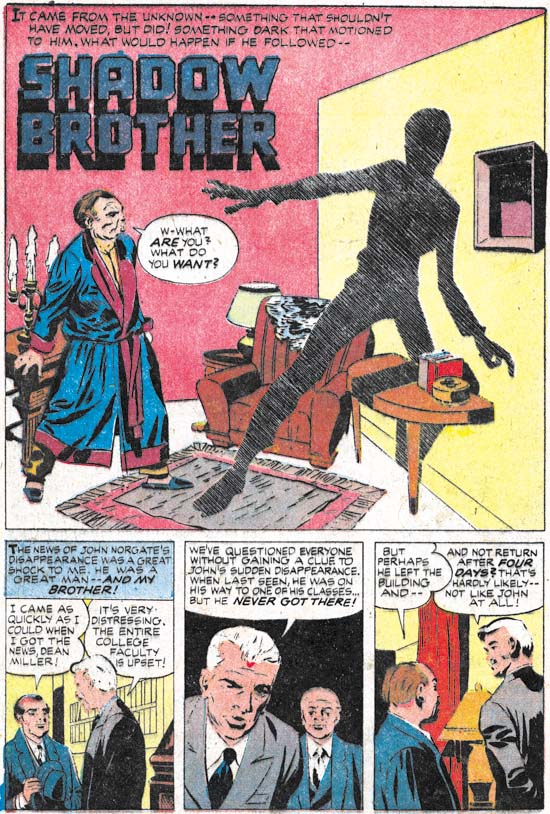 Black Cat Mystic #60 (November 1957) "Shadow Brother", pencils and inks by Jack Kirby
Another story featuring scientists, in this case a professor type and a boy genius. The story contains some rather bizarre physics but hey, its just a comic. Unfortunately "Shadow Brother" is marred by rather poor printing. Harvey's comics from the late 50's had particularly bad printing that affects some stories more than others.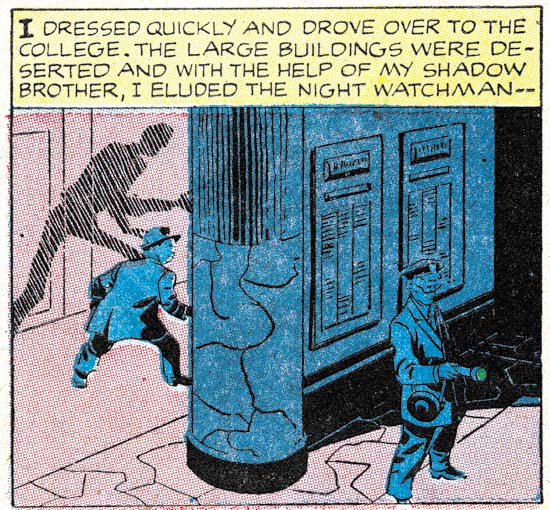 Black Cat Mystic #60 (November 1957) "Shadow Brother"page3 panel 4, pencils and inks by Jack Kirby
Comic books sometimes provide glimpses into the past. Panel 4 from page 3 shows a night watchman at a college. But why does the night watchman carry a purse? Well it is not a purse but a guard tour clock. Night watchmen were expected to petrol premises throughout the night when no one was expected to be around. But since no one was around how could an employer be sure the guard was actually conducting patrols and not sleeping on some couch? This clocking device was the solution to this problem. Special keys would be chained to the wall at various locations usually stored in a small container also mounted the wall. When the night watchman made his rounds he would insert these keys into his guard tour clock which would report what key was used and the time of its use. A record was therefore made that the employer could then examine later to verify that the watchman was performing his duty. Video cameras are so prevalent today that I would have thought that guard tour clocks would have become obsolete but a quick Google shows they are still being sold.