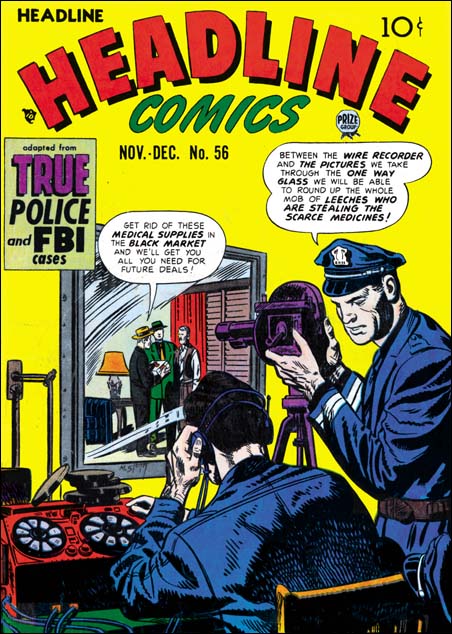 Headline #56 (November 1952) by Marvin Stein (signed)
In 1952 Marvin Stein provided a cover for Headline. I have not said much about Stein yet in this blog. For now let me say that a 1949 photograph from the Jack Kirby Collector #25 shows him in the S&K studio. Marvin's work also shows up in some of the studio productions from around that time and it has been reported that he did inking work for S&K. It has also been said that he was a great admirer of Jack Kirby.
Initially the crime comics Headline and Justice Traps the Guilty were Simon and Kirby productions and they are listed as editors. Kirby drawn stories were frequent in these comics. All drawn covers (as opposed to the photographic covers) were done by Jack. Early in 1951 this changed. Nevin Fiddler was listed as the editor and Kirby no longer supply work for these crime titles. Marvin Stein now becomes a conspicuous artist for the crime titles. In fact Marvin draws just about all the covers and provides stories for most issues. A photo of the S&K studio of about 1951 or 1952 does not show Meskin. I conclude from all of this that S&K no longer produced the crime titles and that Marvin Stein was mostly providing work for the new editor, Nevin Fiddler.
The Headline #56 covers is signed by Marvin Stein and is in his style so there can be little question that he was the artist. The inking on the policeman whose back is turned to the viewer is reminiscent of S&K studio inking. But the rest of the cover's inking is not particularly like that done by S&K shop. Nor does the composition seem very like covers produced by Simon and Kirby. The subject of the police using a one-way mirror to trap criminals is, as far as I know, pretty unique for crime comics of the time. The cover does not correspond to any of the interior stories.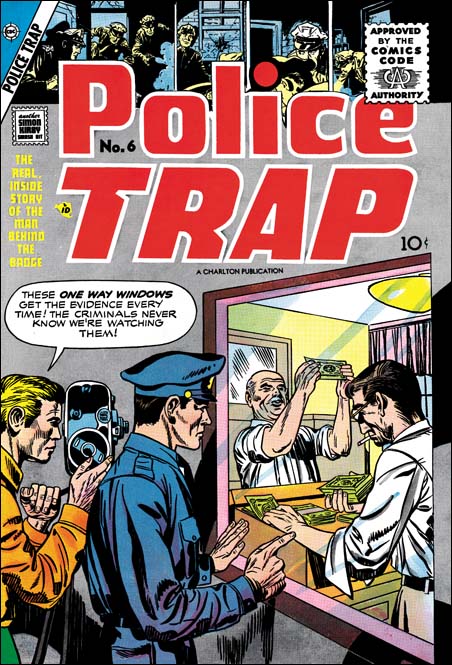 Police Trap #6 (September 1955) by Jack Kirby
In late 1955 Charlton would publish the final issues of titles originally done by Mainline, Simon and Kirby's own short lived publication company. One of them, Police Tray #6, appears to be a swipe from the Headline #56 cover by Stein. Police Trap #6 was one of Jack's poorer efforts but he still seems responsible for the pencils. The inking has signs of S&K shop inking, particularly the abstract arc shadows. Hopefully by now most Kirby fans realize that Jack would swipe from time to time. His sources for the swipes were generally from photographs, paintings or illustrations. At this point in his career it was unusual for him to swipe from other comic book artists particularly from someone like Marvin Stein. Police Trap #6 only shares the unusually concept with Headline #56. The composition differs in important ways between the two, mostly due Jack's policemen being given less of the cover and his criminals brought much more forward. Still it is surprising that Jack would the same unusual subject.
I see no reason to "defend Kirby's honor". Unlike some, I have no problems with swiping, as long as the swiper creates something with his own individual touch. It could be said that Jack has certainly done that with Police Trap #6. While not denying the possibility that this is another example of a Kirby swipe, I would like to offer another possible scenario. The covers published by Mainline seem much better then when the titles were done by Charlton. For whatever reasons S&K did not seem to put into the Charlton issues the same effort that they had previously done. If they were trying to do a rush job or cut corners it is very possible that they might turned to previously unused material. Perhaps the PT #6 cover might originally been made for Headline or Guilty but abandoned then because it was not quite good enough. It that is true then Marvin Stein could easily have seen it when he was working in the studio and used the idea a few years later. It would not be the only Stein swipe from Kirby. This is just a thought and I am not convinced one way or the other.