I have decided to do a serial post on the first ten issues of Blue Bolt (June 1940 to March 1941). It was during this feature that the Simon and Kirby collaboration first developed. There were other comics that Joe and Jack worked on during the start of their partnership but that work was done a piece here and a piece there. However Blue Bolt was a monthly feature allowing us to examine Simon and Kirby learning to work together. But I will use this opportunity to discuss some of the other early work that the two did together or individually during that period.
The first issue of Blue Bolt is cover dated June 1940*. At that time Simon was editor for Fox Comics having started in May. Jack Kirby was also working for Fox primarily on the Blue Beetle syndication strip. Kirby previous experience had also been in syndication strips (although some ended up published in comic books) but in May Jack did some comic book art for Fox as well as moonlighting elsewhere. It surely is no coincidence that Kirby provided stories for Fox during the same month that Simon began as editor. It is even possible that Joe encouraged or even helped Jack to find work moonlighting outside of Fox as that happened at the same time.
Joe Simon had spent about seven years working as a staff artist for newspapers before entering the comic book field. His earliest published comic books were "The Fantastic Thriller of the Walking Corpses" (the Fiery Mask story for Daring Mystery #1), "Solar Patrol" and cover for Silver Streak #2 and another cover for Keen Detective Funnies #17 all cover dated January 1940. However the publication dates for Joe's early work did not reflect very well the order that the art was actually created. Simon's earliest comic book work appears to have been the western "Ranch Dude" but that did not appear until Amazing Man #10 from March. Joe was supplying this early work to Funnies Incorporated a shop run by Lloyd Jacquet who apparently held on to some of the stories before finding a use for them. Something similar happened to the first Blue Bolt story but for a special reason. Although Simon supplied it with no more special thought than any of the other art he did, Jacquet recognized the potential for using it for launching a new comic book title. This was quite a coup especially for someone so new to the comic book industry as Joe was. It is uncertain when the art for first Blue Bolt story was actually created but judging from the style I would say it was quite early. Of course not as early as "Ranch Dude" but not too long afterwards.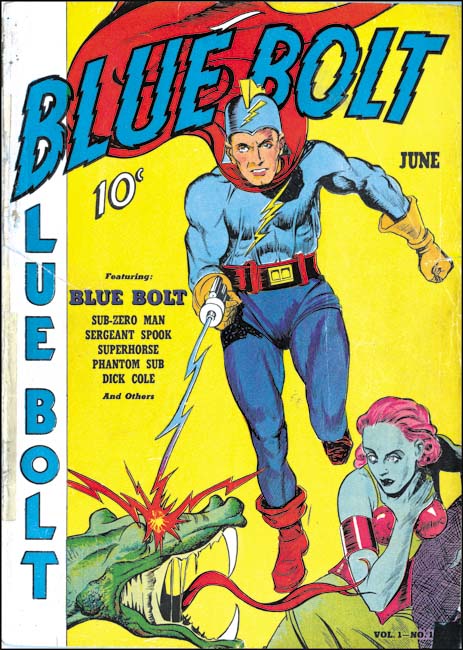 Blue Bolt #1 (June 1940), art by an unidentified artist
Since Simon had no idea about Jacquet's intentions of using the first Blue Bolt story as the main feature of a new title, he would not have supplied cover art with the story but of course theoretically Joe could have supplied it later. Some have credit Simon for the cover art but I disagree. The style does not seem quite right to me compared to work that Simon is known to have done at that time. Further the dragons in the story have beaks while the one from the cover has a mouth more like an alligator.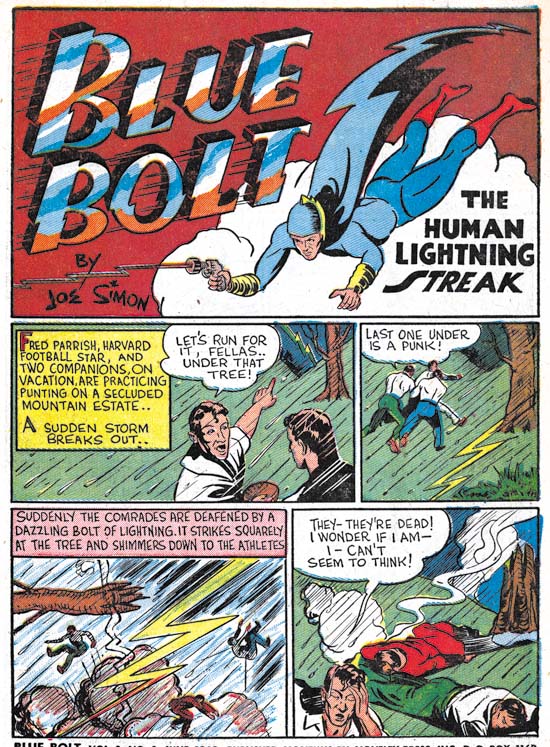 Blue Bolt #1 (June 1940), pencils, inks, script and lettering by Joe Simon
Joe Simon not only penciled the story but he inked and lettered it as well. I remember when the reprint books on Fletcher Hanks came out the introduction remarked that one of the things that made that artist special was that he did all penciling, inking and lettering the story himself. Actually that was not so unusual during the comic book industry's earlier years. Joe provided all the art except coloring on most of his early works. That is not to say Simon was equally proficient in all aspects of the art. While unconventional and interesting, I would not describe Simon's lettering as very good. Even today Joe feels his lettering never became truly professional. The lettering for Blue Bolt #1 is in his initial style, examples of which can be seen in my post Early Lettering by Joe Simon. Two aspects of the lettering that may seem unusual to modern readers are the use of borderless captions and the placing of some captions at the bottom of the panel. Joe was a fan of Hal Foster who used low and borderless captions in his Prince Valiant syndication strip.
The art itself is somewhat primitive. While Simon was an accomplished newspaper staff his previous work did not include sequential story telling. Further his newspaper work had been either realistic or cartoonish while comic books required something in between. So it is not surprising that Joe's earlier art was a bit rough and the story a little weak. This was earlier in the history of comic books and the industry employed many artists whose work was not even as good as Simon's initial efforts. We can be critical of Simon's early work knowing what was to come but it should be remembered that the Blue Bolt character and the first story that went with it was good enough for a publisher to release a new title based on it. Something that never happened for most comic book artists and Joe's time in the business then could be measured in months. Joe learned fast and by the time that Blue Bolt #1 was released he had already been doing covers for Fox Comics that in the past had been attributed to Lou Fine until his small signatures were found (Art by Joe Simon, Chapter 3, Working for the Fox). Even at this stage Simon was better than most comic book artists working in the industry.
One of characteristics of Joe's early work was one that stayed with him throughout his career, his frequent use of swiping. Some of the swipes come from Prince Valiant (by Hal Foster), Flash Gordon (by Alex Raymond) and pulp art. There may have been other sources as well since some images occur multiple times in Simon's art but the source of the swipes has not been identified. This topic has been discussed more thoroughly in the serial post Art by Joe Simon. Further discussion of Blue Bolt #1 can be found in Chapter 4, Transition.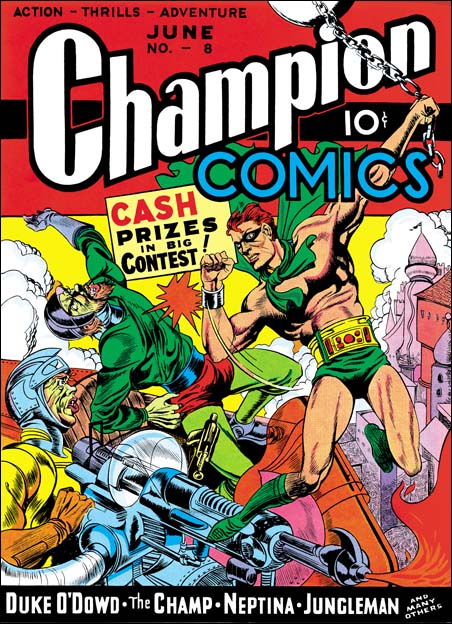 Champion Comics #8 (June 1940) art by Joe Simon and Jack Kirby?
The covers that Simon did for Fox Comics were not the only art that came out the same month as Blue Bolt #1. I have long been puzzled by the correct attributions for the cover art of Champion Comics #8 (June 1940). The art has generally been credited to Joe Simon and in the past that had been my opinion as well. But Joe had certainly met Jack Kirby by this time. The background architecture uses an unusual and varied perspective that can be found in a number of the Fox covers that Simon did but does not occur in any of Kirby's solo efforts. The figure art is different than that found on the covers that Joe did for Fox Comics. But that is not surprising because Joe was purposely mimicking Lou Fine for Fox in order to provide continuity with the earlier covers now that Fox was no longer using Eisner and Iger to produce the comic art. Not only would Simon not have to mimic Fine for the Champion #8 cover but since it was for a different publisher it would actually be undesirable to do so. Unfortunately there are no earlier cover art by Jack Kirby to compare with Champion #8. There is something Kirby-ish about the figure art but Joe could have picked that up having seen Jack's work. Kirby would become famous for his slugfests but the hero's advisory falls back from the punch in a rather stiff and awkward manner that seems hard to accept as something Jack would do even at this early stage in his career.
One rather intriguing aspect of this cover is the elaborate gun. Kirby had a long history of drawing interesting and elaborate machinery. A fanciful gun also appears in the splash for Cosmic Carson story for Science Comics #4 (May 1940, see Early Jack Kirby, Chapter 2, Working for Fox). It has been suggested that the gun from Champion #8 was swiped by Simon from that Cosmic Carson splash. However it is not a close copy and the two guns are quite different. Unlike Kirby, Simon does not have a history of drawing elaborate devices. We shall in future chapters that when machinery appears in Blue Bolt it is Jack, not Joe, that provides it. It is hard for me to accept that Kirby did not have something to do with gun from Champion #8. While I still give Joe Simon most of the credit for the Champion #8 cover I now feel Jack Kirby was involved in some capacity as well. This is important because if I am right than the cover for Champion #8 would be the earliest Simon and Kirby collaboration.
 
footnotes:
* Like most of my posts, I am going to be using cover dates. True calendar dates for the release of the comic would be about two months earlier and for the creation of the art five or six months earlier except in special cases like Blue Bolt #1 were the art was not used for some time.