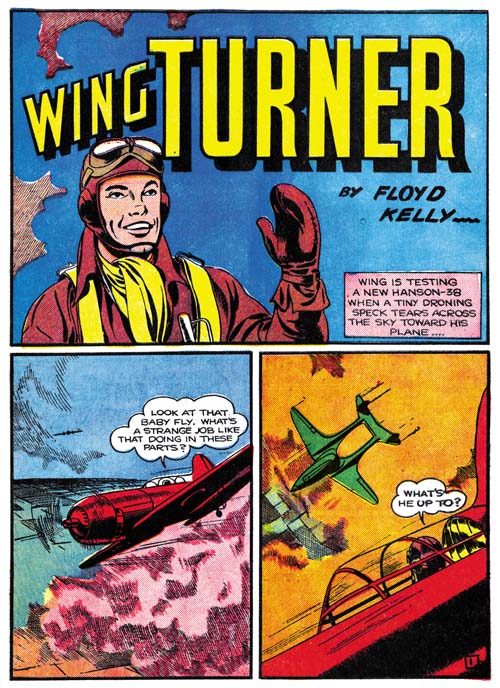 Mystery Men #10 (May 1940) Wing Turner, art by Jack Kirby
I recently posted on a couple of stories Simon and Kirby did for Prize Comics early in their collaboration (Ted O'Neil). Flying stories were not a big part of Simon and Kirby repertoire (but see The Milton Caniff Connection) and so I thought I would write about an earlier pilot story, Wing Turner from Mystery Men #10 (May 1940). I had previously written about this story (Early Jack Kirby, Chapter 2, Working for Fox) but my emphasis was on Kirby characterization and not on the flying. This Wing Turner story and another feature for Science Comics #4 were done at about the same time that Jack first met Joe Simon. Joe had just joined Fox as their first editor. Previously Fox Comics used Eisner and Iger to produce their comic books but that outfit was dropped and Simon was hired to set up a bullpen. It was a difficult task and one technique used was to advertise for Iger and Eisner artists that had previously worked on the comics (most signatures in the comics were aliases).
As I said, these two features from May were the only work the Jack did for Fox comic books. Kirby's primary job at Fox was the Blue Beetle syndication strips the earliest of which was dated January 8. This may seem to greatly predate the two Fox comic book features but that is misleading because of the way the two publication forms released. Uncolored syndication strips were typically created about 4 to 6 weeks before publication but comic books were cover dated about two months later then their actually release date. Further for comic books it typically took a month or more to create the art, a month for the printer and a month for the distribution. This meant that the work on a comic book started 5 or 6 months before the cover date. Do the math and you will find that the Blue Beetle syndication strip was done about a month before the 2 comic book features. However there is a caveat to this calculation; the initial work for a previously unpublished syndication strip is often done even further weeks in advance to give it time to be marketed to different newspaper publishers. So Jack was already working at Fox when Joe arrived, if only for at least month or so.
Frankly most of the Fox artists, or at least the ones who provided work after Fox stopped using Eisner and Iger's studio, are rather uninspiring. Even though Kirby had not yet reached his full potential, he still seemed a much better artist then anybody else that appeared in the Fox comics. Why only two features and why only when Joe Simon just started? Didn't Joe not like Jack's work? Well we can confidently say that Joe admired Jack's art right from the start since he would very shortly have Kirby helping with Blue Bolt, a feature for another comic book publisher. Probably the problem was the Blue Beetle syndication strip that Kirby was working on. Victor Fox had managed to get the Blue Beetle on the radio and probably had high hopes to succeed with it as a syndication strip as well. At the time syndications trips were big money, assuming the strip was picked up by enough newspapers. So Victor Fox would likely have wanted Kirby to devote his time to the Blue Beetle strip. However Fox probably relented to Kirby doing comics as well for the May issues because it simply was not possible for Simon to find artists quick enough. Once the bullpen was set up it was back to Blue Beetle strip for Jack, or at least as far as Victor Fox was concerned. Kirby did not let that stop him because he had already started moonlighting for another comic book publisher.
The Simon and Kirby collaboration had not yet formed so Wing Turner was strictly a Jack Kirby piece. Even more so because Jack not only penciled it but also did the script, lettering and inking. Of course even at this point Jack was doing top rate art. Still the Wing Turner work is just not nearly as exciting as the Ted O'Neil stories done just 7 months later. Partly this was due to the different plots and the very short length of the Wing Turner story (3 pages), but part was that Jack's just got better even in such a short period of time. Note the use of both close and more distant views. However, while we can see the pilot in the last panel we cannot see his face. This may have been more realistic, but the use of expressions in Ted O'Neil was one of the devices by which Kirby was able to add excitement to the aerial scenes.