Recently Lawrence Genalo, Joe Genalo's son, left a comment to my post The Lineup. He mentioned that the center man in the lineup of the comic cover, who Joe Simon had identified as Joe Genalo, did not look like his father.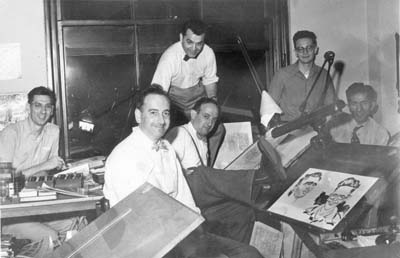 Simon and Kirby studio (probably from 1951 or 1952). Left to right: Joe Genalo, Joe Simon, Jack Kirby, Mort Meskin, Jimmy Infantino and Ben Oda
I sent Larry a copy of the studio photograph (shown above) and he has verified that the man on the left is his father. Joe Genalo is shown working on a color guide. Before him are two low boxes filled with small jars, these are the dyes he is using for his coloring. You cannot tell it from this image, but a blowup of the original photograph reveals that Genalo is working on a cover for Prize Comic Western. Joe Simon has told me that color guides were the responsibility of the publisher, Prize Comics. Joe Genalo was therefore being paid by Prize and although he worked in the studio (the publisher did not have their own bullpen) he did not actually work for Simon and Kirby. In a further email Larry mentioned that as a teenager, he and his older brother (also named Joe) would help color proofs that their father brought home.
Please allow me a brief digression. In the photograph on Joe Simon's drawing board are two caricatures. I am usually critical about identifications based on similar photographs, but the art looks like Simon's work. The caricature on the right is obviously of Jimmy Infantino, but the one on the left does not match anyone in the photograph. In a recent issue of Alter Ego (#76) provided in Jim Amash's interview of Joe Simon is a photo of Jack Kirby, Joe Simon, Bill Draut, Ben Oda and Marvin Stein. When I saw the second photograph I immediately recognized the left caricature was of Stein. I strongly suspect that the reason that Marvin did not appear in the first photograph is that he was the one taking the picture.
Besides being a colorist, Joe Genalo was also an editor for Prize. The Postal Statements issued annually in comics may not be completely reliable but at least in the case of Prize comics there is no reason to discount them either. The GCD list Joe as the editor for Frankenstein Comics throughout its run (1945 to May 1956). Unfortunately I am unable to confirm that. I am in a better position for some of the other Prize titles but even with those there still are gaps due to issues that I do not have access to. The postal statements that I can verify that list Joe Genalo as the editor are:


All For Love
     #12  (v.3, n1)  April 1959

Headline
     #58  (v.8, n4)  March 1953
     #65  (v.9, n5)  May   1954
     #71  (v.10, n5) May   1955
     #76  (v.11, n4) May   1956

Justice Traps the Guilty (Prize)
     #48  (v.6, n6)  March   1953
     #60A (v.7, n6)  March   1954
     #72  (v.8, n6)  March   1955
     #81  (v.9, n3)  Aril    1956
     #89  (v.10, n5) October 1957

Personal Love
     #10  (v.2, n4)  March 1959

Prize Comics Western
     #98   March 1953
     #105  May   1954
     #111  May   1955


From this I would say that Joe Genalo was the editor for all Prize comics not produced by Simon and Kirby from at least 1953 until 1960. In 1960 Joe Simon returned to edit the romance comics, which were the only titles that Prize was still publishing. Genalo continued to work for Prize even after Simon's return although I cannot say in what capacity.
On a more personal level, Joe Genalo was born in Brooklyn on October 21, 1920. He was actually Joseph Genalo Jr. but is never listed as such in the comic books. When young, Joe played baseball for the Brooklyn Eagles, a semi-pro team. He was an outfielder and eventually a first baseman. Joe lived in Brooklyn until moving with his family to Levittown in 1950 and in 1958 to North Bellmore. In the 50's he was an excellent bowler, according to his son one of the best in the New York region. Other members of the Simon and Kirby studio joined Genalo in some bowling games but none were quite as good.
From his son Lawrence I learned that as a child Joe had rheumatic fever which caused two valves of his heart to be smaller then normal. Apparently Genalo did not talk about his heart problems because Simon was unaware of it until the day before Genalo left for Houston to have it operated on. His doctors were Denton Cooley and Michael DeBakey. These doctors would later become famous for their work in heart transplants, the first to be performed in the United States. Unfortunately when operating on Genalo the doctors were only aware of the problem with one of the valves. When the single valve was replaced, the other faulty valve could not take the increased pressure and it burst during the surgery. Joe Genalo died on March 15, 1963. He wife, Lorraine Mandella Genalo, lived until the age of 49 dying in 1973. They had three sons that are all still living, Joe Genalo III is now 64, Lawrence is 62 and Don is 50. Larry tells me that all are active bowlers but Don is the most successful. Don has won six national PBA titles from 1981 to 1991 and is ranked among the top 50 pros for financial success.
I am grateful for the information that Joe's son, Lawrence Genalo, has provided. It is nice to put a more human face to one of the contributors to Prize Comics. It is also rewarding to be able to identify with certainty all the people in the above photograph of the Simon and Kirby studio. Unfortunately it also means that the man in the center of Marvin Stein's lineup cover remains to be identified.