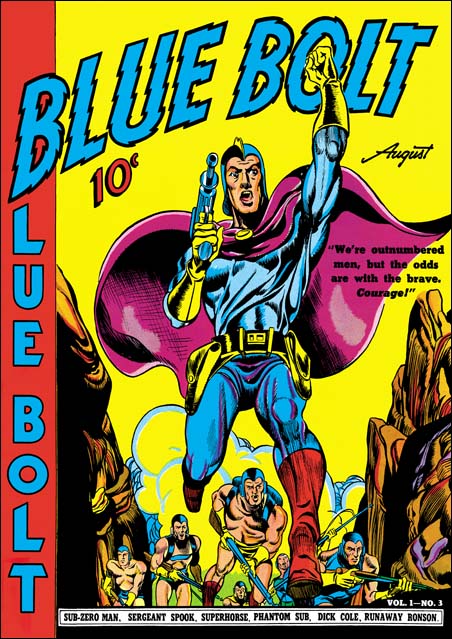 Blue Bolt #3 (August 1940) pencils and inks by Joe Simon
Although Simon and Kirby did 10 issues of Blue Bolt, they only provided 2 covers. The cover for Blue Bolt #3 is based on a panel from the story that also was done by Joe and it in turn was a swipe from Flash Gordon by Alex Raymond (Art by Joe Simon, Chapter 4, Footnote). But none of them could be described as close copies. For the cover Simon takes an extremely low view point so that we can see the sole of his boot. The men that Blue Bolt is leading appear to be coming over a ridge through a narrow pass.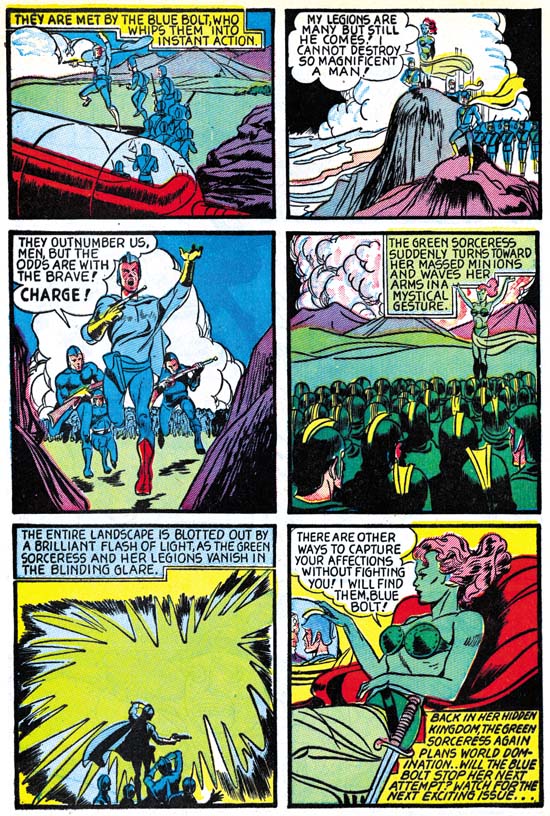 Blue Bolt #3 (August 1940) page 10, pencils and inks by Joe Simon
The same Blue Bolt figure appears in panel 3 of page 10. The view point is a little higher than on the cover but still rather low. The background figures are not the same and in the story we can see the soldiers as they advance over a plain. But the story panel still has the narrow pass.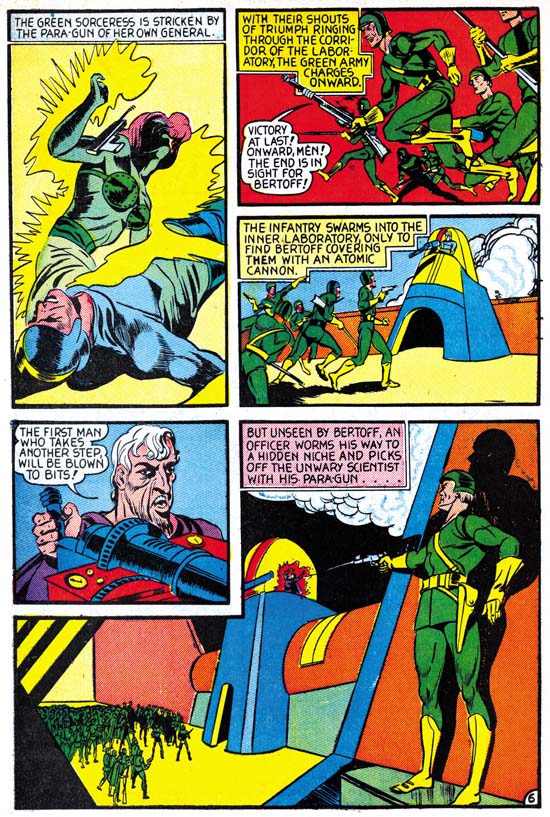 Blue Bolt #3 (August 1940) page 6, pencils and inks by Joe Simon
Most of the panels on page 10 are distant views which make it harder to see how far Joe's art has advanced. Page 6 provides closer views allowing that better show his artistic improvement. Simon's work had already been steadily improving but working with Kirby probably helped.
There is a regular improvement as well in the quality of the writing in the first three issues of Blue Bolt. Actually the story for BB #3 is greatly advanced over BB #2. Was this due to Joe learning as he went? Or is it possible that the script was written by someone else? I doubt if Kirby had anything to do with the improvement as his contribution to BB #3 seems so small (see below). In the future most stories would be written by others after which Joe and Jack would rewrite them to give their stories the special Simon and Kirby quality.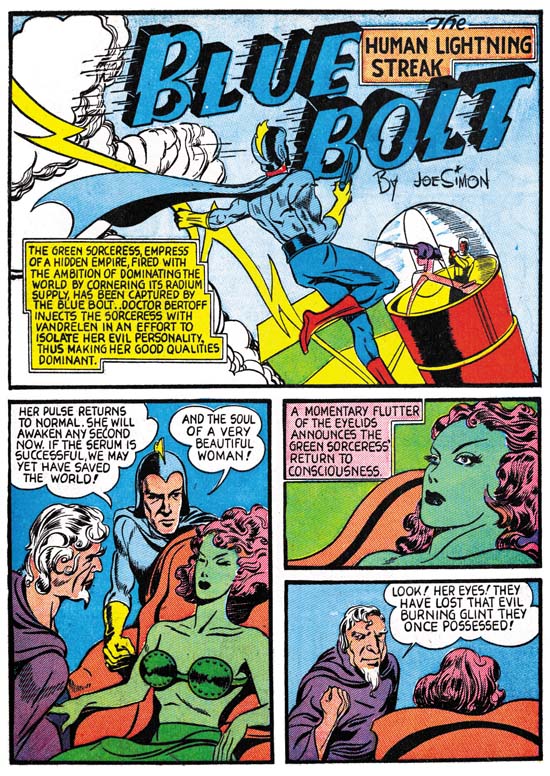 Blue Bolt #3 (August 1940) page 1, pencils by Jack Kirby, inks by Joe Simon
Although the splash panel credits Joe Simon alone, Jack Kirby drew the first page and two other (pages 2 and 7). Whatever their working arrangement was it seems clear that it was not the full partnership that would exist later. Kirby provides even fewer pages for Blue Bolt #3 that he had for BB #2. While Kirby inked his own pages for BB #2 it was Simon that inked Kirby's pages for BB #3. So Kirby's contribution had actually diminished.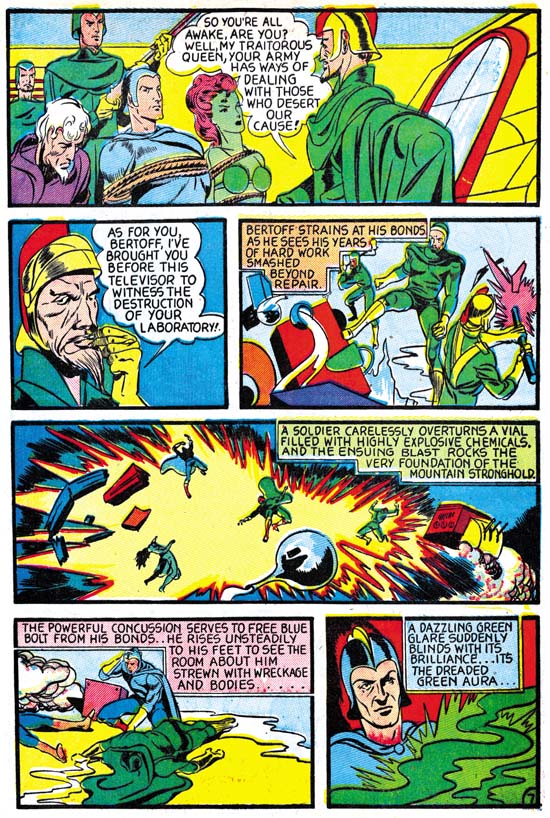 Blue Bolt #3 (August 1940) page 7, pencils by Jack Kirby, inks by Joe Simon
Joe Simon became quite good at inking Jack Kirby's pencils. So good that it is often difficult to determine who providing the inking. But for BB #3 Joe's hand is revealed by his handling of eyes and eyebrows which are merged into one angular form. In the previous chapter I suggested someone other than Joe or Jack inked the cover to Champion #9 (July 1940). Now seeing pages from BB #3 like the one shown above I realize that cover was in fact inked by Simon. Note the smooth and stylized folds on the clothing which are like those found on the Champion #9 cover.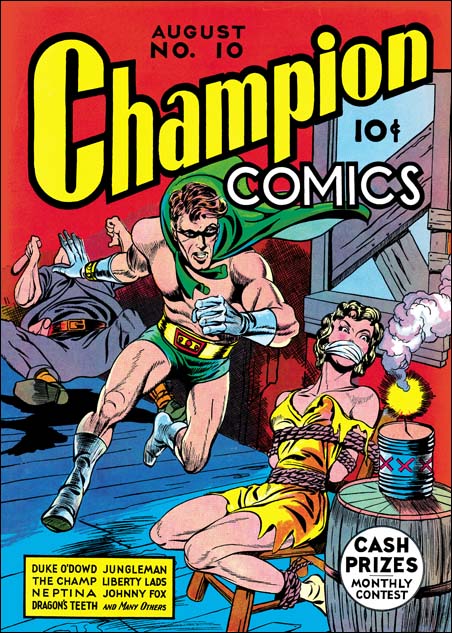 Champion #10 (August 1940) pencils by Jack Kirby, inks by Joe Simon
While there is disagreement on what credits should be applied to the art for the covers of Champion #8 (June 1940) and #9 (July 1940) it is pretty much agreed that Kirby drew the Champion #10 cover. Jack is already showing some of his typical traits such as the hero's unruly hair, the use of exaggerated perspective and a running stride that is more impressive than realistic.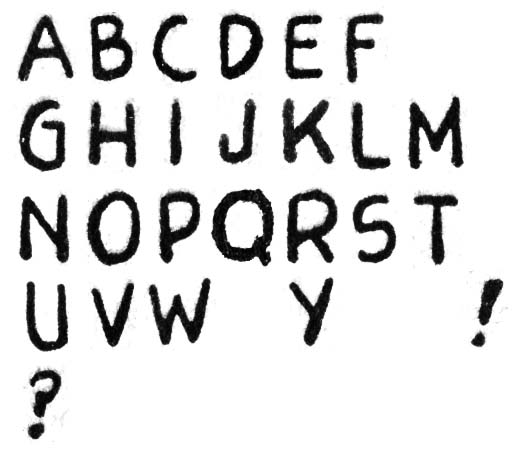 Blue Bolt #3 (August 1940) letters by unidentified letter
The lettering for Blue Bolt #3 is different from that of BB #1 (by Joe Simon) or BB #2 (by an unidentified letterer). Absent from BB #3 are Simon's rather unique 'W', Kirby's special horseshoe shaped 'U' or BB #2 letterer's unusual 'E'. The BB #3 letterer uses a special 'G' with a long straight segment that pushes the horizontal bar to a great height. The angular 'J' is also unusual but that is not a commonly used letter. Other letters to note are the 'W' and 'M' where the inner angle does not extend as far as the outer leg segments. Further the 'M' has vertical outer lines.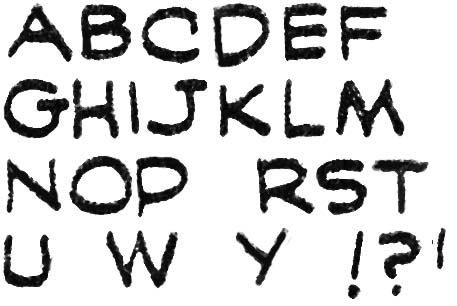 Prize Comics #7 (December 1940) "The Black Owl" letters by Howard Ferguson
Some have suggested that Howard Ferguson did the lettering for BB #3. The timing is certainly possible because at that time Joe Simon had left Fox to become Timely's first editor where Howard Ferguson was working. I have discussed Ferguson's lettering (Some Lettering by Howard Ferguson) and I include above an example of his work from just a few months later. They do not look like the same letterer to me. Note the very different forms for the letters 'C', 'G', 'J', 'K', 'M', and 'W'. Some have argued that at Ferguson had just begun to do lettering at this time and his work was not initially as professional as it would be later. The suggestion has been made that the unusual double line border to the captions found in BB #3 (see above images) is a  Ferguson trademark. However as we will see in a future chapter Ferguson was not the only one using this special caption border.
When I started this serial post my intentions were to concentrate on Blue Bolt using it to show the beginnings of the Simon and Kirby collaboration. However I find myself referring more and more to sources outside of that title to clarify what is going on. So I have decided to make this a serial post on the early stages of the Simon and Kirby team up with Blue Bolt as just one of the comics included in the discussion. My new plan is to examine Simon and Kirby up to the creation of Captain America. The first two chapters have been re-titled accordingly but otherwise remain unchanged.