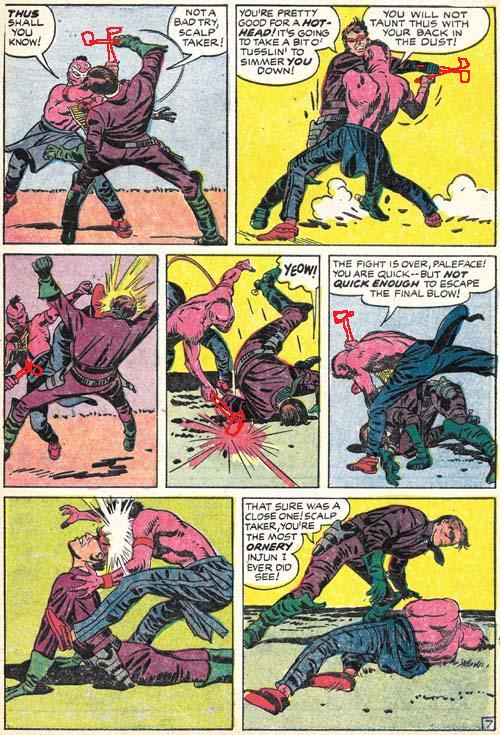 Bullseye #6 (May 1955) "Tomahawks For Two" page 7, pencils by Jack Kirby, inks by Joe Simon and Jack Kirby
Sometimes I miss the most obvious observations. Fortunately often one of my readers sets me straight. Shortly after putting up my Bullseye #6 post I got an email from Charles R. Rutledge:
Just out of curiosity, did the Comics Code make S&K remove the Tomahawks from the hands of the fighters? They're fairly obviously blocking and hitting with things that aren't there. It's especially evident in panel four of page seven. Look at the Indian's hand and follow it to where an object, presumably a tomahawk would be hitting the ground as Bullseye rolls out of the way. See my hastily scribbled tomahawks below. Also, one would expect tomahawks on the splash page of a story called tomahawks for two and Bullseye's upraised hand does look as if it might have been drawn.
His tomahawks may be hastily scribbled but they made his point completely obvious. I have never seen the original art but I have absolutely no doubt that it would show white-out in those areas. The Comic Code was recently introduced, for Bullseye first appearing on issue #5. Either "Tomahawks for Two" was drawn before the Code was enforced or Joe and Jack had felt that the fight scene was not too violent even with the tomahawks. After all children could see that sort of thing on television at the time. But the Comic Code was rather excessive when it came to the use of weapons so the tomahawks had to go.
Nice work and thanks Charles.