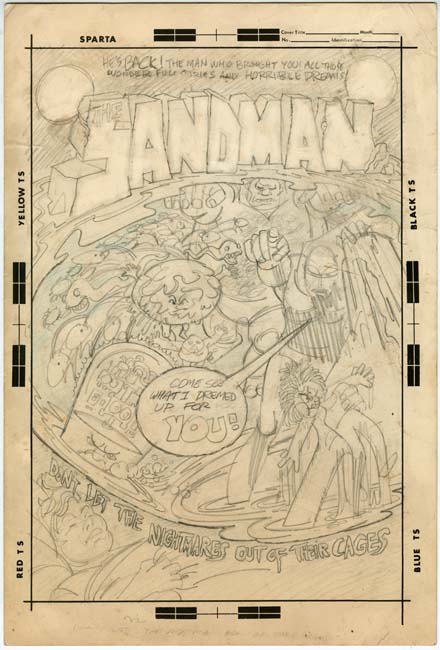 Sandman #1 cover proposal, art by Jerry Grandenetti
Comic artist and historian Jim Amash has written that Jerry Grandenetti has passed away (Jerry Grandenetti RIP). Actually it was not recently either, he left us last February. While pretty much ignored by today's fans, Grandenetti had a long history as a comic book artist. Much of that was for publishers like DC but more pertinent for this blog is his efforts with Joe Simon. Jerry worked for Joe Simon for Sick and some short lived titles produced for DC in the 70s (Green Team, the Outsiders, Prez and Champion Sports). Simon feels the work that Grandenetti did on those DC titles with Greig Flessel supplying the inks were spectacular but that fans did not seem to agree.
I have not written much about Jerry in this blog. There was an artist who signed some works with the initials JG and Jerry was one of the candidates for that attribution (Little Shop of Horrors, Chapter 4). Joe does not remember Grandenetti working for him then but with so many artists working for Simon and Kirby at that time he could easily have forgotten. I always meant to send Jerry some copies of that work to see he thought but unfortunately never got around to it. Grandenetti played an important part on a couple of posts about the cover for the Simon and Kirby 1971 version of the Sandman (Jerry Grandenetti and Sandman and Sandman Revisited). Jerry's rough proposal for the Sandman cover was obviously the basis for Kirby's published version.
To be honest I originally did not hold a high opinion about Grandenetti's art. This was largely the result of my review of the covers that he did reworking what was originally done by Jack Kirby (Black Magic at DC). I am always the first to say how unfair it is to compare Jack Kirby with any other comic book artist. However even when recognizing the dangers of such a comparison, it is still all too easy to fall into that trap. My earlier negative evaluation was greatly changed when I recently had the occasion to scan some of the original art for Prez and the Green Team as well as an unpublished horror story. I now have come to realize the high quality of that work. It is rather unfortunate that Jerry Grandenetti has become another of the forgotten comic book artists.