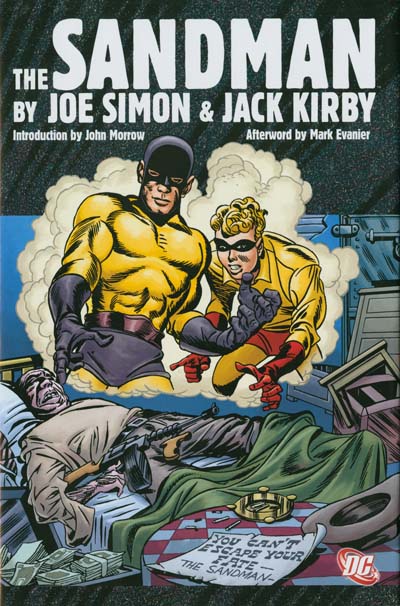 Joe Simon gave me a copy of DC's new book "The Sandman by Joe Simon and Jack Kirby". Amazon lists the release date as August 18, but it may be in comic books stores sooner then that. Simon and Kirby worked on Sandman (along with Manhunter, the Newsboy Legion, and Boy Commandos) just after leaving their highly successful run of Captain America at Timely. It was with Captain America that Simon and Kirby achieved fame but it was at DC that their unique collaboration really took root. This book provides all the Simon and Kirby Sandman stories that appeared in Adventure and World Finest Comics. That means the book contains all the independent Sandman stories that Joe and Jack did but excludes Sandman's appearance in All Star Comics as part of the Justice Society of America. The Sandman also excludes some Sandman stories done by other artists while Simon and Kirby were doing their military service during the war. Included also is Simon and Kirby's last comic book collaboration, a remade Sandman from 1974. Only the first issue of the 70's Sandman is here since Joe and Jack once again went their separate ways. With 290 pages of art that is a lot of Simon and Kirby and at $39.99 a real steal. At that price you could not even buy a single issue of the original comic let alone the entire run.
There are two basic philosophies about how to reprint old comic book art. One approach is to recreate, or as Marvel calls terms it reconstruct, the art. The other approach is to use cleaned up scans. Recreated reprints can look superficially attractive but the reader is actually getting a modern artist interpretation of the original work. Depending on the artist doing the recreation this may or may not be very accurate. Reprints using scans are accurate but not always pretty because of the primitive printing of the original comics and the deteriorations that they have suffered with age. I prefer reprints that use scans and I am happy to say that is the approach that DC has adopted for this volume.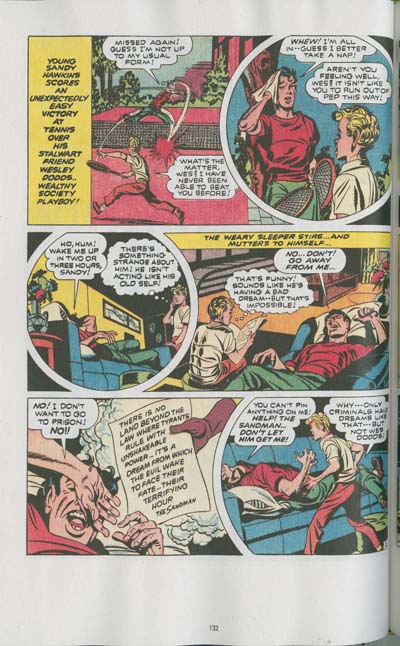 In all honesty there are some problems with The Sandman. The book is 7 by 10.5 inches in size. This is a common dimension for books of this nature but it meant that the art had to be reduced in size. However it is not much smaller then the original and reading is not really impaired. I would have preferred the original size but that would have meant a larger book with a correspondingly higher sales price. It is not the height of the original comics that caused the difficulty but rather the width. DC was obviously trying to limit the amount of size reduction and so the margins and gutters are rather narrow. The image above shows the resulting page format. The narrow gutter does not really affect the reading but as can be seen it does make scanning difficult.
There is a nice introduction by John Morrow, publisher of The Jack Kirby Collector. Morrow provides some much needed background for those not steeped into the history of Simon and Kirby. However there is a secret rule that says that every volume reprinting Jack Kirby material must include an essay by Mark Evanier, in this case it is an afterword. Of course I am being a little bit facetious about there being such a rule, but only a little bit. Evanier not only knows more about Jack Kirby then anyone else but he is also a marvelous writer. His presence in The Sandman, or any other Kirby volume, is always much appreciated.
What can I say, this is after all the Simon and Kirby Blog and this book is prime Simon and Kirby. Buy this book to find out how a second rate backup feature became the star of Adventure Comics. Buy this book to see how exciting Simon and Kirby could be. But buy this book.