After the failure of Stuntman and Boy Explorers (published by Harvey Comics) by October 1946 (cover date) Simon and Kirby had to look elsewhere to keep their partnership going. DC was not really much of an option. Simon and Kirby had pretty much burned that bridge behind them when they made the deal with Harvey. Yes they still contributed to Boy Commandos, but Sandman had been cancelled months before and the Newsboy Legion would be a few months later. Joe and Jack would eventually do work largely for two publishers, Hillman and Prize. On the face of what S&K initially produced one might predict that Hillman would be the primary source of future work. While Simon and Kirby produced a crime title for Prize (Headline) they supplied a wide variety of genre to Hillman; crime (Clue and Real Clue Crime Stories), adventure (Flying Fool in Airboy), teenage humor (My Date), and most surprising kiddy humor (Punch and Judy). Furry animal stories seem such an unlikely product for Joe and Jack. However I doubt that Simon and Kirby felt there was any genre they could not do better then most other creators.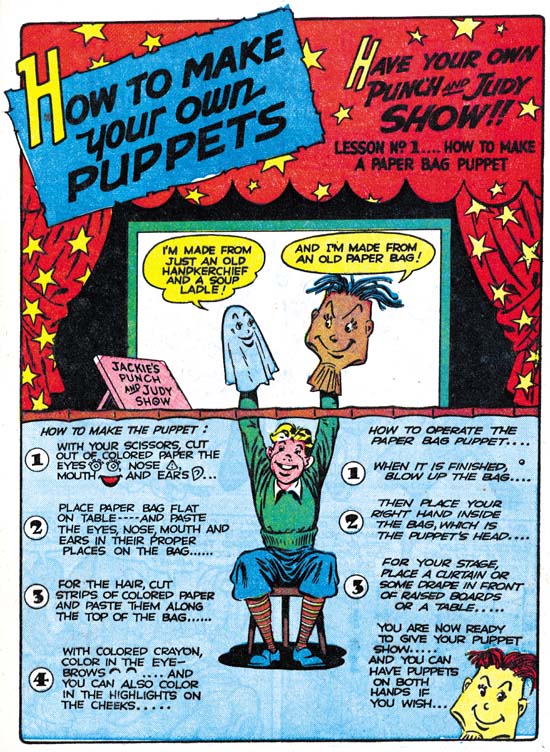 Punch and Judy vol. 1 no. 4 (Fall 1945) "How to Make Your Own Puppets", art by an unidentified artist
According to the Jack Kirby Checklist, the first time Kirby drew something for Hillman was for Punch and Judy in the fall of 1945. If true it would have been one of the earliest things that Jack did after the war. The earliest other post-war work was the cover for Adventure #100 (October 1945, and no I do not believe this was done before Kirby went into the Army) so the date for the early Punch and Judy piece is just possible. At this point Joe Simon was still in the Coast Guard and so any work that Jack did was done without Joe's help. The last time I wrote about this early Punch and Judy piece I was undecided about how correct the attribution to Kirby was. Since then I come to believe that "How to Make Your Own Puppets" should be excluded from work by Kirby. The timing seems wrong. It does not seem reasonable that immediately after returning to civilian life that Jack would seek out and find a company that he had never work for previously. Instead it would have made more sense to return to DC since at that point he still had a good relationship with that company. Yes I know Kirby did work for another company Lafayette Street Corp. (Picture News #1, January 1946, "You Can't Loose A Faithful Dog") but that had a cover date of months later. The inking for "How to Make Your Own Puppets" was not by Kirby. And last, but certainly not least, the drawing does appear to have any distinctive Kirby traits. Now it is true that the subject matter is not typical for Jack Kirby and therefore there is less to compare with it. But it is easy to recognize Kirby's hand in some similar work for newspapers that Kirby did early in his career as well as the later work for Punch and Judy. So the absence of Kirby traits in "How to Make Your Own Puppets" is not a good sign.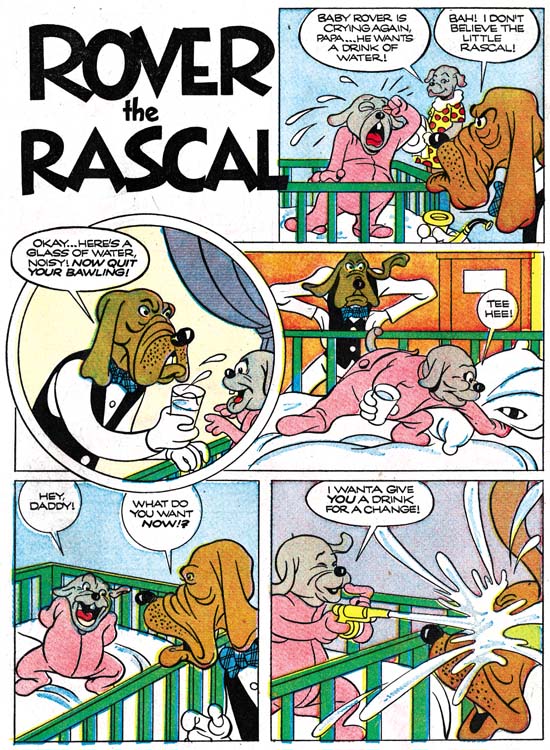 Punch and Judy volume 2, number 9 (April 1947) "Rover the Rascal", art by Jack Kirby
So if we exclude "How to Make Your Own Puppets", the earliest work that Simon and Kirby did for Hillman was "King of the Bank Robbers" (Clue volume 2, number 1, March 1947). The next month Joe and Jack did another crime story and their first contribution to Hillman's Punch and Judy Comics. Punch and Judy obviously catered to a younger reader then S&K normally dealt with. The feature story was about a about a wooden puppet that was very much alive, in other words a Pinocchio clone. Other stories included talking animals. Art was very simple consisting of little more then outlines. S&K first art for Punch and Judy was "Rover the Rascal". This was a single page humor using a humanized dog family. I am not sure whether this was the first appearance of "Rover the Rascal" but it would not appear again. The line art was a simple as that found in the rest of the comic. The humor was of the slap-stick variety, something that Kirby gravitated towards. Probably the only exceptional thing about this piece was the use of a circular panel. That was a device that was very abundantly used from Captain America to Stuntman, but in the near future would become less common. All in all "Rover the Rascal" was not a very successful piece, but it was not a failure either. It was a beginning. For the rest of the year each issue of Punch and Judy what have at least one piece by Simon and Kirby and often two.

Punch and Judy volume 3, number 2 (December 1947) "Earl the Rich Rabbit", art by Jack Kirby
One of the stories that Simon and Kirby would do for Punch and Judy was not their own creation. "Earl the Rich Rabbit" had appeared previously. I am not sure when it was created but the GCD has an entry for it for February 1947 issue (volume2, number 7). The Wikipedia says that Tony DiPreta drew it, but it is not clear if he was the creator or even when he worked on Earl. Jack Kirby did "Earl the Rich Rabbit" three times (June, October and December 1947). As generally was the case for Punch and Judy, the art for "Earl the Rich Rabbit" was very simplistic. Little more then outlines. Even so Kirby's personal drawing style can often be recognized. There is little in the way of spotting but the spotting that was used was often drop strings (see the Inking Glossary for an explanation of inking terms). Considering their situation it is unlikely that Simon and Kirby had any studio assistants at the time. So it is likely that the inking was done by either Jack or Joe. There is little to go on, but what little there is looks like Jack's spotting. The outline inking is just too simple to hazard a guess. The humor is often the slap-stick that Jack preferred. The "Earl the Rich Rabbit" stories that Simon and Kirby did were nicely done and funny in places. But I cannot help but feel that Joe and Jack's hearts were not really into it. Since it was an ongoing feature I suspect that Simon and Kirby were not given any leeway to make the type of changes that would get their creative juices flowing.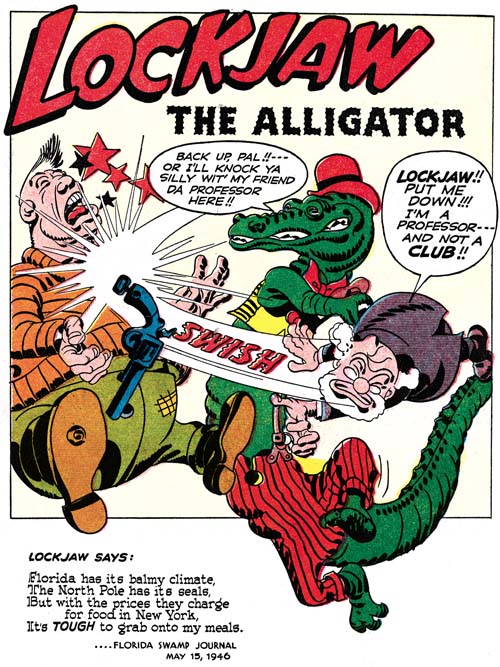 Punch and Judy volume 2, number 10 (May 1947) "Lockjaw the Alligator", art by Jack Kirby
Simon and Kirby's most frequent contribution to Punch and Judy was "Lockjaw the Alligator" which appeared on four occasions. Lockjaw was a S&K creation and forms an interesting contrast to "Earl the Rich Rabbit". The art is much more substantial in Lockjaw as compared to Earl. Although still simple relative to work by Simon and Kirby in other genre, the drawing is more detailed and the inking more substantial then the other funny animal stories. Drop strings are much more evident but there are no signs of techniques such as picket fence crosshatching. Most important is that forms are given a much more three dimensional shape. As I wrote before the inking was probably done by either Joe or Jack. In the case of the above splash I suspect it was Kirby doing the spotting.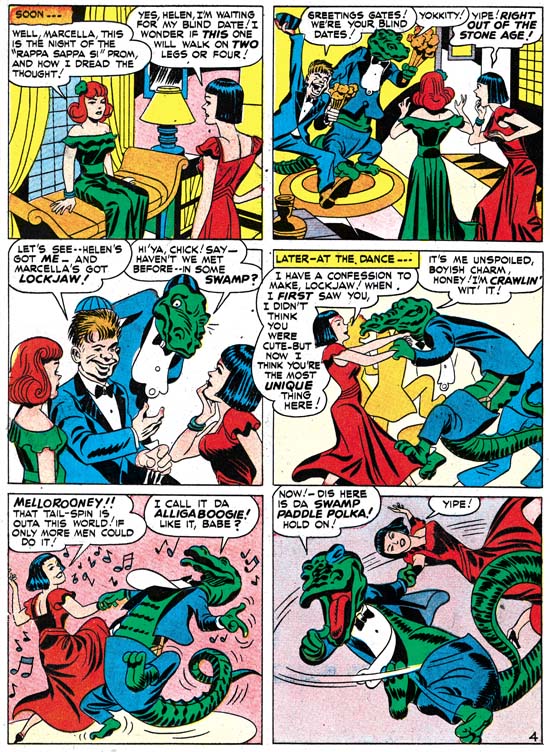 Punch and Judy volume 3, number 1 (October 1947) "Lockjaw Goes To College" page 4, art by Jack Kirby
The humor is predominately slap-stick and can get pretty ridiculous. This is not a negative criticism because you can hardly expect talking animal stories to be serious (that only changed in recent years). Lockjaw really can be a lot of fun. I could not resist including one of my favorite pages. The image of an alligator on a college date is pretty ludicrous. Lockjaw's cloths always looked funny but never more so then this tux. The dance sequence continues onto the next page where it goes to rather extremes, but it is panel 5 that is one of my favorite pieces of Simon and Kirby humor art.
The inking of the cloth folds does not look like Kirby's which normally would have more elongated oval (spatulate) shapes. Also the placement of the folds does not look typical for Jack. So this story was most likely inked by Joe Simon.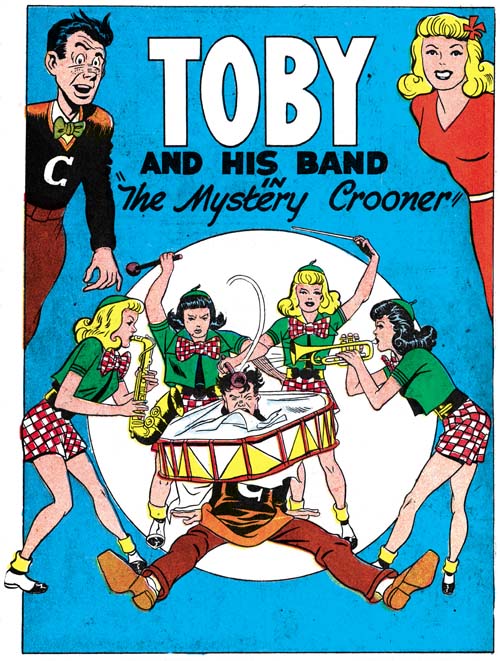 Punch and Judy volume 2, number 12 (July 1947) "The Mystery Crooner", art by Jack Kirby
Simon and Kirby had one other creation used in Punch and Judy; Toby and His Band. Toby had only one appearance but the fact that it was provided with both a feature name and a story title (not done for any of the other Simon and Kirby stories in Punch and Judy) suggests a hope for it to be a continuing feature. Toby was not a funny animal story but rather belong to the teenage humor genre. The surprise is not that Simon and Kirby would try teenage humor (after all Archie was a big success) but that they would try it twice for the same publisher. My Date was a not the proto-romance that some have tried to make it but rather another teenage humor comic. The fact that the first issue of My Date and the Toby and His Band story were both released in the same month suggests that Toby may originally have been conceived for My Date.
Toby also has a more then passing resemblance to another Simon and Kirby story: "Pipsy" from Laugh #24 (September 1947) published by Archie. Only a slight change in hair style would be required to morph Toby into Pipsy. Doreen, the leading lady from "Pipsy", even has the same ribbon in her hair as Jill does in the splash for Toby and His Band. Since "Pipsy" was published just a couple months after "The Mystery Crooner" if it was not recycled art it was at least a recycled concept.
Although Simon and Kirby started out doing a greater variety of work for Hillman then for Prize by the end of the year things were very different. It was Prize that agreed to publish Joe and Jack's Young Romance in September. The conversion of Headline into a crime comic by S&K must have been very successful as the first Justice Traps the Guilty was released in October. The deal that Simon and Kirby made with Prize must have been very attractive, particularly the sharing of the profits for the highly successful Young Romance. Simon and Kirby's last crime work for Hillman would appear in September, the last Fly Fool and the last work for Punch and Judy would be in December, and My Date would end in January 1948. The last Hillman work would be a cover for Western Fighters #1 (April 1948). Left over inventory?