20th Century Danny Boy has been on a roll lately providing a series of interviews with assorted comic book artists. His latest is Alan Kupperberg. I have to admit there is a rather large period from when I stopped reading comics as a young man until I started with them once again. Some of what happened in between I have since picked up on, some of it I am still ignorant about. I have heard of Evil Clown comics but have no first hand experience with them. Frankly I find some of the art that Danny provides somewhat offensive (so be forewarned) but there is no denying Kupperberg's talent.
The idea of a (morally) bad clown was not new, others have used it as well. There is something about the juxtaposition of a funny costume and an evil nature. It was not a big part of the Simon and Kirby repertoire, but Joe and Jack did use it. And of course anything that Simon and Kirby did, they did very well indeed.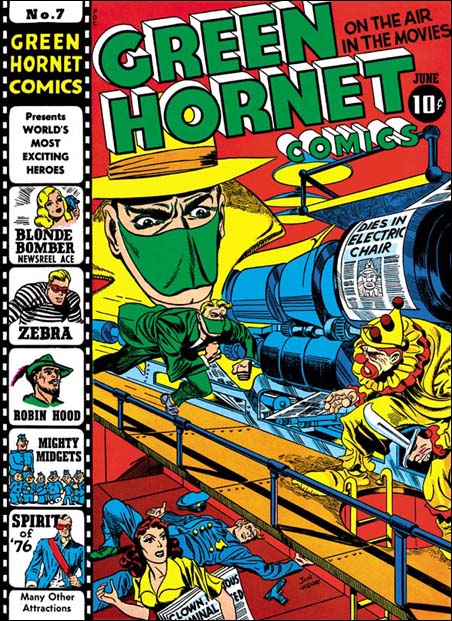 Green Hornet #7 (June 1942), art by Jack Kirby and Joe Simon
I am thinking particularly about the cover for Green Hornet #7 (June 1942) that Joe and Jack did for Harvey Comics. I have already posted on this cover but Danny's blog has brought it back to mind. This was a joint effort, Jack did most of the pencils but Joe drew the large floating head. The signature says Jon Henri, but do not let that fool you. Henry is Joe Simon's middle name and Joe was so fond of the name Jon that he gave it, with that unusual spelling, to his first son. I am still uncertain about who did the inking, but my suspicions are that it was done by Al Avison. I like my original description of this piece of art so I am just going to repeat it.
I love the way Simon and Kirby make a cover tell a story. The Green Hornet is rushing to attach a killer clown. If the clown carrying a wicked knife wasn't enough, the lady on the lower level carries a newspaper with headlines that are hard to make out completely but clearly includes "CLOWN … CRIMINAL …". Behind her is a fallen policeman, his gun laying at his side, clearly the Green Hornet will be taking on one tough clown. The press above is printing the front page for the latest edition declaring "DIES IN ELECTRIC CHAIR" with a picture of the clown, obviously printed ahead of time because the clown escaped before facing his execution. The Green Hornet had better be careful because this clown has nothing to loose.