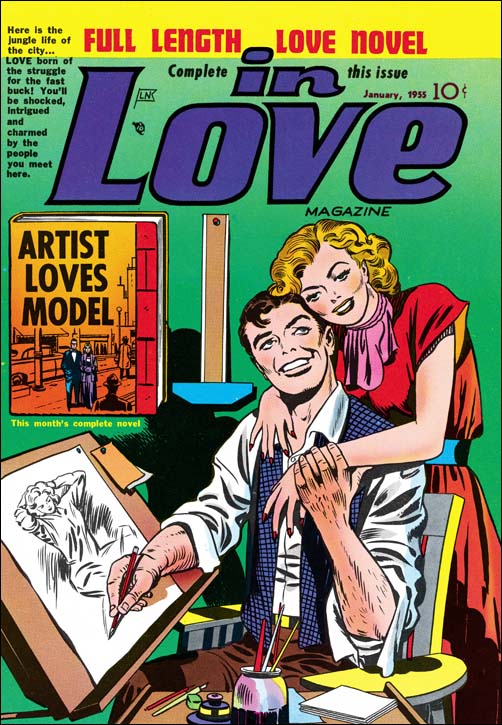 In Love #3 (December 1954) "Artist Loves Model", art by Jack Kirby
The artist and model theme was one that obviously resonated well with Simon and Kirby. They launched the whole romance comic book genre using the theme on a cover The theme became the basis of a syndication strip proposal most likely from the late '40s or early '50s. Later Simon and Kirby then tried to use it as a basis for a new comic book title. Kirby and Bill Draut both made cover proposals for the "Artist And Models" book. Kirby's version of the cover and the original syndication proposals were used as a basis for the "Artist Loves Model" story for In Love #3. Theakston's Jack Kirby Treasury vol 2 has one of the syndication strips. 2 panels made it into the comic version of the story, while 2 panels did not. The panels that made it were used in their entirety. Joe Simon's collection has the original art for what was going to be the first page of the story. Two of the original three rows of panels remain on this page. Everything was cut and pasted, nothing was drawn on the board itself. Unlike the art from the Treasury strip example, this page did not use whole panels, instead these are pieces of panels cut to fit together. I am not sure why this page was abandoned, but it does seem to tell a story that deviates from the published version.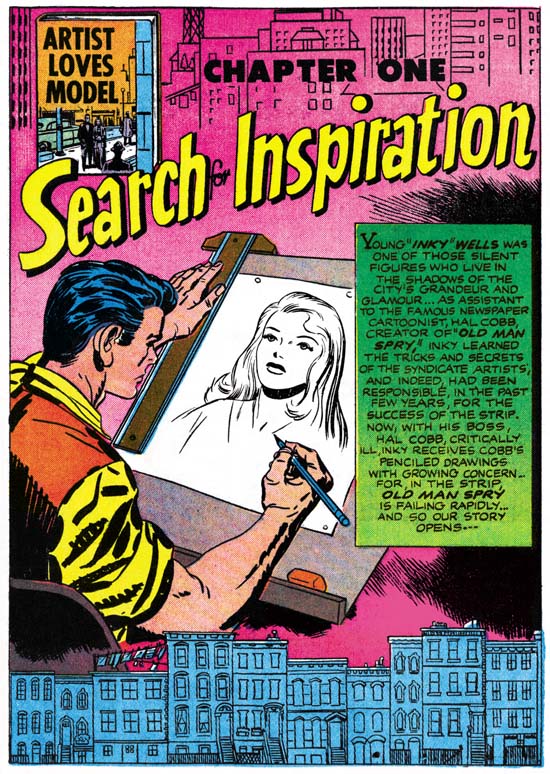 In Love #3 (December 1954) "Artist Loves Model" page 1, pencils by Jack Kirby inks by Joe Simon
We can be certain that the published first page was newly created for the comic book version of the story, a syndication strip would not require a full page splash. I am not certain, but I believe Simon did the inking. It is even blunter then what Kirby was doing at the time without the type of control Jack usually provided. When I showed Joe this page he commented that he felt there was too many words in the caption. It is an unusually wordy introduction for a Simon and Kirby comic. This was probably due to the need to cover the part of the story which had been on the abandoned first page that I talked about above. Although I have attributed the pencils to Jack, he may not have done the rows of buildings at the top and bottom of the page. In any case the tenements on the bottom are a particularly nice touch.
Of all the stories published for the In Love title, or any other Simon and Kirby romance productions, the inclusion of "Artists Loves Model" in the romance genre is the greatest stretch. Although love plays and important part of the story it really is not the central theme. The real theme for this story concerns artistic creativity. The story follows the lead character Inky from the end of his gig as an assistant to a famous and successful syndication strip artist. We see Inky's failed attempt at creating his own strip. Eventually our hero does accomplish his goal, but only as an unwitting accomplice to intellectual property theft. When Inky realizes what has happen he abandons his new found success and sets things right. But he has not only proved his moral integrity, but his artistic value as well. Inky ends up with a new assignment and there is little doubt that he will be very successful with it.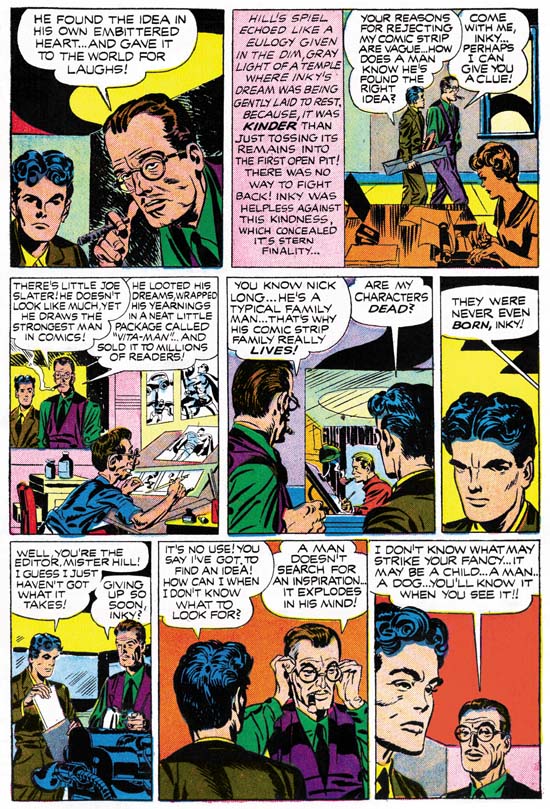 In Love #3 (December 1954) "Artist Loves Model" page 5, pencils by Jack Kirby
"Artist Loves Model" has significance beyond the fact that it is a great story. Both Jack and Joe gave a number of interviews later in their lives. Jack's interviews in particular give insight into his opinions about the creative process. The prestige of comic book artists is very different from the Silver Age on. I doubt very much if anyone bothered to interviewed Kirby or Simon during their time of collaboration. Therefore "Artist Loves Model" provides a rare opportunity into what Simon and Kirby thought about creativity in comic art at that time. When syndication manager Jack Hill rejects Inky's initial strip proposal Hill's explanation is:
BECAUSE YOUR CHARACTERS ARE ARTIFICIAL, INKY … THEY LACK LIFE!
Later Hill makes it clear that he is not just talking about how good the drawing is:
NO EDITOR IN HIS RIGHT MIND WILL ACCEPT THAT LIFELESS CREATION, INKY! IT'S JUST A GOOD-LOOKING CORPSE!
To help Inky understand what he is saying, Hill shows two popular syndication artists at work. One, a small and skinny man, draws a Superman clone (Vita-Man), using his inner most desires as an inspiration. Another artist is a typical family man and therefore can make his comic strip family real for his readers. One particularly interesting comment is made by Mr. Hill:
A MAN DOESN'T SEARCH FOR AN INSPIRATION … IT EXPLODES IN HIS MIND!
The way this particular comment is phrased sounds so like Kirby to me. It is just the sort of thing that Jack might have said thirty years later.
Inky's love interest is his new found manager, Donna Dreame. Donna is a very beautiful woman with a larcenous heart. Unfortunately Inky is the only one in the story who does not recognize her true nature. Donna is surprised to find that Inky has used her as a model for one of the characters in the strip they are collaborating on. However as Donna remarks:
BUT THIS GIRL … SHE'S A SWEET YOUNG THING … INNOCENT … WHOLESOME … EVERYONE'S KID SISTER …
This is the way the love blind Inky sees Miss Dreame. Donna is so taken by Inky's idolized version of herself that she resolves to be more like the woman that the artist has portrayed. Real life has inspired art which in turn becomes a source of inspiration. I believe this is a rare presentation of a core, if unspoken, Simon and Kirby philosophy. I can think of no more capable comic book creators at that time then Simon and Kirby. Yet Joe and Jack never went to the extremes found in comics produced by companies like EC. Even before the Comic Code there was a self imposed barrier of good taste that Simon and Kirby would never extend beyond. As businessmen money was very important to them, but never to the point that Joe and Jack would compromise their product. Simon and Kirby wanted their stories to be sources of inspiration for their readers and not just a vehicle for cheap thrills.
"Artist Loves Model" is unique among the numerous Simon and Kirby productions. Unfortunately In Love #3 is probably the rarest of all the Mainline/Charlton Simon and Kirby issues. Further this story has never been reprinted. The story has no superheroes or blazing guns yet I think it is a most important story that every Simon and Kirby fan should read. Perhaps someday that will once again be possible.
The format of the In Love would change after issue #3. Never again would the title include a "book length love novel". Nor would the stories have the unique flavor that previously even many of the backup stories had. The stories from In Love became indistinguishable from those concurrently being produced by Simon and Kirby for Young Romance, Young Love and Young Brides. I will continue scanning and restoring the remaining issues of In Love but I doubt I will be posting about them at this time. First I need to write about Simon and Kirby's long and fruitful career in the romance genre.
Addendum:
When I wrote the above I had completely forgotten that Bob on the Jack Kirby Comics Weblog had once posted on the syndicate version of this story. I am in the process of getting a copy of Buried Treasure v1 #2 which Bob reports has 36 strips. When I do I will post on what portion of the original strip made it into the comic book story.