FOR IMMEDIATE RELEASE
San Diego Comic-Con International
July 22, 2009
THE SIMON & KIRBY SUPERHEROES
Massive Collection Scheduled for 2010
Titan Books to release comprehensive 480-page edition
of fully-restored – and – previously unpublished superhero stories
by Joe Simon and Jack Kirby
Following the success of The Best of Simon and Kirby, the first volume in The Official Simon and Kirby Library, Titan Books has announced that The Simon and Kirby Superheroes will be collected in an ambitious 480-page omnibus featuring all of the costumed hero adventures produced by the legendary team that created Captain America. "Aside from their work for Marvel and DC, this will be all of the superhero stories Joe and Jack wrote and illustrated together from 1940 through 1960," noted Titan owner and publisher Nick Landau. "It's a massive undertaking, but our team is ready to take it on."
The Simon and Kirby Superheroes will be released in summer 2010 in the special 11″ x 7-1/2″ oversized format, making it possible to reproduce the comic book pages in their original printed size. "Comics were larger in the Golden Age of the medium," explained series editor Steve Saffel, "and we wanted to be able to give readers the full experience of these brilliant stories." As with The Best of Simon and Kirby, the stories will be fully restored by Kirby historian Harry Mendryk, presented on quality matte stock paper in vivid color.
The edition will begin with the mysterious costumed hero The Black Owl from Prize Comics in 1940–the year Simon and Kirby first joined forces. It will include the big-top swashbuckler known as Stuntman, the Runyonesque adventurer The Vagabond Prince, the entire run of the cold-war patriot The Fighting American, and The Fly and Private Strong the final Simon and Kirby collaborations before Jack Kirby moved over to help launch the Marvel Universe.
"What's more, we've got some amazing surprises in store," Saffel added. Restoration wizard Harry Mendryk will take the groundbreaking 1953 adventures of Captain 3-D and convert them to their original line art. These classic stories also feature artwork by Mort Meskin and a young Steve Ditko–who went on to co-create The Amazing Spider-Man at Marvel–and will be published in full color for the first time.
"Plus, with a little help from our friends, we've located a bunch of never-before-published pages starring Stuntman," Saffel revealed. "Many of the pages are in the hands of private collectors, with others coming directly from the Joe Simon archives. As a result, we'll be able to pull together nearly the entire story, 'Stuntman Crowns a Jungle Lord," and offer up other exciting features for the readers."
Details concerning The Simon and Kirby Superheroes are still being finalized and will be announced shortly. In addition, to support this volume and the entire Official Simon and Kirby Library, Titan will be launching a dedicated Simon and Kirby web site (http://www.titanbooks.com/simonandkirby) offering exclusive behind-the-scenes content, complete stories, and soon to feature video conversations with Joe Simon.
Joe Simon and Jack Kirby first joined forces on the science fiction character Blue Bolt in 1940, and later that year created the seminal hero Captain America (scheduled to be featured in a 2011 major motion picture by Marvel Studios). Simon became the first editor at Timely Comics, the company that later became Marvel, then he and Kirby moved over to DC Comics, the home of Superman and Batman. There they created the military title The Boy Commandos, which at its peak outsold Superman himself.
The Official Simon and Kirby Library features the only editions overseen by Joe Simon and fully authorized by Simon and the Estate of Jack Kirby. The next release will be Joe Simon's definitive autobiography, followed by editions collecting the team's extraordinary adventures of detective fiction, horror, and romance. "Every one of these books is a labor of love here at Titan Books," Nick Landau noted. "Our partnership with Joe Simon is one of our most treasured relationships, and we're grateful for the opportunity to bring these exciting adventures back into print, looking better than ever before."
Titan Books is a leading publisher of licensed entertainment, the UK's top publisher of graphic novels and world-renowned for television and film companions, including Watching the Watchmen by Dave Gibbons, and the official Watchmen and Terminator: Salvation movie tie-ins. Titan Books also publishes a series of high-end art books, and biographies such as the New York Times bestselling My Boring-Ass Life: The Uncomfortably Candid Diary of Kevin Smith.
# # #
Press Contacts US: Katharine Carroll: 914-788-1005 / ktc2000@aol.com
UK: Ellie Graham: 020 7803 1839 / ellie.graham@titanemail.com
The Official Simon and Kirby Library  Joseph H. Simon
and Joseph H. Simon and The Estate of Jack Kirby.
TITAN BOOKS
A division of Titan Publishing Group Ltd
Titan Publishing Group Ltd is a company registered in England & Wales with company number 1599367. VAT number 607 9631 24.?Registered office: 144 Southwark St, London, SE1 0UP
_____________________
ATTACHMENTS:

(1) A splash page from the 1953 release Captain 3-D, taken from the 3-D page and restored to line art by Harry Mendryk. These stories will be presented in full color for the first time. (A color version of this page is available upon request.) Copyright 2009 Simon and Kirby. All rights reserved.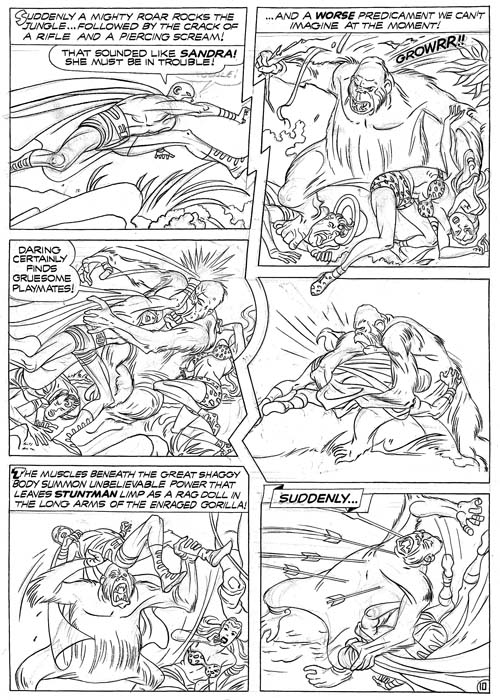 (2) A page from the never-before-published story "Stuntman Crowns a Jungle Lord." The story was partly inked and fully lettered, and with the exception of one missing page, will be published in its entirely in The Simon and Kirby Superheroes. Copyright 2009 Simon and Kirby. All rights reserved.