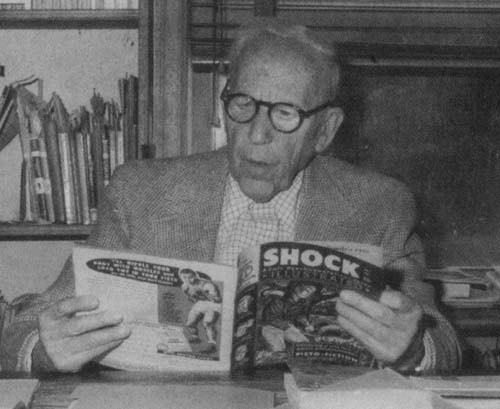 Frederic Wertham
The May 29, 1948 issue of the Saturday Review of Literature included an article "The Comics…Very Funny" by Dr. Fredric Wertham. Yes the very same Wertham whose 1954 book "The Seduction of the Innocent" initiated the events that crippled and nearly destroyed the comic book industry (The Real Reason for the Decline of Comics). The article was written in the same style used in his later book and likewise condemned the reading of comic books by children. Much of the article's beginning is devoted to numerous descriptions of crimes perpetrated by children. As an example:
Think of the many recent violent crimes committed by young boys and girls. A twelve-year-old boy who kills his older sister; a thirteen-year-old burglar who operates with a shotgun; a seventeen-year-old boy who kills a thirteen-year-old boy a leaves a note signed "The Devil"…
The supposed links between the children's' crime and the reading of comics is provided in only a very few places but otherwise the connection between the crime and comics is largely ignored except for this rather surprising statement:
All these manifestations of brutality, cruelty, and violence and the manner in which they are committed–that is the folklore of the comic books.
In the article Wertham provided 17 points that he claimed supporters of comic books make and the arguments that can be made against them. For example:
7) That the children don't imitate these stories. (But the increase of violence in juvenile delinquency has gone hand in hand with the increase in the distribution of comics books.)
(You can read the entire article at Seduction of the Innocent.org.)
"The Comics…Very Funny" certainly provide critics of comic books with useful ammunition. Frederic Wertham's status as an authority and scientist carried much weight with the public. Wertham was effective in disarming his critics by pointing out that they were paid by comic book publishers. What was needed was someone independent from the comic book industry who could provide an articulate challenge to Wertham. Unexpectedly the most successful rebuttal was made by a 14 year old boy, David Wigransky.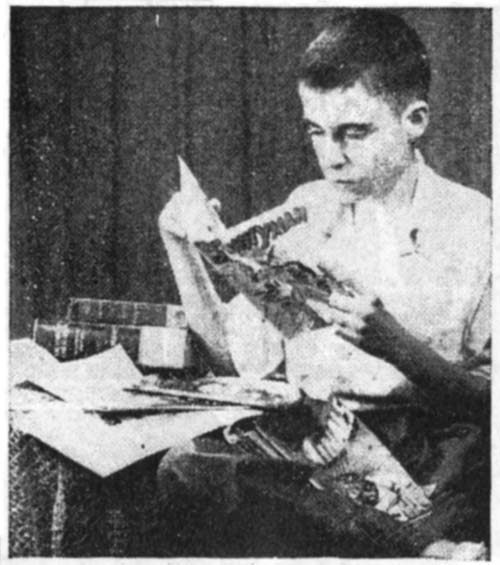 David Pace Wigransky
Wigransky's defense of comic books was published in the July 24th issue of the Saturday Review of Literature, the same periodical that published Wertham's article. Wigransky's letter was published under the title "Cain Before Comics" but the biblical reference that seemed more appropriate was David and Goliath. On the face of it, it would seem unlikely that a boy could offer very much of an intellectual challenge to an authority figure like Wertham. However of the two, Wigransky's is the much more thought out discussion. When I read Wertham's "Seduction of the Innocent" I was greatly bothered why everyone from that time did not see through his badly argued and poorly supported attach on comic books. Well David Wigransky did see right through it.
Wigransky pointed out that violence proceeded the creation of comic books. Further that good upbringing and reading good books were not proof against the adoption of murderous behavior in the young. While there were numerous readers of comic books, there were comparatively few delinquents. Wigransky noted that Wertham's strong antipathy to comic books colored his investigations and reports. David suspected, correctly in my opinion, that Wertham manipulated his children patients to provide the evidence against comics that he, Wertham, expected. That the crusade against comic books was actually not really new; 1896 saw a crusade against the syndication comic strip "The Yellow Kid". Crime and violence were looked at by comic book readers as adventure and excitement, not a something to experience. Wigransky predicted that generation of comic book readers would in the end turn out all right.
My summation of Wigransky's article hardly does it justice. The reader can find the entire letter reprinted in "Mr. Monster's Comic Crypt" by Michael Gilbert (Alter Ego 90, December 2009).
David Wigransky did a fabulous job of defending comic books against Frederic Wertham's critical article. Wertham's response was to totally ignore him. Wigransky is not once mentioned in "Seduction of the Innocent" nor were his arguments every addressed by Wertham.
But not everyone ignored Wigransky's defense. An editorial piece, probably written by Stan Lee, appeared in some Atlas Comics. The editorial not only mentions David Wigransky by name but includes quotes from his letter. Comic artists gratefully noted Wigransky as well. Alfred Andriola sent David the original art for a Kerry Drake strip titles "There's your case against D.D.T., Mr. D.A.!". The strip is dated December 26, 1947. It was signed "best wishes to David Wigransky from Kerry Drake and Alfred Andriola" (Cartoon Drawings: Swann Collection of Caricature and Cartoon).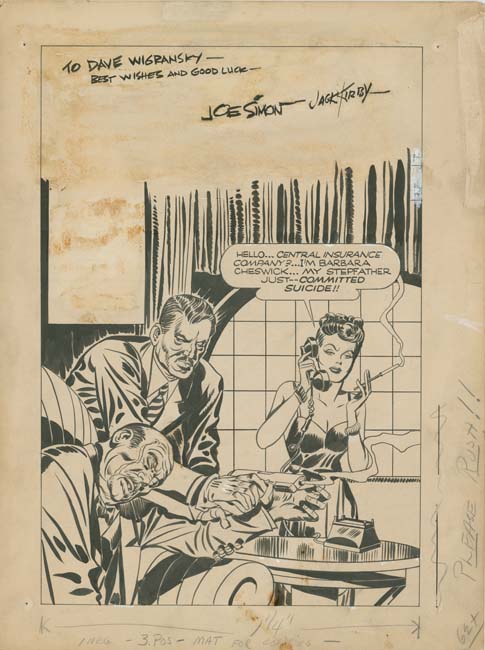 Headline #25 (July 1947), pencils by Jack Kirby, inks by Joe Simon, letters by Joe Simon?
More pertinent to this blog is that Joe Simon and Jack Kirby also recognized Wigransky's contribution by presenting his with original art, the cover for Headline #25 (July 1947). The inscription was by Joe but Jack signed it as well. The cover is an early one from the start of Simon and Kirby's work for Prize Comics after the war. Simon and Kirby had only produced two previous issues of Headline while Justice Traps the Guilty and Young Romance had yet to be launched. This cover was an apt choice to give to Wigransky considering that at this time it was the crime comics that were receiving the most negative criticism. Headline #25 was certainly the most graphic crime cover that Simon and Kirby had done to date. While there were some later covers that depicted dead or dying figures, this was the only one that showed the victim's wound.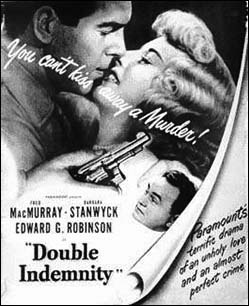 The cover featured the black humor that often accompanied Simon and Kirby's crime covers. The female protagonist's name was not random but was modeled on that of Barbara Stanwyck. Not that long previously Stanwyck had starred in "Double Indemnity" (released April 24, 1944). However in the movie it is Stanwyck's husband that was murdered for the insurance, while for the cover it was the step-father.
Joe and Jack's gift to David Wigransky was rather fortunate. Very little original art remains for Simon and Kirby's early work on the crime genre. Today there is much more art for the earlier Stuntman and that only lasted two issues. The only other original art from Simon and Kirby's early crime comics that I am aware of is one splash panel ("The Case of the Floating Corpse", Headline #24, May 1947 that originally came from Joe Simon's collection) and one unfinished cover (intended for Headline #44, November 1950 that had been kept by Jack Kirby).
The four corners of the original art for Headline #25 shows the imprint left by thumb tacks which can be seen even in the low resolution image I have provided. I like to think that they were used by Wigransky to fasten the art to his bedroom wall.
David Wigransky kept his interest in comic books at least for a couple of years. The December 1949 issue of Popular Mechanics includes an advertisement he ran looking for old comic books or original art. As an adult he wrote a book on the singer Al Jolson ("Jolsonography", 1974). That rare work (a copy is being offered for $400) must have been published posthumously as David died in 1969 at what must have been about the age of 36.