I have received my copy of the Jack Kirby collector #59. All JKC issues are welcome additions for any Kirby fan but #59 is special. Unfortunately one reason it is special is that JKC has returned to the standard magazine size format. John Morrow explains why this happened and I am not about to criticize his decision but I will miss how well the former tabloid size presented Kirby art.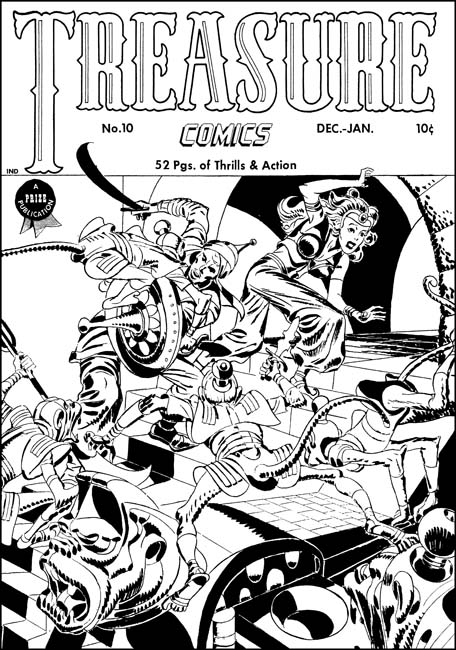 Treasure #10 (December 1947) pencils and inks by Jack Kirby
One of the reasons I am excited about this issue is that it includes some of my Simon and Kirby cover restorations. Specifically the covers for Shield-Wizard #7, Speed #18, Green Hornet #7 and #9, champ #20 and Treasure #10. While pretty much every cover done by Simon and Kirby are great, these particular covers are among my favorites. Especially the covers for Harvey Comics. The Harvey covers were done at the same time Simon and Kirby were working for DC and their collaboration had, in my opinion, really taken root. I have restored all but a few of these Harvey covers and posted about them during the start of my blog (Harvey Covers). Someday I hope to get a change to finish the few remaining un-restored Harvey covers. One little quibble, the JCK credits Irv Novick with inking Shield-Wizard #7. I find that attribution rather doubtful. Judging by the art Novick did for MLJ he went into military service at just about this time, and his unavailability was probably the reason Simon and Kirby got the job in the first place. I previously wrote about Simon and Kirby's work on the Shield as a guest poster on Comic Book Resources (Simon and Kirby Meet the Shield).
Perhaps more important to comic book fans will be Arlen Schumer's presentation of The Auteur Theory of Comics. I, and a couple of other bloggers, have presented Schumer's theory but now hopefully a larger audience will get a chance to get first hand what the theory really is about. This is important because I doubt that many of the critics found on the Internet have actually read what Schumer has to say. Certainly they have not correctly characterized the Auteur Theory and therefore they have not been able to present a meaningful discussion.
I am also pleased that Steven Brower's Kirby's Collages In Context is also included in JKC #59. It was previously posted on the Internet but well deserves a chance to reach a larger audience. This issues includes a short color section giving the reader a chance to see some of Kirby's collage to their best effect.
While these were my personal highlights of Jack Kirby Collector #59 they are by no means the only good reads in this issue. A number of the recurring columns are present. I always love reading what Mark Evanier has to say but I am sure each fan has his own favorite. And of course there are lots and lots of Kirby art. That alone makes the issue worth buying.