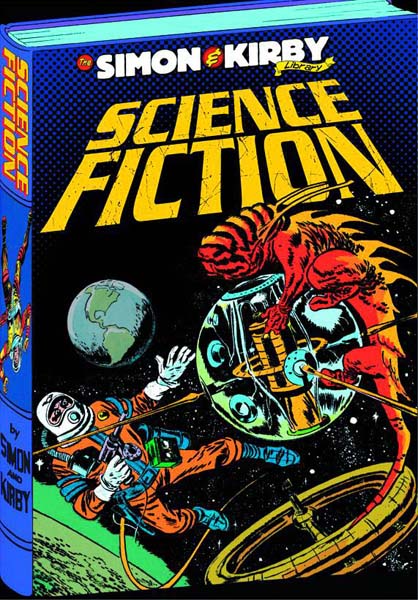 I have recently completed another milestone, all the restorations for Titan's upcoming Science Fiction volume for the Simon and Kirby Library. This will be another book about the same size as the Crime volume. I do not have the book layout in front of me but you can get an idea of the size by the fact that I did 344 pages of art restorations. Of course the page count describes the thickness but the other dimensions will match those used in the Superheroes and Crime volumes. Those dimensions are important because they allow the art to be reproduced slightly larger than it was originally. I understand why some publishers go the cost saving route of smaller books but frankly some of the effect of the art is lost with the size reduction. I am so pleased that Titan has managed to publish the larger sized books at an affordable price.
The Science Fiction volume covers a long period of Simon and Kirby collaboration as did the Superheroes book. It actually includes some work that Simon and Kirby did on their own; Joe's early "Solar Patrol" and Jack's three "Solar Legion" stories. Also there are all the Blue Bolt stories, including the origin story that Simon did by himself which had been absent in a earlier tradeback. The book also has all the science fiction stories actually done by Simon and Kirby for comic book titles Alarming Tales, Black Cat Mystic, Race for the Moon and Blast-Off. As a bonus the volume also includes some stores drawn by Reed Crandall, Angelo Torres, Al Williamson and Wally Wood.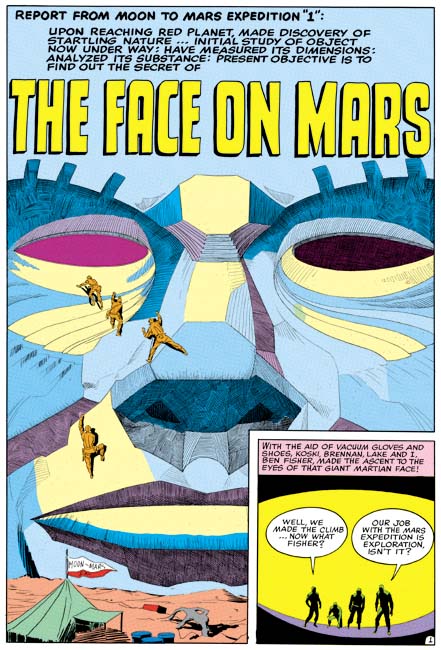 As for the restoration think of what I did for the Crime book only better. Better because this time I had 72 pages of original art and another 11 pages of flats* to work from. All the work reprinted in the Titan book from Race For The Moon and Blast-Off was based on original art or flats except for a single introduction page. This is important because at that time the printing of the Harvey comics was rather poor. Race For The Moon and Blast-Off included some very detailed inking whose effect was greatly lost in the printing of the original comics. The Simon and Kirby's Library version will be the first chance to see these stories as the inkers intended.
Does anyone really care about the process for comic book restorations? Once you get past the part of whether the art was recreated or not, all that is truly important is how nice** the printed results look. And as far as I know Marvel is the only publisher still recreating art for their reprint books. Yet there is one guy who works for Marvel that is constantly attacking me on one of the Marvel lists for, among other things, chemically bleaching my pages. I have never criticized using chemically bleaching in restoration. I just find that the price of old comic books today generally makes it too expensive a process. That is why I developed my own methods a part of which includes digitally bleaching scans. There is no way I could afford to chemically bleach comics like Blue Bolt. But the Science Fiction book includes work published in the late 50's and mid 60's some of which I had inexpensive low grade copies that I submitted to chemical bleaching. I wonder if anyone will be able to tell which have been worked on with chemicals and which digitally? I cannot see how they could. In any case my commitment is to provide the best restorations possible by whatever means; original art, flats, chemical bleaching or just digitally.
Amazon still lists the release date for this book as in October. Unfortunately because of some help I provided Joe Simon's family after his untimely passing as well as extra work I had to do for my "day job" caused me to fall behind in my restoration work. I am not positive but I believe the book is now scheduled to be released in early January. It saddens me that Joe only got to see my restorations for Blue Bolt. This was probably the volume that Joe had the most interest in primarily because of all the incredible inking done in Race For The Moon and Blast-Off.
footnotes:
* Flats are proofs of the line art arranged as they would be printed. They are not quite as good as original art but far superior to work from than the original published comics.
** Of course different people have their own idea of what nicely restored art means. for me that means cleaned up colors and printing on flat paper.