Generally speaking robots did not appear often in Simon and Kirby productions. But for some reason S&K produced three stories about robots over a single year towards the end of their collaboration. Actually I am doing a bit of a stretch when I say that. It is not clear that it is a robot in one story, "Gizmo", but it sure looks like one. Another story is an early Challengers of the Unknown and although Joe Simon help create that team it is uncertain if he had anything to do with the initial stories.
SPOILER ALERT: I will be discussing stories below including their endings. so do not proceed if you have not read these yet but still want to.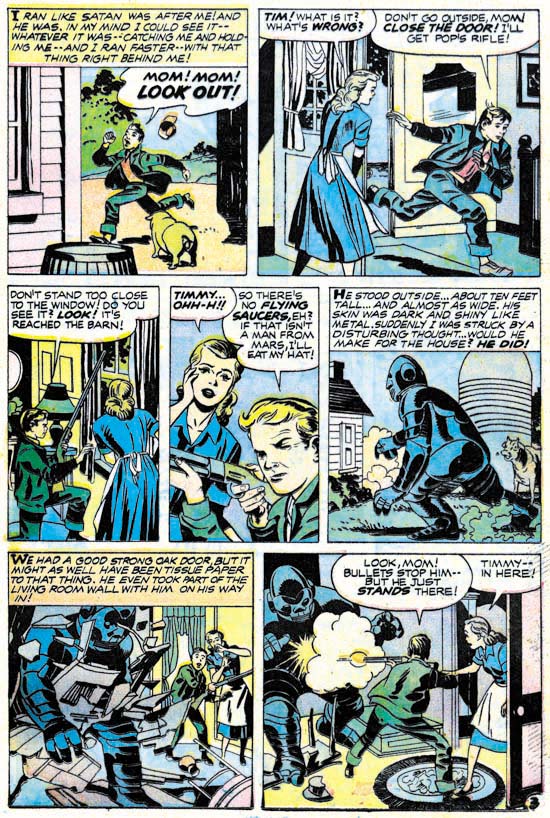 Black Cat Mystic #58 (September 1956) "Gizmo" page 3, art by Jack Kirby
The sudden appearance of the large Gizmo brings terror to a small family. Neither the walls of the house or bullets will stop it. In the end the family's baby puts an end to Gizmo's destruction, he was only looking for someone to play with. The arrival of an even larger version showed that Gizmo was just a baby. As I discussed above, Gizmo may not really be a robot. In fact the boy describes him as a man from Mars. But clad in metal he sure looks like a robot and we do not learn he is a baby until the end of the story. After all how could a baby robot possibly grow?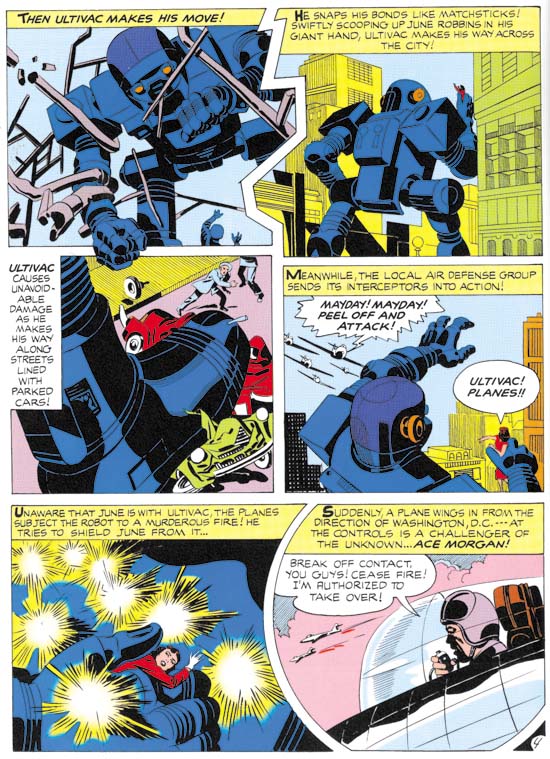 Showcase #7 (April 1957) "Ultivac Is Loose" page 4, art by Jack Kirby (from DC Archives)
An evil scientist creates the ultimate machine. Unfortunately for him the robot escapes. It is the Challengers of the Unknown team to the rescue! Except a beautiful scientist seems to be the one that convinces Ultivac that he need not fear humans. A meeting is arranged with the leaders of the world where Ultivac promises to help mankind solve many of their problems. But up springs the mad scientist who destroys Ultivac rather then lose his creation. Ultivac can still be used as a computer but is no longer sentient.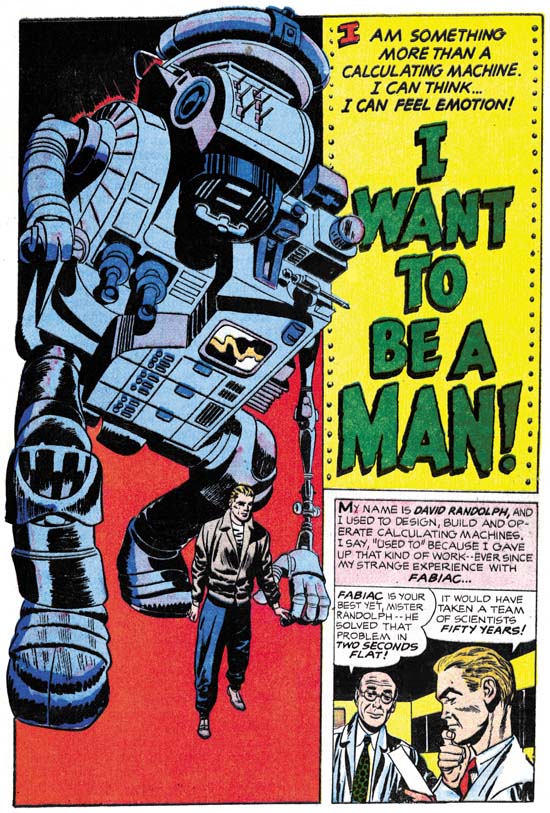 Alarming Tales #2 (November 1957) "I Want To Be a Man" page 1, art by Jack Kirby
A scientist's advanced computer develops consciousness. To keep Fabiac happy, the scientist makes him a robotic body. This ploy works until Fabiac sees himself in a mirror and realize he never will be human. Gee you would think he would just look at his hands and see something was not right.
There seems to be a common threads to these stories. In all of them the robot is very large and only marginally human in shape. This was done to make so that their fearsome appearance would belie their true nature. In all three stories it turns out that the robot does not truly want to hurt anyone. In two of the stories the robot wants to help mankind, but that help is ultimately lost.
The robot for the last two stories have similar names; Ultivac and Fabiac. These are take-offs from the names of two very real computers. ENIAC (Electronic Numerical Integrator And Computer) was completed in 1946. UNIVAC (UNIVersal Automatic Computer) was first released in 1951. These were very significant and widely reported developments. By the time these stories appeared, UNIVAC cost about a million and a half dollars. That is a lot of money even today (50 years later) especially since the computer may only have had 60 kilobytes of memory.
I have no idea what was the source that sparked these robot stories. Part of the explanation was that S&K stories had gotten substantially more science fiction based at this time. Still it is likely that something in particular inspired this effort. I do not think it was the movies. "The Day the Earth Stood Still" (1951) had a large robot but it was not nearly as large or "roboty" as in these stories. "Forbidden Planet" (1956) had a sufficiently convincing robot but it was neither large nor threatening. I suspect the source was some science fiction pulp or book that Jack and Joe had read.