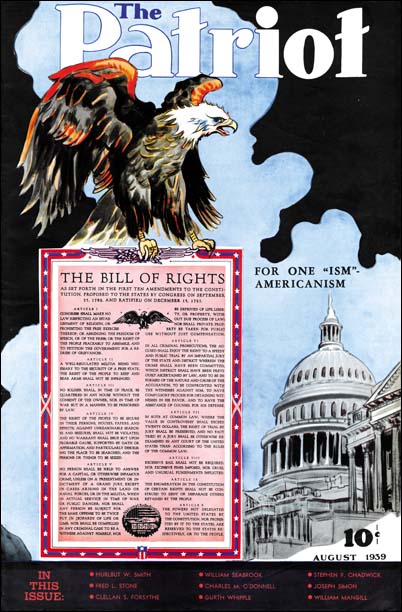 The Patriot #3 (August 1939) by Joe Simon
Today it is hard to believe that there every was much of a Nazi party in America. But in February 1939 22,000 Nazi supporters attended a rally at Madison Square Gardens. At this rally Fritz Kuhn attack the president, calling him Frank D. Rosenfeld. But the rally also attracted numerous protesters. So although the American Nazi population then was enormous by today's standards they still a fringe group that would not have been considered patriots. Even though there was a large isolationist movement and no signs yet of the US entering the war, there was also many who could called themselves patriots and considered the Axis powers as enemies of the United States.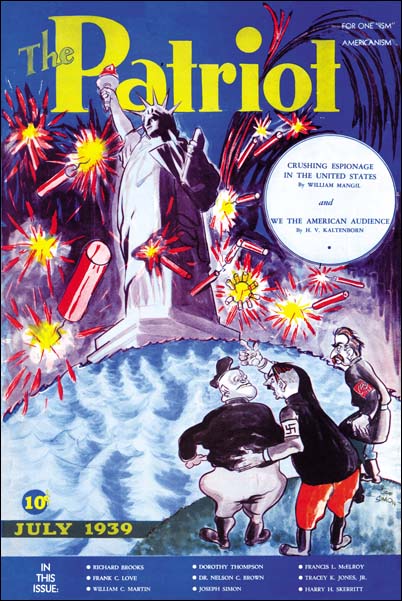 The Patriot #2 (July 1939) by Joe Simon
In 1939 Joe Simon was working in the newspaper business, his efforts in comic books had not yet started. Any doubts where Joe stood politically can be erased by his contribution to a publication called "The Patriot". Joe provided that quintessential American symbol, the bald eagle, for one cover. On another he mocked the three dictatorial leaders, Adolf Hitler, Benito Mussolini, and Joseph Stalin. The Patriot was a slightly over tabloid size magazine. It was rather thin, 20 pages including the covers. There was a lot of local advertisement, so it probably had limited distribution. With a title like The Patriot one might suspect it was suitable for reader with an extreme right political philosophy. But the articles in the magazine are about extolling American scenery, products and of course freedom. Pretty tame stuff and very much centrist for the political spectrum of those days.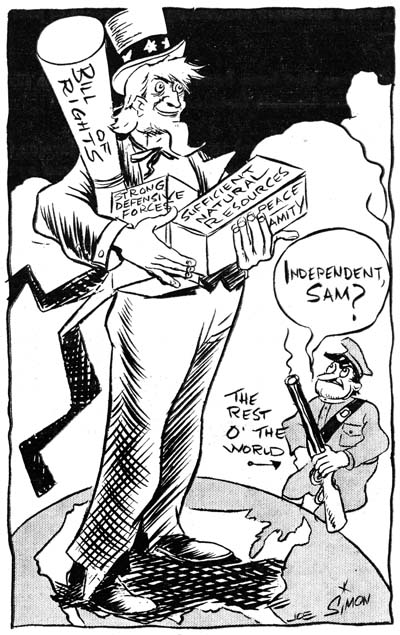 The Patriot #2 (July 1939) by Joe Simon
But Joe's views were not shared by all the people he worked with. Joe got his initial start in newspapers and a lot of guidance from Adolf Edler. Adolf sometimes would tell people he had been off to a nudist colony. In reality he was off to a Nazi Bund camp. You would think Adolf's political convictions would have problems working with someone Jewish like Joe Simon. Quite the contrary, in fact Adolf seemed to actively hire Jewish workers and got along with them quite well. Apparently Edler's tie to the American Nazi movement was due to his fondness for his homeland. But letters he received letters from Germany told of increasing persecution of Jews. Dismayed with what he learned led him to abandon the Nazi Bund group.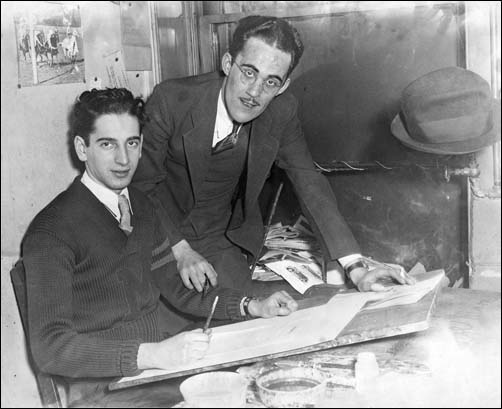 Joe Simon and Adolf Edler
There was a lot of newspaper buyouts and closings and Joe lost his job. Joe moved to New York City and entered the comic book industry. Perhaps due to the experience he got from newspapers or perhaps just due to pure ambition, Joe rose rapidly from an artist to an art editor. When Joe and Jack Kirby created the ultimate patriotic hero, Captain America, who better to appear on the first cover as his adversary then Adolf Hitler himself. America had not yet entered the war, but there can be no question where Joe and Jack stood. Captain America Comics was a big hit, so many in the public probably agreed. In the 1954 Simon and Kirby created a new patriotic hero, the Fighting American. But times had changed and the Fighting American had a short run. S&K returned to the same thing once again in 1959 with their own version of the Shield (Secret Life of Private Strong) but this time it was cancelled due to legal threats from DC. Still the patriotic spirit did not leave Joe. In 2001 after 9/11 Joe responded by creating an altered version of the classic Captain American #1 cover. I wish I could include an image but alas because of legal questions I cannot. It shows Captain America delivering his famous punch not to Adolf Hitler but to Osama Bin Laden. Since I cannot show the 9/11 cover let me end this post with an image of the less often seen confrontation between Hitler and Captain America from the cover of issue #2.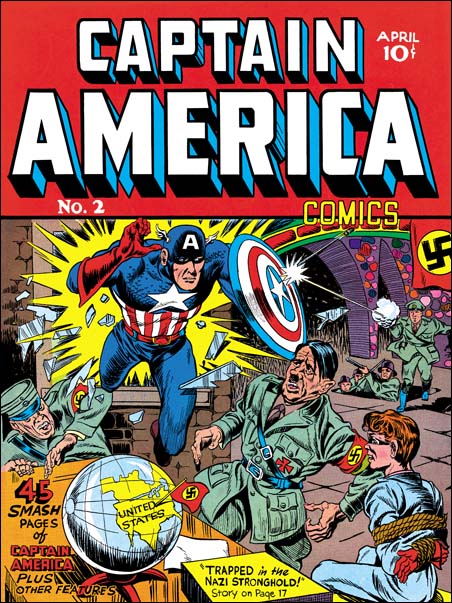 Captain America #2 (April 1940) by Jack Kirby and Joe Simon