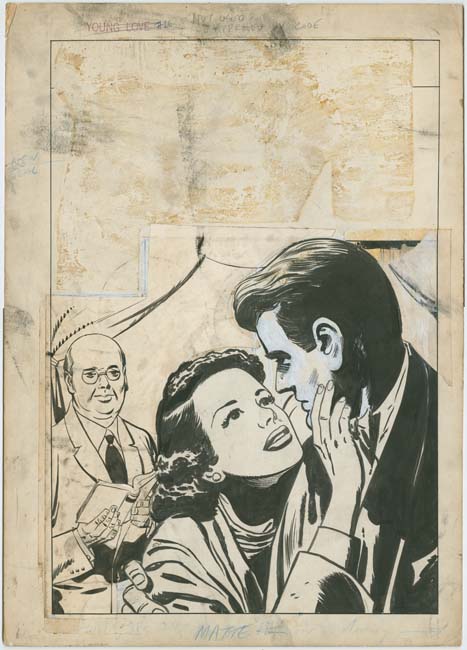 Young Love #66 unused cover (August 1955), pencils by Joe Simon and Jack Kirby, inks by Bill Draut? and Jack Kirby
Joe Simon's collection includes the original art for an unused cover. I do not believe that this cover art has every been made public before and once again I have permission from the Simon estate to do so here. Although subsequently crossed out, the notation in the upper left indicates it was initially intended for Young Love #66. This work was created during a difficult period for Simon and Kirby. Joe and Jack had launched their own publishing company, Mainline, with Bullseye #1 (cover date July 1954). But Mainline quickly became in trouble as its distributor, Leading News, entered into its own difficulties. By the time of Young Love #66 the former Mainline titles would be published by Charlton, notorious for their low payment to their artistic creators.
While previously Jack Kirby had provided the pencils for almost all the cover art for the titles that Simon and Kirby produced, his contributions during the Mainline and subsequent period was very limited. In particular the covers for the Prize romance titles were done by other artists such as Bill Draut, Mort Meskin, John Prentice and Bob McCarty. Joe Simon's drawing of any comic book art was even more limited. Basically Joe and done no actual pencils since the Stuntman and Boy Explorers titles failed in 1946 except for 48 Famous Americans (a J.C. Penny giveaway from 1947). So Joe and Jack's involvement in this cover is quite unusual.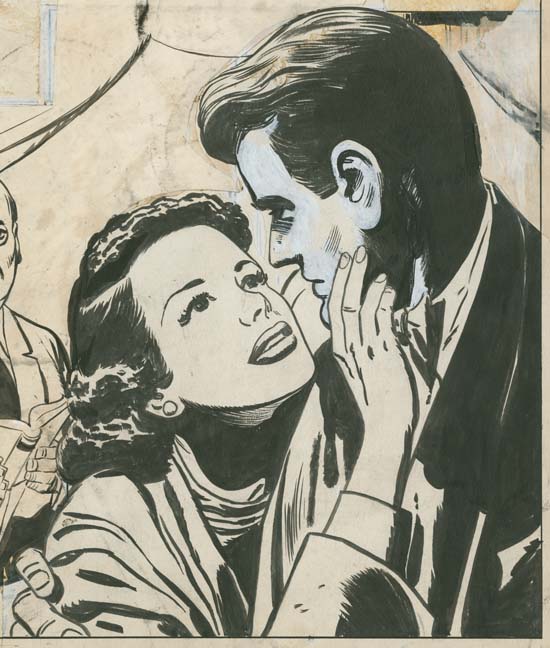 Young Love #66 unused cover (August 1955), pencils by Joe Simon, inks by Bill Draut?
The art is a bit of an construction on the illustration board that Simon and Kirby preferred. Only the foreground young couple were executed on the original illustration board. They were penciled by Joe Simon however the inking does not appear to be his. I am not certain but the brushwork looks like it was done by Bill Draut. The final results does look like a cross between the styles of the two artists.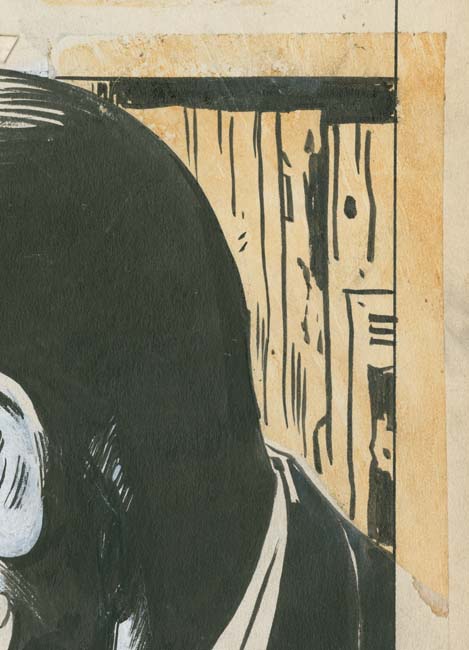 Young Love #66 unused cover (August 1955)
Another layer was added to the illustration board; a larger piece on the left side and a smaller one on the right together covering the former background. Unfortunately the larger piece has been almost completely covered up and cannot be examined. The smaller piece was also covered up but the glue (probably rubber cement) has subsequently failed. That is the part that is shown above. Regrettably it does not seem sufficient for determining of an attribution and I would not want to hazarded a guess.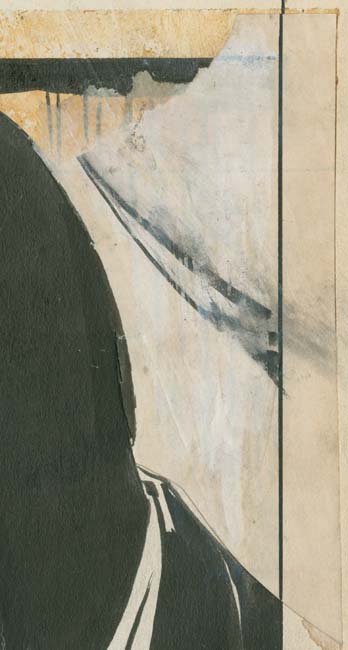 Young Love #66 unused cover (August 1955)
The third layer is also in two parts; a larger left piece and a smaller right that pretty much match the shape and size of the underlying pieces. However they two pieces are of different paper. The right piece seems to have been tracing paper with white-out applied to make it more opaque. The art work consists of little of a couple of pencil lines depicting drapery.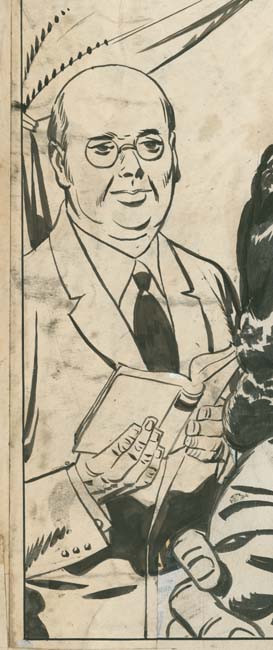 Young Love #66 unused cover (August 1955), pencils and inks by Jack Kirby
The more substantial third layer from the left side was drawn and inked by Jack Kirby. Kirby is well known, and rightly so, for his action drawing but here we have as simple yet warm portrayal as one could hope to find.
It is simply no longer possible to determine what the background was for the initial work on the illustration board. A small area of white-out remains that covers some inking indicates that there was some sort of background. What little can be seen of the second layer suggests a poorly constructed fence, perhaps a street scene from a poor neighborhood. The final layer has hanging drapery, maybe a wedding chapel.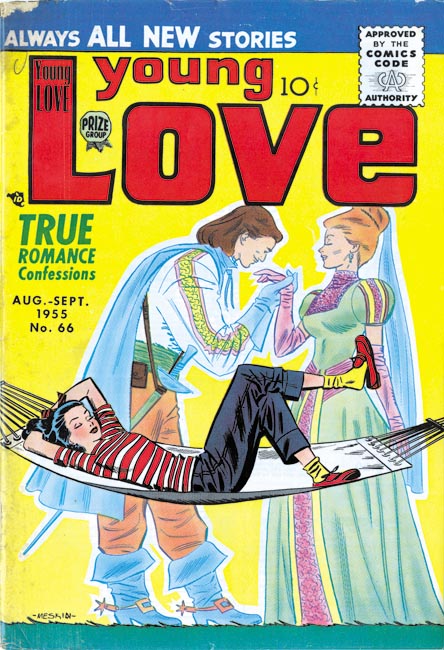 Young Love #66 (August 1955), pencils and inks by Mort Meskin
The back of the original art has two Comic Code Authority Approval Stamps; one dated March 2, 1955 and the other March 8. But note that both are approval stamps and  therefore the rework was not due to any rejection from the Comic Code. The changes appear to be an effort to improve the cover but in the end they decided to use a cover created by Mort Meskin. While I find the Simon and Kirby cover interesting I believe it was the correct decision. The Meskin cover is just a wonderful one with the contrast between the casually dressed teenager and the fancifully attired couple that she is daydreaming about.