Black Cat Mystery #57 was cover dated January 1956. In what was a recurring theme, Harvey would not publish the next issue until September. The Code Approval stamp on the original art for the Contents page has a January 6, 1956 date. This suggests that the lateness of issue #58 was not due to the creators but that Harvey held off publishing it. A similar tardiness plagued Western Tales as well. It seems that after the creation of the Comic Code, Harvey concentrated on specific genre. Most importantly where comics for the very young (Casper the Friendly Ghost, Baby Huey, etc.) or reprints of syndication strips (Dick Tracy, Joe Palooka, etc.) which would have no problems getting Comic Code approval. Harvey's romance comics must have been doing well enough even after the Comic Code to continue for a few years before being cancelled. But it appears that Harvey had little commitment for other genre such as superheroes, horror or westerns.
With issue #58 the title would change once again to Black Cat Mystic. While crediting Joe Simon as the editor for BCM #57 is only a little bit more than a guess, his involvement in BCM #58 is pretty clear; the entire issue was drawn by Jack Kirby. Such dominance by Kirby was a typical technique used by Simon and Kirby when launching a new title. Simon has stated that they would sometimes create an entire issue before presenting their idea to a prospective publisher. That way if the publisher tried to steal their idea they could still beat them out since theirs was completed and ready for the printers. It is possible that this was the case for BCM #58 as well but I doubt the art was created too far in the past. The inking used in this issue is a mix of what I call Studio and Austere styles. That sort of mixture is fits well with the 1956 date (see Jack Kirby's Austere Inking, Chapter 5).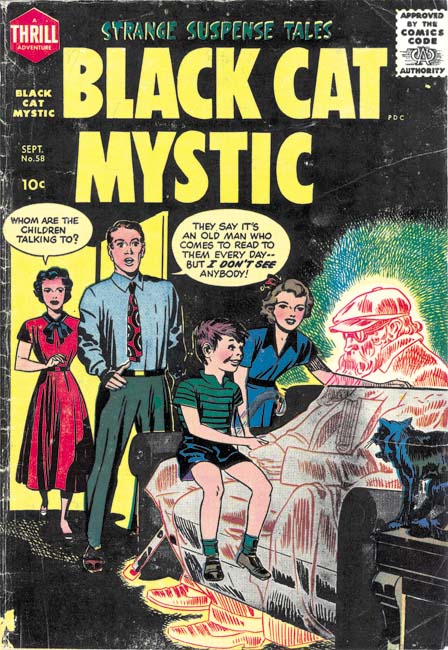 Black Cat Mystic #58 (September 1956), pencils and inks by Jack Kirby
Although not identified by name, the cover presents the ghost Mister Zimmer (to be discussed further below). The inking of figure of the ghost and his aura has been printed in read and green respectively. It would be interesting to see how this was handled in the original art but as far as I know it no longer exists.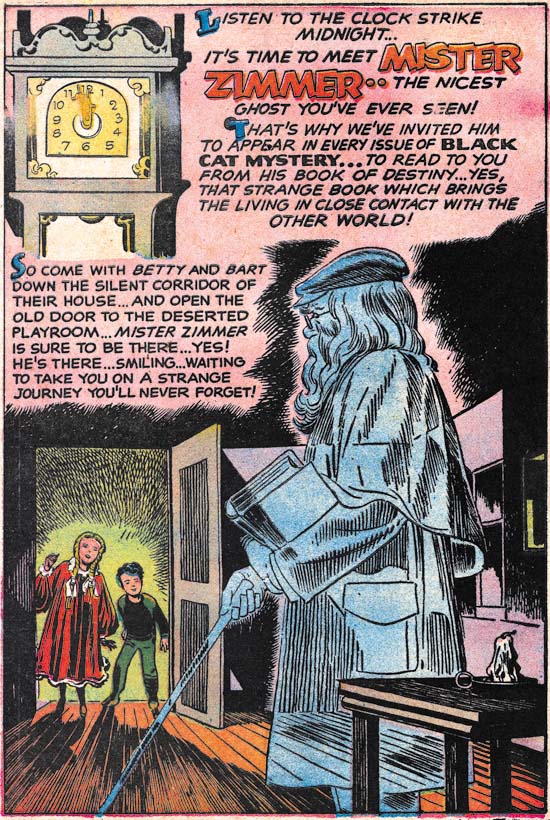 Black Cat Mystic #58 (September 1956) Contents page, pencils and inks by Jack Kirby
The first page of the interior is devoted to a splash introducing the ghost Mister Zimmer who was meant to be a recurring character in the title. The text includes a minor error by referring to the comic book title as Black Cat Mystery and not the new name Black Cat Mystic. Note the drop capital of the letter 'T'. It includes a circular shadow. This form of drop capital was typical of the lettering of Howard Ferguson (see In the Beginning, Chapter 9, More Moonlighting). None of the other lettering shows any of Ferguson's characteristic traits and of course Howard had passed away years before. But it does seems that the letterer was very much aware Ferguson's lettering.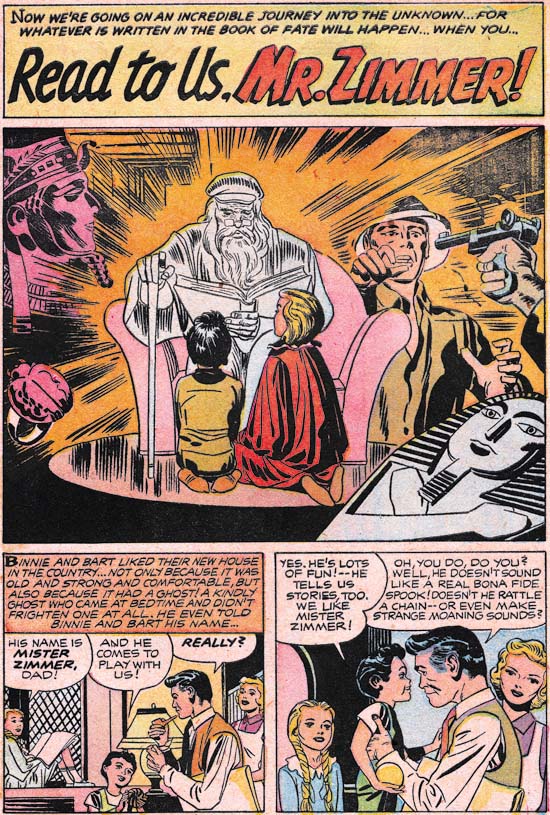 Black Cat Mystic #58 (September 1956) "Read to Us, Mr. Zimmer", pencils and inks by Jack Kirby
Mister Zimmer's appears in the first, featured, story. It is an interesting concept to have as the protagonists a ghost and two children. Mild fare even compared to Simon and Kirby's Black Magic but just the thing to provide fantasy without getting in trouble with the very restrictive Comic Code. The story was inked in a good match for Kirby's Austere Style. One explanation for this is that Jack inked this story last. However considering the importance that Mister Zimmer is given in the comic it seems more likely that it was completed first. While it is attractive to think of an artist's style gradually evolving in reality there may have been a number of advances and retractions.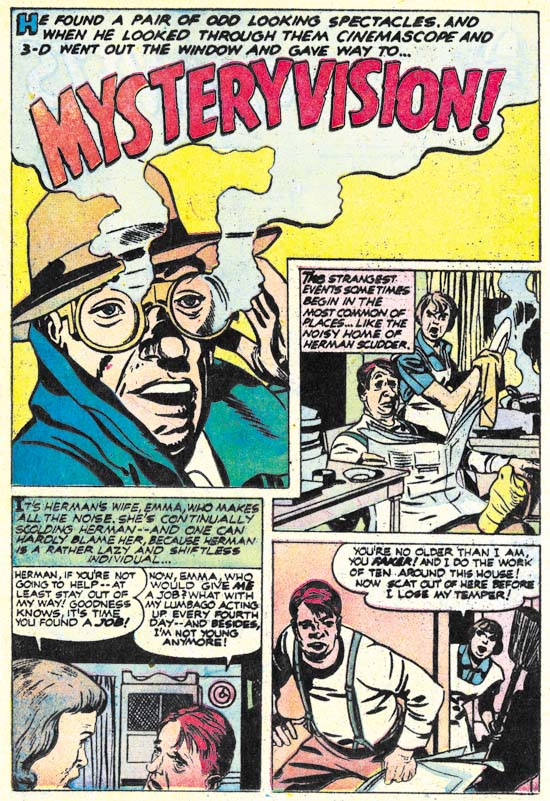 Black Cat Mystic #58 (September 1956) "Mystery Vision", pencils and inks by Jack Kirby
The stories in Black Cat Mystic and Alarming Tales (to be discussed later) are generally five pages long. Black Magic had short stories but longer ones as well. With such a short space stories had to advance quickly. Jack Kirby was very adept at this and all these stories are small masterpieces.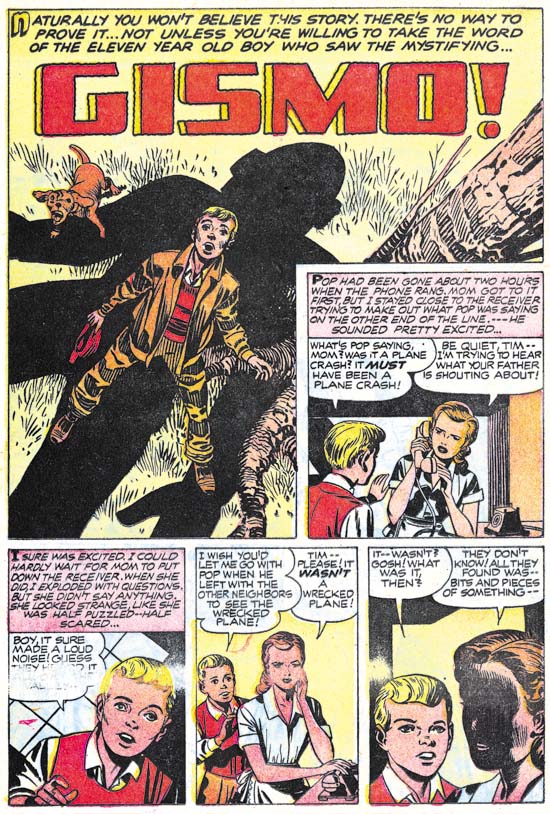 Black Cat Mystic #58 (September 1956) "Gizmo", pencils and inks by Jack Kirby
While perhaps not technically a robot, "Gizmo" visually is one. Therefore it one of a number of robots that Kirby drew over the years (Marvel Stories v2 n2, Blue Bolt #4, Real Fact #2). Other examples will be found in future chapters of this serial post. Gizmo is perhaps the least impressive one but still Kirby's robots always seem larger than humans. "Gizmo" is an early prototype to stories done a few years later that Kirby and others drew for Marvel Comics. The basic theme is that the monster's appearance misleads people about its true nature.
The splash panel is a good example of Studio Style inking especially with the abundant use of picket fence crosshatching (Inking Glossary). However the rest of the story seems to be done in the Austere Style. Another example of the mixture of inking techniques found during this period.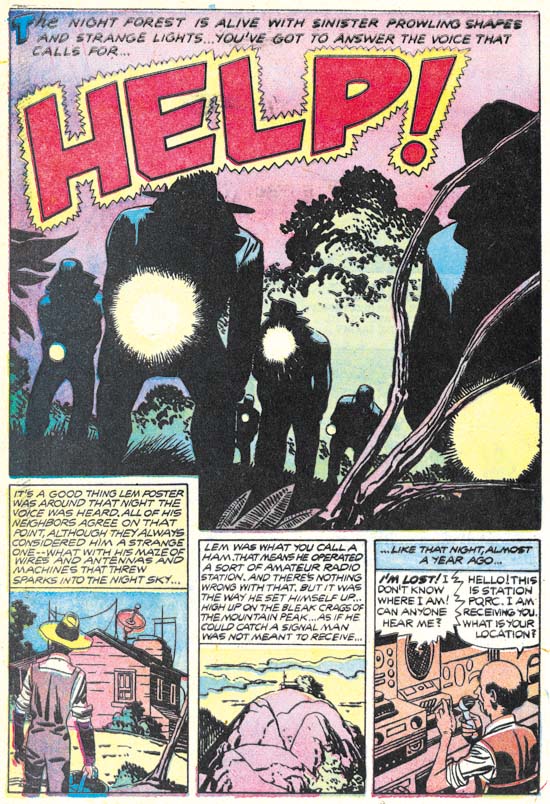 Black Cat Mystic #58 (September 1956) "Help", pencils and inks by Jack Kirby
"Help" has a surprise ending, or at least it tries to be surprising. Such type of endings played an important part in post-Code horror. If you are not allowed to scare your young and sensitive reader, then at least give an unexpected ending. I am not sure how successful of a technique this was. I remember as a youngster reading Marvel's monster comics, which made frequent use of the technique. It did not take me too long to find the surprise ending not so surprising. I became bored with the comics and stopped reading them.
Black Cat Mystic #58 along with BCM #59 and Alarming Tales #1 (to be discussed in future chapters) are very special comics as the contents were drawn entirely by Jack Kirby. Unfortunately the printing of Harvey Comics was particularly poor.