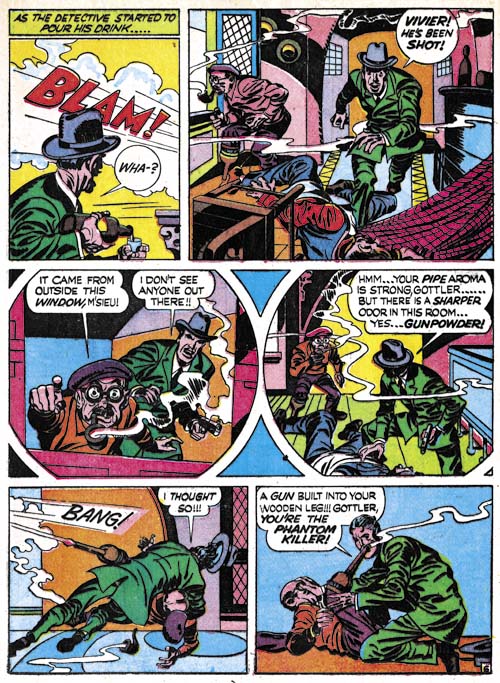 Headline #24 (May 1947) "A Phantom Pulls The Trigger" page 6, pencils and inks by Jack Kirby
They said it on the cover, "All True Famous Detective Cases". Would Joe Simon and Jack Kirby say that if it was not true? But surely not all the stories in Headline Comics #24 could be true? Who would be credulous enough to believe the tale told in "A Phantom Pulls The Trigger"? A man going about the French countryside killing individuals for the sole reason of keeping the size of the population down? Whose philosophy comes from reading Thomas Malthus' "Over-Population"? A man who avoids detection by using a gun installed inside his wooden leg? Who after being uncovered and arrested is allowed to keep his now disarmed wooden leg and has friends smuggle in a new gun and bullets? Who uses his re-armed wooden leg right before his execution with unintended results? Who could possibly believe such an incredible story to be true?
Except it was.
Well as true as any story told by Simon and Kirby who seemed to adhere to the philosophy of never letting the facts get in the way of a good story. But the basic facts portrayed in "A Phantom Pulls The Trigger" all appear to be true. There really was a man who went by the names of Herman Gottler and Raoul Croc as presented in the story but not included in the story were his other names Gottlieb Einhalter and Armande Giraud. His armed and deadly wooden leg was so devious that after he had been found in the vicinity of several murders it remained undetected even though he was carefully searched. He undoubtedly would have continued to evade the law for some time had not one of his victims lived long enough to report seeing smoke coming from the end of the wooden leg. After capture, Raoul was quite open about what he had done and why he did it. In fact he attracted a number of admirers. And yes the authorities really did allow him to keep his unarmed wooden leg which Raoul re-armed with the help of his friends. While seated waiting for the executioner's sword, Raoul aimed his leg at one of his followers and set his pistol off. Only it seems the pistol's muzzle had become blocked with mud and stone and therefore exploded instantly killing Raoul.
But how had Simon and Kirby come across this story? The events occurred in France during the early part of the 19th century so it was unlikely to have been a object of discussion in New York City during the mid 20th century. A Google search revealed a few possible French links (I cannot read French) but only a single English source. That source was "Howitt's Journal of Literature and Popular Progress, Volume 1" by William Howitt and Mary Botham Howitt published in 1847 (the story told on pages 103 to 105 and 122 to 125). This does not seem to be likely reading material for either Joe or Jack. Perhaps Jack heard the story told in France while he was there as a soldier during World War II.
"A Phantom Pulls The Trigger" is special not only for its amazing story but also because it had one of the only two double page splashes for a crime comic (The Wide Angle Scream, It's a Crime);