In previous posts I mention three artists that did a lot of work for the S&K studio over a long period of time. Because of the frequent appearance in S&K productions, I often refer to them as the usual suspects. In this post I would like to write about Bill Draut, the first of the usual suspects to work for the studio. During the war Joe Simon served in the Coast Guard. Joe spent a good part of this service in Washington working as a Coast Guard artist. One of the other artist who worked with Simon was friends with Bill Draut, then in the marines. When Joe got to know Draut he told him that after the war Bill should look him up in New York. When Joe rejoined Jack Kirby after the war, they made a deal with Harvey to produce Stuntman and Boy Explorers. Bill Draut joined in this effort and his first comic book work appeared in Stuntman #1. As part of their work with Harvey, Simon and Kirby would create comic series to be done by other artists. For Bill they developed The Furnished Room, Calamity Jane, and The Demon. Unfortunately Stuntman and Boy Explorers got caught in a comic glut, and were discontinued after a very few issues. But Draut's contribution, the Furnished Room and Calamity Jane, would reappear in other Harvey comics about a year later. They probably represent unused material from the cancelled comics.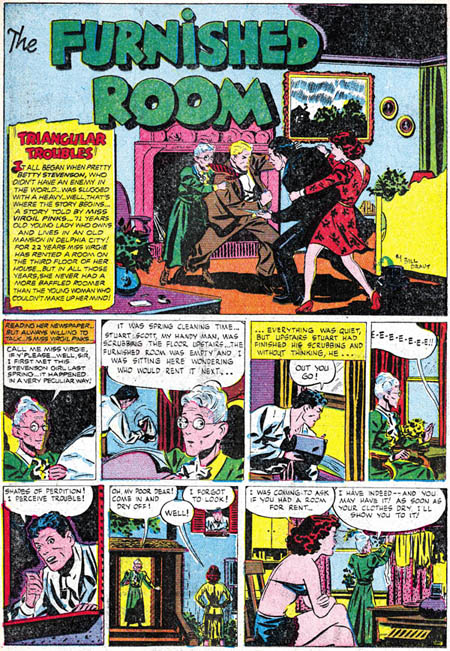 The Furnished Room was the first to be published appearing in Stuntman #1 in April 1946 (all dates for comics are cover dates). As was pointed out by Stan Taylor, this series was a S&K's take on the popular syndication strip Mary Worth. The Furnished Room was essentially a soap opera with an elderly dowdy lady (this series version of Mary Worth). This dowdy lady would generally play a more peripheral part in the stories. The real stories were about the people who rented rooms from her. Because of the lack of superheroes, the Furnished Room may have been a little out of place in Stuntman but the series was really well done. The Furnished Room had a short run, all done by Bill Draut:
Stuntman #1 (April 1946) "The Furnished Room"
Stundman #2 (June 1946) "Triangular Troubles"
Green Hornet #37 |(January 1948) "The Smiling Salesman"
Green Hornet #38 (March 1948) "The Furnished Room" (reprint)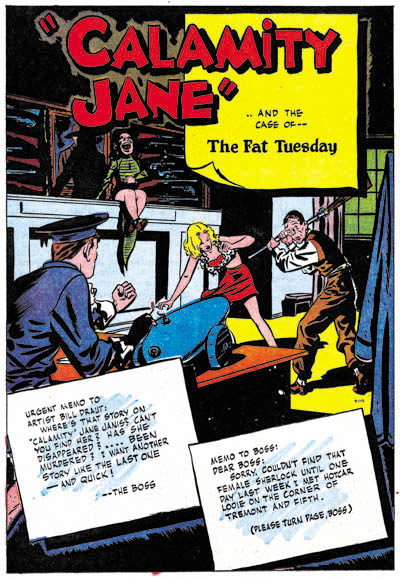 For Boys Explorer S&K created Calamity Jane which Draut would draw. This series were about a hardboiled detective who happened to be a female. The source for this idea seems to have been what is now called film noire. But in those movies the detective was a man, and women just played supporting rolls. The stories are presented as told by Calamity to the artist Draut. This was another good series which unfortunately did not last long, only three stories. But there is a story by Draut in Justice Traps the Guilty #3 that appears to be a reworked Calamity Jane. The detective was now named Ruth Lang, but a supporting character (the cabbie called Hack) remained unchanged. I previously posted on editorial changes Joe Simon did on one of the Calamity Jane stories.
Boy Explorers #1 (May 1946) "The Case Of The Hapless Hackie"
Green Hornet #35 (August 1947) "The Fat Tuesday"
Green Hornet #36 (November 1947) "The Man Who Met Himself"
Justice Traps The Guilty #3 (March 1948) "My Strangest Crime Case"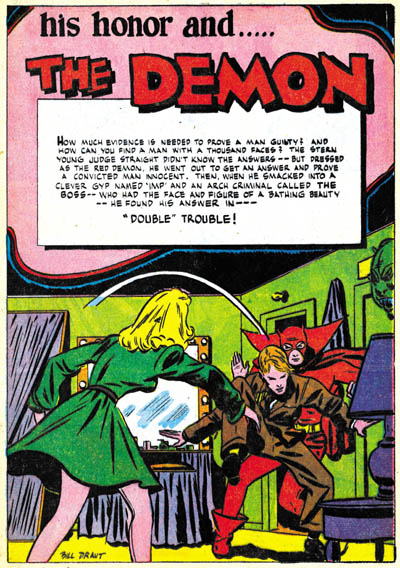 The Demon was first published in Black Cat #4 (February 1947). The full title of the series is "His Honor the Demon". The Demon has a rather unusual origin in that the hero is a judge frustrated because the law sometimes is helpless in finding and punishing the guilty. After one such case of a murdered man, he decides to investigate on his own. At one point he wears the same costume that the murdered victim was wearing at a party when he got killed. The judge did this in an attempt flush out the murderer. After a successful conclusion to this case, the judge decides to continue his extra-legal efforts using the same costume of a red demon. Again Bill was the only artist to work on this short run series.
Black Cat #4 (February 1947) "Double Trouble"
Black Cat #5 (April 1947) "The Man Who Didn't Know His Own Strength"
Black Cat #6 (July 1947) "The Midnight Killer" (origin story)
Black Cat #7 (August 1947) "Too Cold For Crime"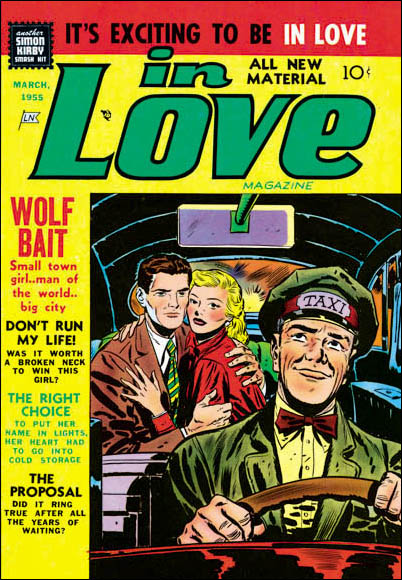 After those failed series, Bill Draut continued to work for the Simon & Kirby studio. Although he did provide some crime (Headline and Justice Traps The Guilty) and horror (Black Magic) work, most of the stories he did was for romance comics (Young Romance, Young Love, Young Brides and In Love). I previously posted on an unpublished Artist and Model cover that he did. His style seems very conducive to romance work. His women have beautiful eyes with simple but effective eyebrows. But Bill's simple eyebrows seem more awkward on his men. Strong action did not seem to be Draut's forte, but that was not an issue for the love stories. He was gifted enough of an artist and observant enough of the S&K style, that one of the covers he did (Young Brides #21) has been attributed to Jack by the Kirby Checklist.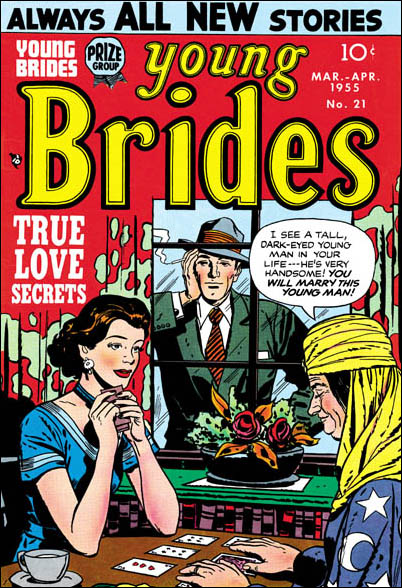 Joe Simon has always maintained that he and Jack encouraged their artists to sign their work. Bill Draut does seem to have taken advantage of that and often added his signature to his earlier work. Later his stopped signing his material but his style is still easily recognizable. Draut does not seem as productive as the other usual suspects (Mort Meskin and John Prentice). As far as I know during his association with the S&K studio, he worked for them exclusively. When the studio disbanded in the mid 50's Jack and Joe continued as editors for Young Romance with Kirby penciling a story in most issues. But for whatever reason, Bill Draut did not do any work for those Young Romance comics. I am not sure what Bill did in the late 50's but he seems to have stayed in comics. When Joe Simon produced some hero comics for Harvey in the mid 60's, Bill Draut would pencil some stories. I also know he did some work for DC at that time. His work seemed delegated to lesser profile series and I don't think his style was very popular in the 60's.