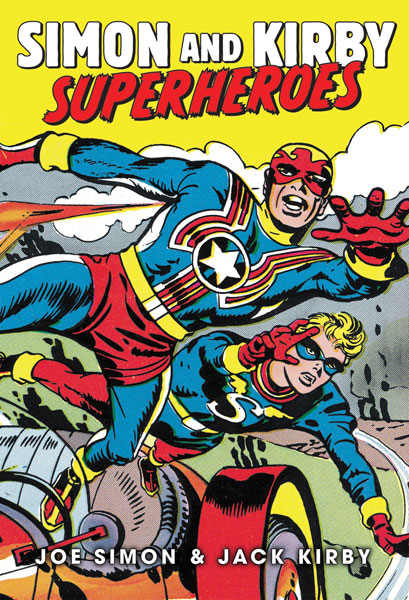 The reader might think that my big event for last weekend was the Eisner nomination for "The Best of Simon and Kirby". As great and unexpected as that was it was far from the most significant event. No, my big event was completing the final pages for "Simon and Kirby Superheroes".
Doing the art restoration for that book was an arduous and lengthy process. It began about a year ago at a time when Titan had not yet made a decision about the contents of the book. Normally I would not want to begin such a project without a clearly defined plan but I was assured that no matter what the book would include Fighting American. It turned out there was good reason for the indecision. Originally the superheroes were to be done in two volumes but Titan had found a way to publish it as a single book but at a cost that will be a lot less than the two separate volumes.
While the prospect of 480 pages of Simon and Kirby should warm the heart of any fan, I must admit it left mine filled with trepidation. How could I come up with a schedule for so much work with such a wide range of restoration challenges? Well I just did the best I could. It turned out that for about a half a year I was able to meet my schedule. Then unfortunately I encountered some restoration problems that seriously threw me out of the schedule. I eventually figured out techniques that allowed me to handle similar problems in a much faster manner but I was never able to recover the slipped time. So in the end my restoration went much beyond the original plan. I am happy to say that Titan believes it can recover from my lateness and still get "Simon and Kirby Superheroes" out with the same release date which is late summer or early fall (Amazon is still listing it as October 12). I am also told that Titan hopes to have advanced copies available for those lucky enough to attend this year's San Diego show.
And what a book "Simon and Kirby Superheroes" will be! The size will be about 7 1/2 by 11 inches. This is the same size as Marvel's old Visionary line of books which should be able to reproduce the art in its original dimensions. And while my restoration took longer than any of us would have liked this had no impact whatsoever on the quality of the results. In fact I am certain that the reader will find it superior to the work in "The Best of Simon and Kirby". When I worked on BoSK the Captain America story was about the last thing I did. It was done using original flats (proofs of the line art) that Joe Simon had kept all these years. I was so please with the results that I resolved to make use of that technique whenever I could. It means extra work but the results are worth it.
As for the contents it will be all the superheroes that either Jack Kirby or Joe Simon drew that are not owned by either Marvel or DC. Specifically that means:
The Black Owl
Stuntman
Vagabond Prince
Captain 3-D
Fighting American
The Shield (Private Strong)
The Fly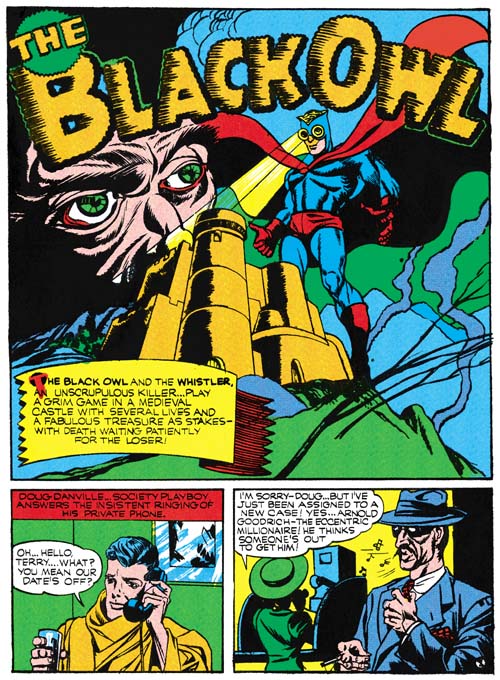 The Black Owl was among Simon and Kirby's earliest superhero work. Only Marvel Boy and the Vision for Timely predate the Black Owl, and even then only be a few months. Simon and Kirby's Black Owl shows the beginnings of some of their trademarks that made Captain America such a success. (Simon and Kirby's Black Owl)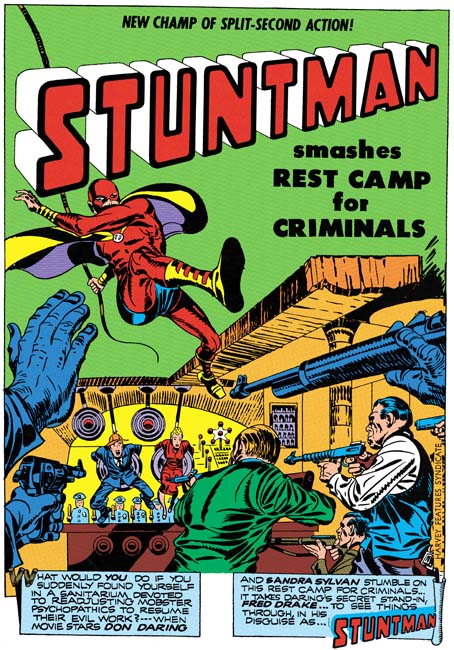 I have not written solely about Stuntman for some time, but only because I posted on it early in my blog (Stuntman). What can I say, Stuntman is filled with great art, action and humor. Of course Titan's upcoming book will have all the published Stuntman stories but as a special treat it will also include the previously unpublished "Jungle Lord"; this thanks to the help of John Morrow (of The Jack Kirby Collector fame). The sudden cancellation of Stuntman left "Jungle Lord" without the finishing spotting but all the lettering and the outline inking were completed. As an additional bonus, two of the Stuntman stories were restored from original flats from the Simon collection. While every effort was made to restore all the scans to the best possible quality you simply cannot beat line art from flats or original art.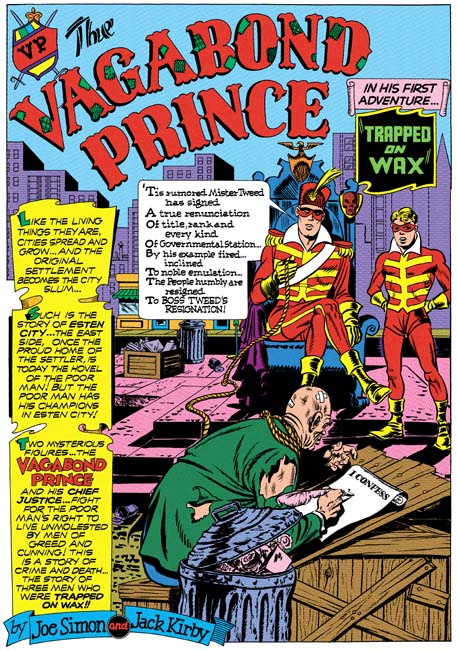 Many fans have underestimated Joe Simon's talents as a penciler. Hopefully "Simon and Kirby Superheroes" will enlighten them. All three Vagabond Prince tales will be included one of which ("Trapped on Wax") has never been published in its entirety. "Trapped on Wax" was restored from the original art and the other two stories from original flats. Harvey Comic's of Vagabond Prince were exceedingly poor (even for Harvey) so Titan's versions will be really special. (Vagabond Prince, Trapped on Wax, The Madness of Doctor Altu, and Death-Trap De Luxe)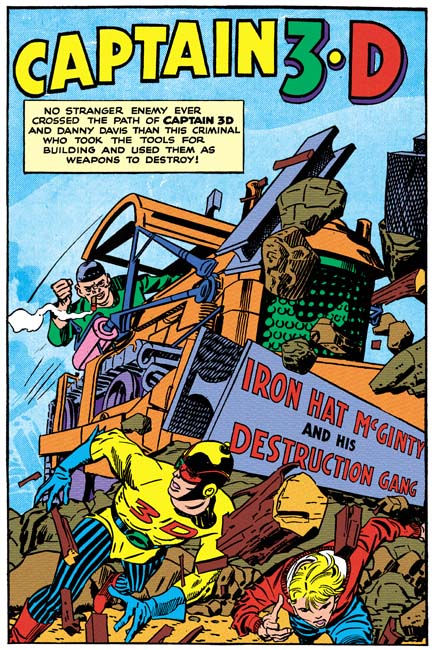 Not surprisingly, Captain 3-D #1 has never been reprinted. Originally it posed a problem for Titan as well. What would they do, offer the book with 3D glasses? The solution I offered was to drop the 3D effect and restore it to the line art. After all Jack Kirby's perspective was so effective it did not need the 3D gimmick. I have also colored the material in a manner consistent with methods used in other Simon and Kirby productions. Captain 3-D was inked by an array of artists including the Steve Ditko at the start of his career. Now readers will be able to judge for themselves who inked what; you can get my take on this subject in my post Captain 3D.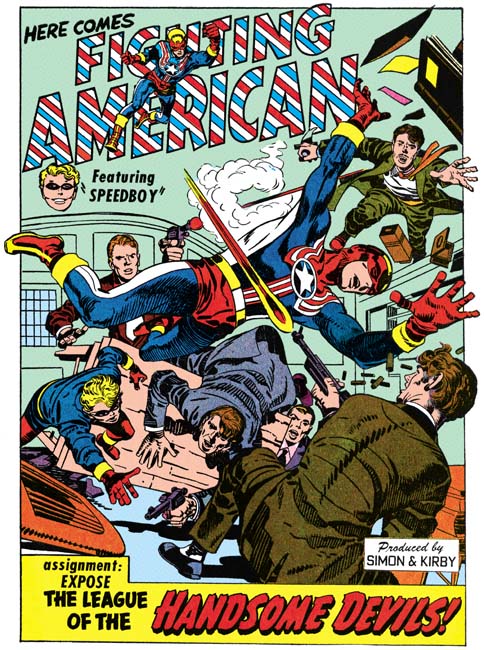 Titan's book will contain all the original Fighting American stories, not just those with art by Simon and Kirby. It will include Simon's cover for Harvey Fighting American #2 and the George Tuska drawn "The Mad Inker" neither of which have been published before. "The Mad Inker" is missing the splash page but this does not seem to affect the story which is otherwise complete. Marvel reprinted Fighting American in 1989 but a good portion of it was what Marvel now terms reconstructed art. In "Simon and Kirby Superheroes" you will get nothing but pure Simon and Kirby.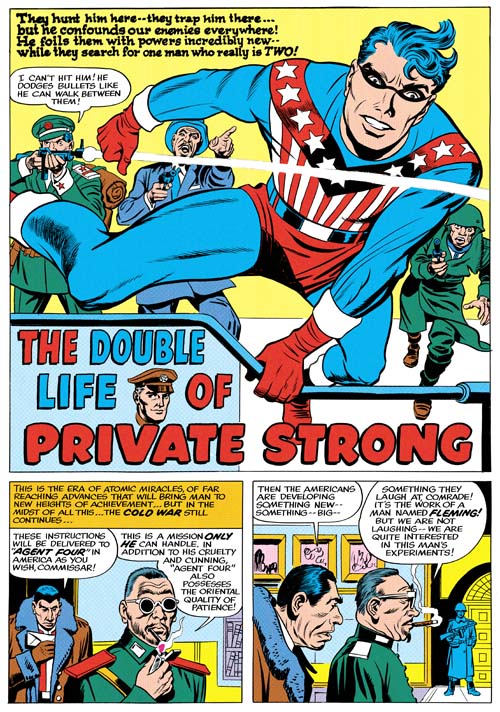 Most of Private Strong and all of the Fly stories were restored from original art. I even got permission from Titan to re-master "Come into My Parlor" which appeared in "The Best of Simon and Kirby". Not that the restoration in BoSK was that bad but the restoration from original art is just so much more special.
There is an introduction by Neil Gaiman. I do not think that for anyone who has read Gaiman's Sandman series would be surprised that he is a big Simon and Kirby fan. I have to say the fact that Gaiman was going to do the introduction for this book impressed my niece more than anything else concerning the projects I have worked on. There are also a couple of short essays by Jim Simon. I have not read Jim's contribution but judging by the introduction Jim wrote for Marvel's Boys' Ranch reprint I am looking forward to what he has to say.
Future volumes of Titan's Simon and Kirby library will include great material. But I do not think any of them will so thoroughly cover Simon and Kirby's collaboration. "Simon and Kirby Superheroes" spans from some of their earliest work together until nearly their last (only the retro Sandman for DC was a latter collaboration).
PS
It has been implied on the Internet that some of my recent posts have used restorations from "Simon and Kirby Superheroes". That simply is not true. However, all the images I have used in this entry are from Titan's upcoming book. Unfortunately the low resolution of images used for the Internet does not give them justice. The reader will have to buy the book to get the full impact. You will not regret it.