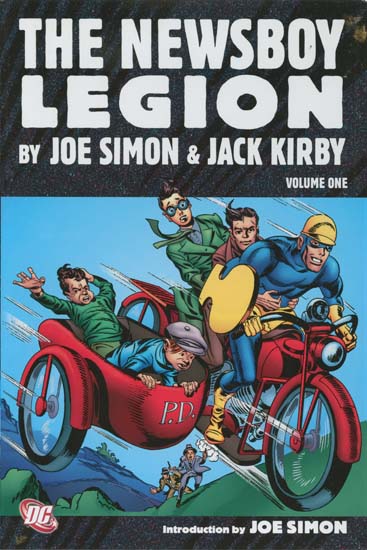 During a recent visit to Joe Simon I picked up a copy of DC's "The Newsboy Legion by Joe Simon and Jack Kirby" volume 1. This post will not be an unbiased review as I was one of the contributors having provided all the covers. I have been extremely busy with restorations for "Simon and Kirby Superheroes" but I had previously scanned and cleaned up these Star Spangled covers so providing them to DC did impact my commitment with Titan. The covers are generally not what I would call full restorations but I think they came out rather well. The restoration of the stories was done by others (Rick Keene and Mike Montagna) and is even better than the work done for "Simon and Kirby's Sandman". I know there are some who are critical of DC's approach but I am not one of them. I am pleased to see that only Marvel continues to follow the outdated technique of art "reconstruction" (a code word for recreation).
This first volume covers the work that appeared in Star Spangled issues #7 to #32 (April 1942 to May 1944). Joe and Jack provided DC with a handsome inventory before they went into military service. Because of that inventory this volume is almost exclusively work by Simon and Kirby with only three stories and a single cover drawn by other artists.
There are some aspects about this archive that I am less satisfied with. Mainly the smaller dimensions of the book requires that the art must be slightly reduced in size with narrow the gutters and margins. This was true for the Sandman archive as well. But I suspect this was all done to keep the cost of the book low. The dust jacket shows re-colored Simon and Kirby art. I am not a fan of the use of modern coloring on gold and silver age comic art. The line art was made for the type coloring and printing that it originally received. I have not seen any examples of the successful use of modern coloring applied to older art. But hey it is just the dust jacket and it is the contents of the book that really count.
A particular appeal feature of this reprint is the introduction written by Joe Simon. It seems so obvious a choice that I do not know why Joe is not asked to do more of these. Joe is a great writer and this is another of his fascinating essays. I will not discuss the contents at this time so the reader will just have to buy the book. But it does cover a wide range of the history that lies behind the Newsboy Legion.
Simon and Kirby's Captain America was so innovative that it changed the comic book industry. However it was at DC that the Simon and Kirby collaboration really jelled. Which is why I am so pleased that DC will be reprinting so much of this important material. There should be a volume two for the Newsboy Legion and DC has announced the first Boy Command volume as coming out in November. Simon and Kirby fans live in exciting times.