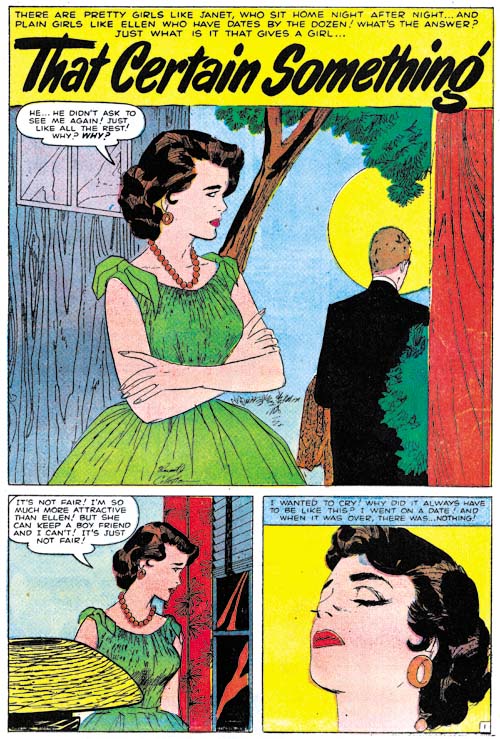 Young Romance #91(December 1957) "That Certain Something", art by Vince Colletta
I do not understand apologists for Vince Colletta. This is not a rant against Colletta and his inking. I recently reread Kirby's Fourth World series and I actually liked Colletta'a inking on those comics. There Vince showed a mastery of the use of a brush that was very admirable; not overly tight but still controlled. But the facts remain that Colletta did erase some of the pencils by Kirby and other artists. It should not be at all surprising that many fans of those artists object to Vince's deletions.
The recent issue of the Jack Kirby Collector (#54) has an article by Colletta apologist Bruce Hannum ("Vince Colletta Not Always the Culprit". It is an interesting article that shows the original version of two covers drawn by Kirby and the changes directed by Stan Lee for the published comics. For one cover this amounted to the removal of a minor item while the other cover was altered significantly by the elimination of a lot of back ground features. The topic of the changes made to an artist's creation in preparation for publication is a fascinating one and the article would have been very pleasing had it been left at that. However Hannum proceeded to try to attempt to associate the Lee directed changes to Kirby's art with the erasures by Colletta, even suggesting that Colletta was taking Lee's actions as a guide to his inking of Kirby. In short Hannum is trying to justify Colletta's use of an erasure by Lee's editorial changes.
I have two big problems with the Colletta to Lee comparison. The first is the motivation. There is little doubt as to Lee's motivation; he felt it the alterations would help with sales. You do not have to agree with Lee's decisions to recognize that was why he made them. Frankly I often wished Stan would leave Kirby's art alone (Genesis of a Cover, Captain America #105). But I am a fan with an interest in the art while Lee was an editor interested in sales. Joe Simon made similarly motivated decisions about Jack's covers although he usually redid rather than reworked the cover (Alternate Versions of the Alarming Tales #3 Cover). And while the two examples in this article show the elimination of art not all of Lee's directed modifications of Kirby covers were just elimination. One thing that Stan's actions certainly were not and that was they were not attempts to save time.
However Colletta's erasures do look like a time saving measure. None of the examples I have see look remotely like aesthetical decisions. Since the erasures were in unobtrusive parts of the story art they were not likely to affect sales either. Further unlike Stan, I have seen nothing to indicate Vince ever significantly added to or altered Kirby art. No, the Colletta apologists have made an unconvincing case that Colletta was trying to improve Kirby's art.
But for argument's sake let us accept the proposition that Colletta's goal was improved art. This brings me to the second big problem with the Colletta to Lee comparison; they don't compare. Simply put, Stan Lee was the editor. His responsibility went beyond just assigning work to artists; it went to the entire finished comic. If a comic was a disaster, in eyes of Goodman (his boss) it would be Stan's fault not the artists. Kirby and the other comic book artists might not agree with Lee's decisions but I doubt any questioned that those decisions were Stan's to make. But the same would not be true for Colletta as an inker. It is only from Colletta apologists that I have heard the suggestion that the final art was the more responsibility of the inker than the artist who drew it. I suspect that most pencilers and their fans would not agree.
But why is such effort expended in defending Colletta? Do the apologists really feel that inkers are more important than pencilers? Or do they actually believe that Colletta is a better artist than Kirby? And if they do think Colletta is such a great artist what is that opinion based on? I have heard that Colletta drew really nice romance comic art. However none of the Colletta apologists seem that interested in romance comics and romance fans seem to prefer other artists over Colletta. And can the apologists really feel Kirby was wrong to stop using Colletta's inking services? After all Jack was the editor for his Fourth World comics, why shouldn't that have been his prerogative?
Like I said, I just do not understand Vince Colletta's apologists.