As reported by The Jack Kirby Comics Weblog, Diamond has stated that "The Best of Simon and Kirby" will be out this week. I cannot verify that the book will truly be in stores so soon. Further Amazon is still listing a May 12th release. But in anticipation of its not too distant release I thought I would do a small post about how the art was prepared. Everything starts with a scan.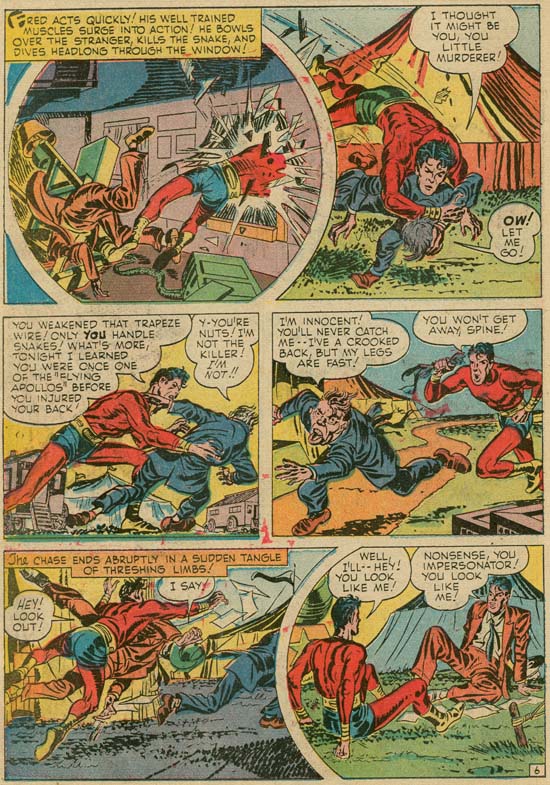 Stuntman #1 (April 1946) "Killer in the Bigtop", original scan
Unfortunately the original comic book pages were not that well printed to begin with, the paper invariably has yellowed with age, and the colors faded to some extent. The original scan is not a pretty thing but more importantly it is not a good representation of Simon and Kirby's original intent.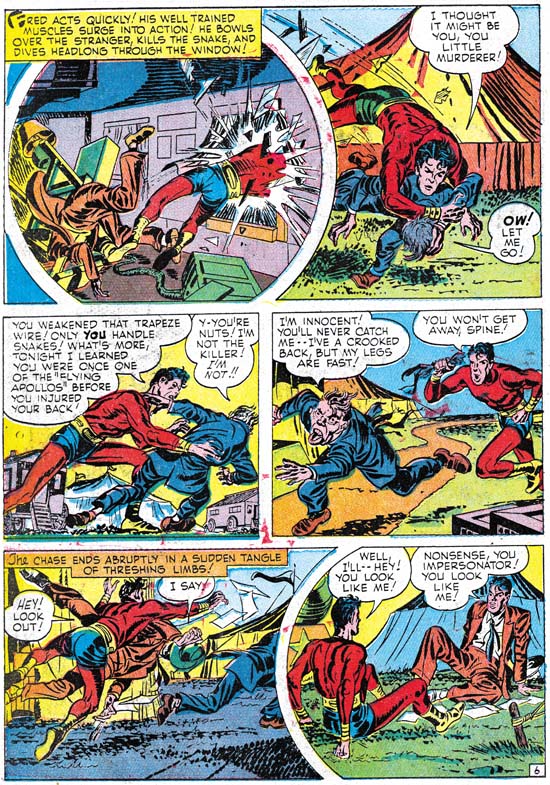 Stuntman #1 (April 1946) "Killer in the Bigtop", color correction
Fortunately there is Photoshop, an application by Adobe made for manipulating images of all kinds. For "The Best of Simon and Kirby" each scan was optimally adjusted using Photoshop to remove the paper's yellow color and correct the faded colors.
While these adjustments make the page look like new, they do nothing to correct the problems caused by the original poor printing. Problems like registration, where the different colors are shifted in relationship to one another. Or incomplete printing. While these defects were in the original comic they still are detrimental to appreciating Simon and Kirby's efforts. Photoshop does provide tools for correcting these problems as well although not without much effort.

Stuntman #1 (April 1946) "Killer in the Bigtop", fully restored
The final result looks much more attractive then the original scans. At their heart the images still remain scans. Flaws that did not distract from the art were left. Compare the before and after and you will see that original coloring was adhered to and most importantly the line art was unaltered. What you get is pure Simon and Kirby. You cannot get better then that.
I developed the Photoshop techniques that are so briefly outlined above by myself. Apparently others have figured them out as well. Lately a small number of books have been published using restored scans. Most notably the Sunday sections in the "Terry and the Pirates" (IDW Publishing), "I Shall Destroy All the Civilized Planets" (Fantagraphic Books) and "Supermen" (Fantagraphic Books). They share with "The Best of Simon and Kirby" a desire to present the original masters and not some recreation by a modern artist. It is a goal that was generally ignored in the past but that I hope will become increasingly prevalent in the future.