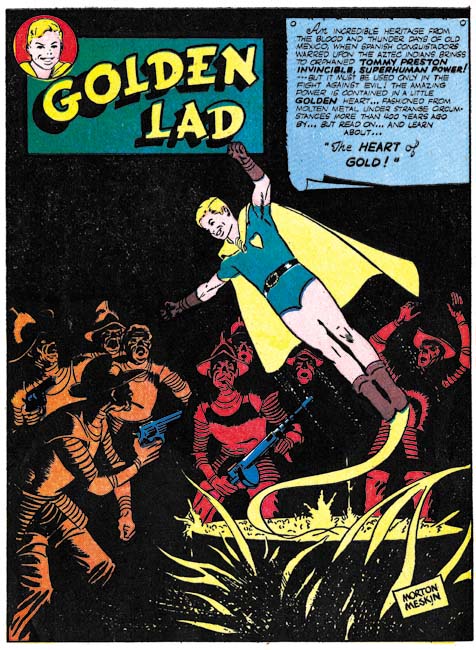 Golden Lad #1 (July 1945) "The Heart of Gold", art by Mort Meskin
Last week I provided some examples of early work by Mort Meskin. Now I would like to do the same for the period from after the war until Mort began working for Simon and Kirby. Actually I am being a little inaccurate by describing this period as post war. The war ended in Europe on May 8, 1945 and in Japan on August 15. The first issue of Golden Lad was cover dated July 1945. Because cover dates were usually advanced a couple of months from the actually released date, this issue probably hit the stands in May. Therefore the war was still ongoing when the art was created (which probably started in February). During most of the war Mort Meskin was doing work solely for National Comics. Mort would continue to provide work to DC while doing Golden Lad for Spark Publications.
Maybe it is just a question of luck as to which issues are available to me, but it seems to me that there was a decline over time in the quality of Meskin's art for DC. However that decline only affected his DC work. While the Golden Lad character may not have been that great of a creation, the art Mort provided was first rate. The splash is particularly nice. Golden Lad rises dramatically from a cauldron of molten gold. The fire provides the only light for the scene giving the surrounded conquistadors with expressive shadows. But with their modern weaponry, they are not truly conquistadors. The heart of gold that provides Golden Lad with his powers was created during the time of the destruction of the Aztecs but Golden Lad fights modern criminals. The splash is a graphic amalgamation of the two concepts.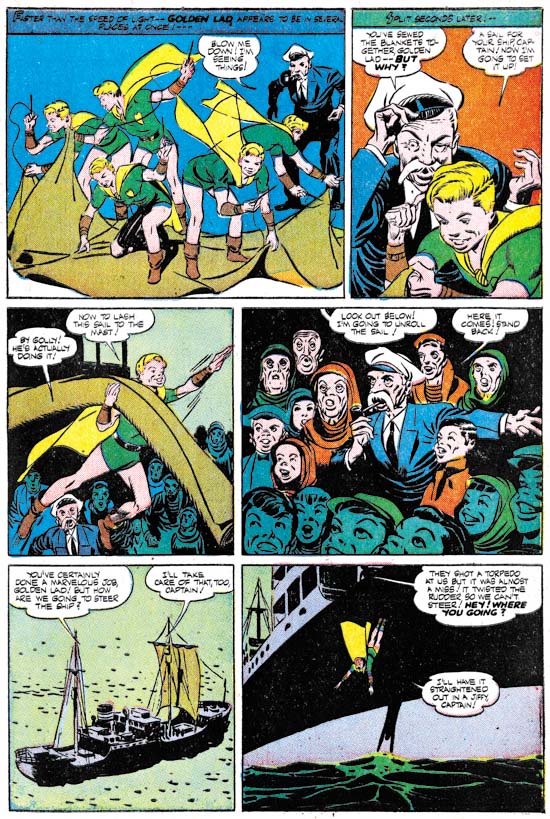 Golden Lad #2 (November 1945) "The Haven for All" page 5, art by Mort Meskin
I really cannot get very enthusiastic about Golden Lad himself. Like Superman, he is just too powerful to provide interesting stories. However Meskin did a good job on graphically depicting the story. The first panel shows the use of multiple images that Mort devised in Johnny Quick for indicating super fast action. The showing the unrolling of the sail might have seem the most obvious choice for panel 5 but Meskin's depiction of the crowd's reaction was probably more effective.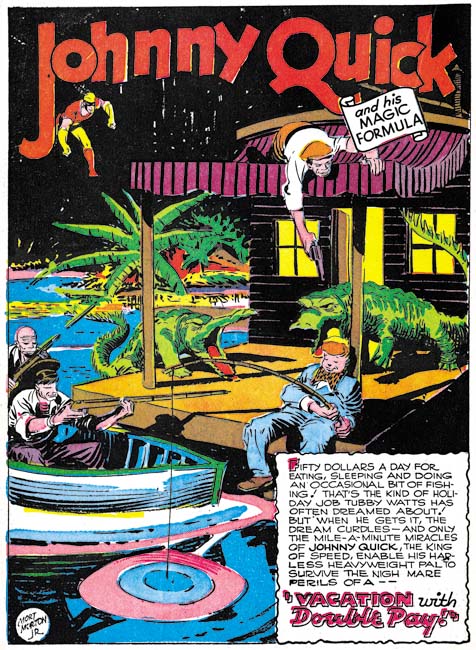 More Fun Comics #107 (January 1946) "Vacation with Double Pay", art by Mort Meskin
As I said before, Mort's art for the later DC work is not as impressive as his earlier stuff. This Johnny Quick splash is probably the best of the few I have available from his later DC work. Even here I do not find the approaching alligators truly threatening. What are they going to do, gum the fisherman to death? Some of this decline in quality maybe due to the inkers being used but perhaps Meskin was loosing interest after so many years. That he did such great art for Golden Lad shows that he had not lost his talent.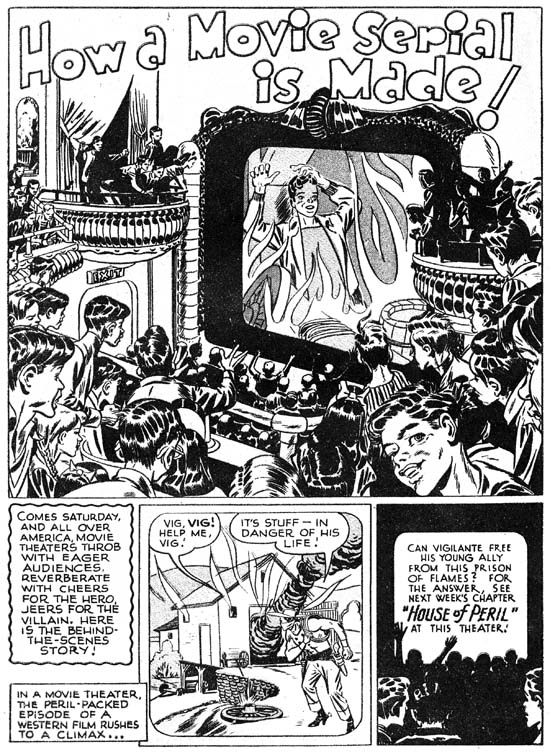 Real Fact Comics #10 (October 1947) "How a Movie Serial Is Made", art by Mort Meskin
Meskin could do great work for DC as well, if it supplied enough of a new challenge. This scan of "How a Movie Serial Is Made" was provided by Ger Apeldoorn (Those Fabuleous Fifties). It certainly is an oddball feature. Meskin provides examples of how serial movies were created using his own character, the Vigilante. I particularly like the splash. While I am not old enough for movie serials, I do remember weekend matinees where there was a very similar response from the exclusively young audience.
Mort did other work during this period besides what he did for DC and Spark. This was the time that he did a couple pieces for Prize Comics (but this was not for Simon and Kirby). I will not be discussing the Prize stories here as I covered them recently in other posts (Treasure #10 and Treasure #12).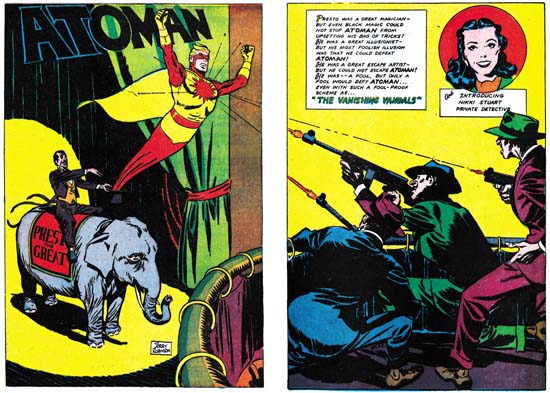 Atoman #2 (April 1946) "The Vanishing Vandals", art by Jerry Robinson
Larger Image
Mort Meskin would later team up with Jerry Robinson. It would therefore be informative to provide examples of Jerry's work. Much of what Robinson did previously was on Batman working for Bob Kane. This makes it difficult to come to a clear understanding as to what Robinson's personal style really was. The one example I can supply was for Atoman, a title from Spark Publications, the same publisher that did Golden Lad. Here Jerry does an ingenious double page splash. The best location for a double page splash was the centerfold. Place one anywhere else and the two pages would have to be printed on separate sheets of paper. With the primitive printing of comics of those days there was little likelihood that the registration would work out properly in the finished comic book. Robinson's wide splash is at the front of the comic but he avoids the registration problem by purposely including a gutter in the design that would separate the two image halves. He has not simply bisected the image; if you were to bring the two pages together they would not line up properly.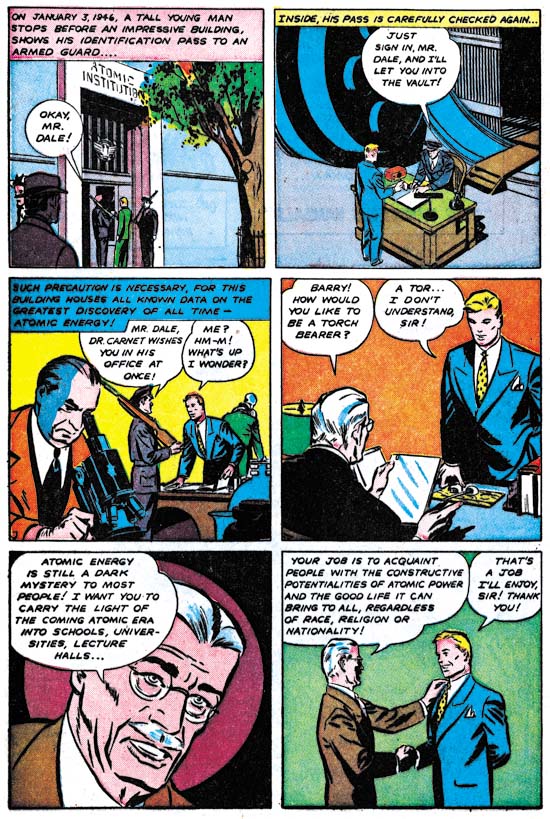 Atoman #2 (April 1946) "The Vanishing Vandals" page 3, art by Jerry Robinson
Here is an example of a story page from Atoman. But note the man in panel 5. He has to my eyes a distinctively Meskin look to him. There are a few other similar Meskin-like portrayals in the story as well. Was Mort giving Jerry a hand? Or was Robinson being influenced by Meskin and adopting some of his style? I do not have an answer but it is something to keep in mind when we examine joint efforts by Robinson and Meskin.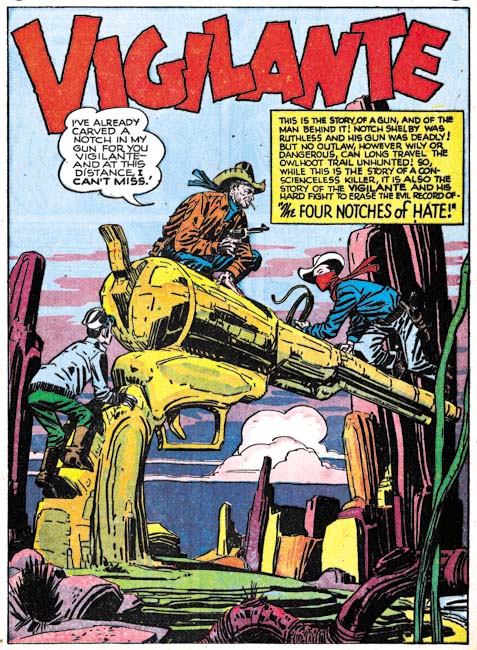 Western Comics #4 (July 1948) "The Four Notches of Hate", art by Mort Meskin
In 1948 Meskin work for DC would be ending. Did Mort's emotional problems have something to do with his end at DC? Or was it conflicts from working at National that provoked his emotional problems? The above splash from Western Comics #4 was among these final efforts. I am not sure how, but the Vigilante has somehow made the transition from a costume hero in the modern age to being a western genre hero.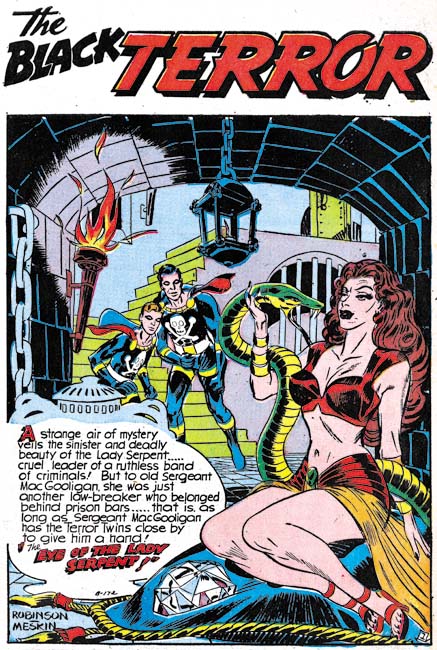 Black Terror #23 (June 1948) "The Eye of the Lady Serpent", art by Jerry Robinson and Mort Meskin
Robinson and Meskin were only teamed up for a relatively short time, a little over a year. I may not be clear as to exactly what each of the two artists contributed to the joint efforts, but whatever it was it certainly was very successful. I find the art as exciting as Mort's early work for DC.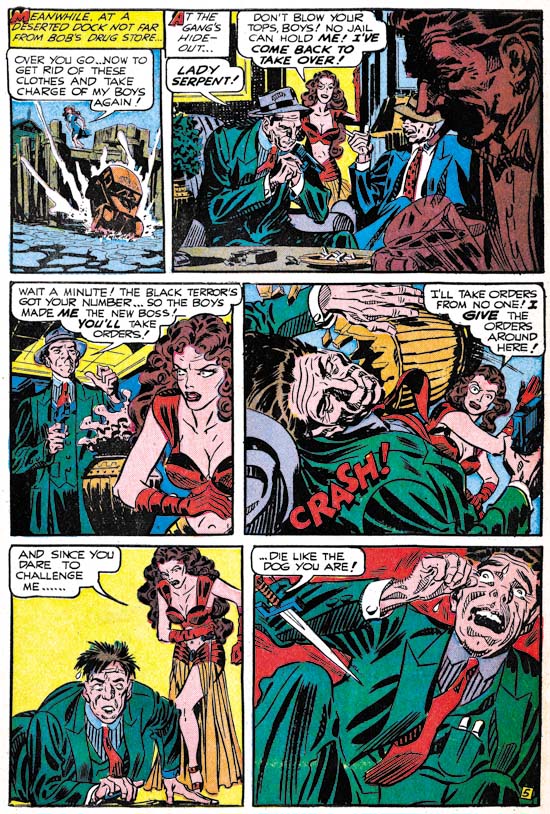 Black Terror #23 (June 1948) "The Eye of the Lady Serpent" page 5, art by Jerry Robinson and Mort Meskin
It was not just the splashes that Robinson and Meskin did so well, the story art is also first rate. Note the inking on this page as particularly seen in the last panel. The long sweeping parallel lines would later play an important part of Meskin's inking style. Even more interesting is the presence of picket fence crosshatching (see the Inking Glossary for explanations of the terms I use to describe spotting techniques). Similar inking can be found for a piece that Jerry and Mort did for Simon and Kirby (Young Romance #5, May 1948). The inking looks like it was done by Meskin, but did he pick up the picket fence technique from Simon and Kirby or is there an earlier Robinson and Meskin example that I have not seen yet?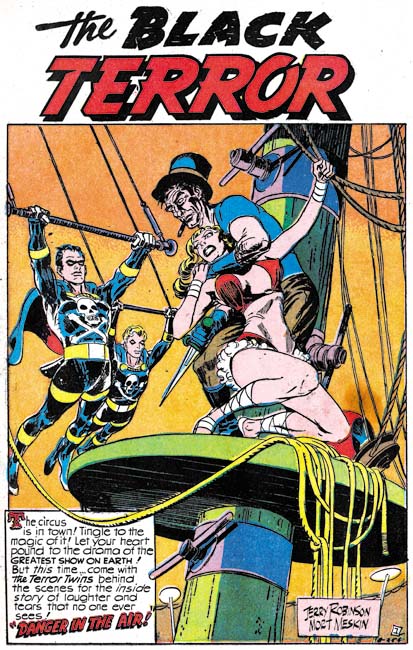 Black Terror #23 (June 1948) "Danger in the Air", art by Jerry Robinson and Mort Meskin
Another great splash by Jerry Robinson and Mort Meskin. I might not have anything to say about it but how could I resist including it in this post?
I previously used a story page from this work to show the style Mort had adopted for depicting punches.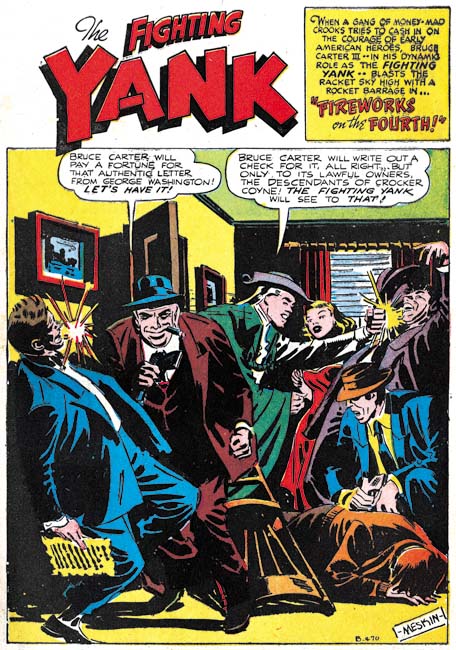 Fighting Yank #29 (August 1949) "Fireworks on the Fourth", art by Mort Meskin
There may have been a relatively brief period between after the breakup of the Robinson and Meskin team where Mort was doing work by himself again but he had not yet started to work for Simon and Kirby. Fighting Yank #29 is signed by Meskin alone and Robinson does not appear anywhere in the comic. Mort's first solo work for Simon and Kirby were cover dated December 1949 (Real West Romance #5 and Young Romance #16). Joe Simon has reported in The Comic Book Makers that initially Mort had an artist block. That Meskin was doing some solo work before joining Simon and Kirby may indicate that the artist block did not start until he actually began working for Joe and Jack. Perhaps intimidating presence of Jack Kirby had something to do with Mort's artistic difficulties.
The "Fireworks on the Fourth" is inked in an interesting spotting technique. The blacks are grouped in a blocky fashion that to my eyes seems to flatten the image while providing it with interesting patterns. This is not the result of a bad printing; other stories by Meskin in the same issue are not inked in this manner.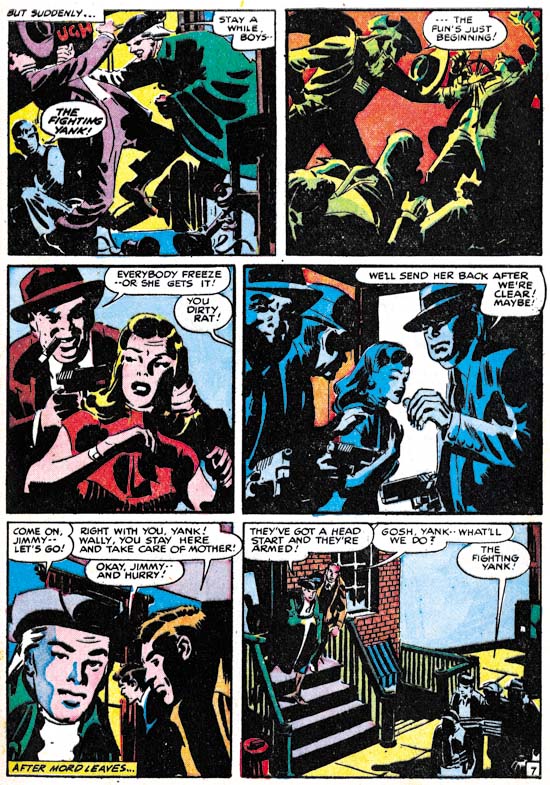 Fighting Yank #29 (August 1949) "Fireworks on the Fourth" page 7, art by Mort Meskin
The effects of this unusual inking can be best be seen in the story itself. While it is possible that this inking was done by another artist, I believe it was Mort's own work. He would use a similar style of inking for a period later for some Simon and Kirby productions.
In a few months Mort Meskin would begin working for Simon and Kirby. Mort would become an important and prolific artist for Simon and Kirby productions. He did not, however, work exclusively for Joe and Jack. Meskin would also provide work for other Prize comics and occasionally other publishers as well.