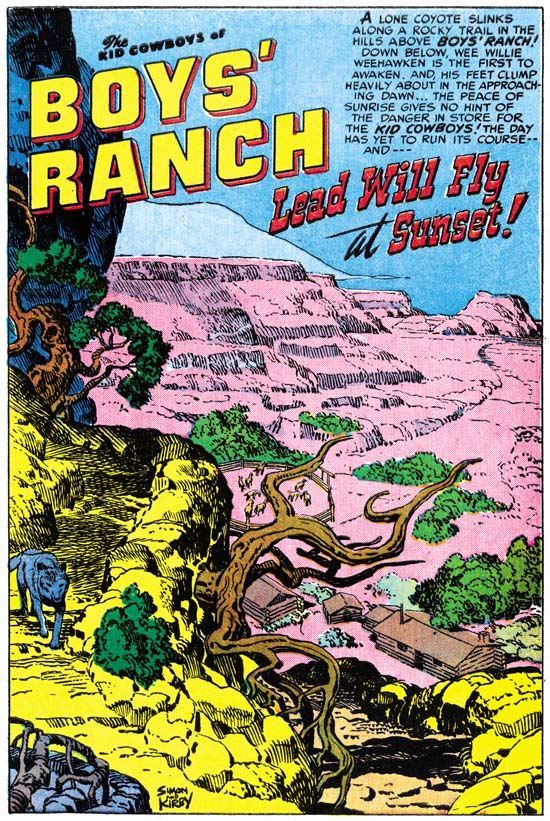 Boys' Ranch #2 (December 1950) "Lead Will Fly At Sunset", art by Jack Kirby
In a recent post about Boys' Ranch I wrote about what is probably the most unusual splash the Jack Kirby ever drew. The reader need not go back to my original post because I include an image of the splash above and here is what I wrote:
Not only did Boys' Ranch include exceptional pinups, the splash pages are among the best that Jack Kirby did and that is saying a lot. Most of them are full page splashes filled with excitement. However the most unusual splash that Kirby did, not just for Boys' Ranch but for any Simon and Kirby production, was certainly the one for "Lead Will Fly at Sunset." Not only does it have no action, it does not even have any characters at all. That is Boys' Ranch we see below from a distance but there is only the caption to confirm that. What we are provided with is nothing more then a landscape. Well that is a little misleading as this was drawn by Jack Kirby who shows here that he can embody a landscape with interest as well. Partly this is due to the unusual perspective Jack has depicted. In the foreground a steep trail descends to a panoramic vista. The nearby terrain is so rugged that only a few twisted trees have managed to cling to the rocks. With the extensive view it is easy to overlook the most significant inhabitant, a coyote on our left descending via the trail.
But if a reader still wants to go back to my original post here is a link.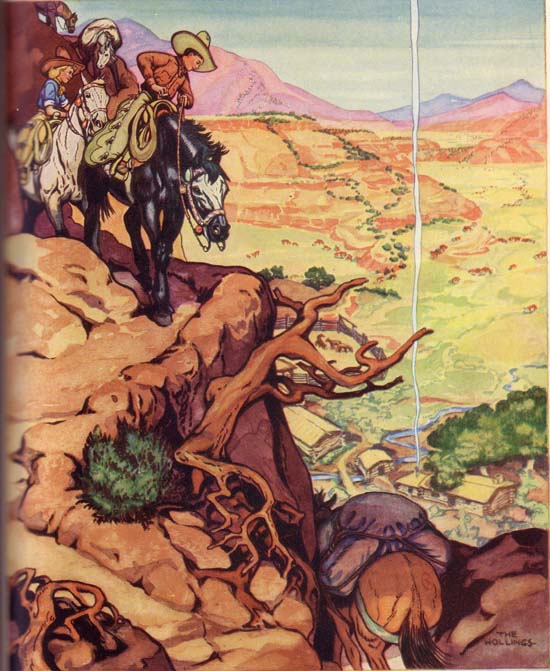 Illustration from "The Book of Cowboys" by Holling C. Holling
Kirby scholar and sleuth Tom Morehouse added a comment to my post:
Part of the reason this may stand out is that Jack swiped this particular landscape from The Book of Cowboys by Holling C. Holling (published in 1936).
and he kindly sent a scan of the landscape in question.
Frankly I am not at all surprised that the splash was based on a swipe as it was so unusual. Further that fact that Kirby sometimes used swipes is now too well documented (mostly by Tom) to provide any shock. The equivalent of swiping is a fundamental process in art but only comic art fans use such a derogatory term (swipe is slang for steal). I hasten to add that I believe Tom uses the term for the same reason that I do; the word is so entrenched with comic book fans and requires no explanation. Personally I find cases such as this not a source of embarrassment or condemnation, but as valuable windows into the mind of the creator. Despite my having referred to it as a swipe the splash is truly a Kirby creation and not a mere copy. Compare any detail and it will be seen that Kirby has not followed Holling's closely. For instance Kirby has only kept one of the distant mountains and even that has been rendered in a manner suggesting that it may be a cloud. This has the effect of making the closer bluffs more dramatic then in Holling's illustration. Also Kirby has added clumps of trees in the background in places that Holling had left rather featureless.
Although I was not surprised that Kirby swiped this splash I would never have guessed the most important change that Jack made. The most unusual aspect of the comic splash, particularly for an artist like Kirby, was the complete absence of people. It would never have occurred to me that this would not also be found in the original source of the swipe. Yet Holling has foreground figures descending the trail. The most natural expectation would have been that Jack would replace Holling's figures with Boys' Ranch members. Unexpectedly Kirby removed Holling's figures entirely and introduced the lone coyote in their place. It is one of those creative leaps of a great artist that provide awe but can never be truly understood. It seems counter-intuitive, but the removal of all people has made the splash more dramatic.
That the Boys' Ranch splash was now been shown by Tom Morehouse to be based on a swipe does not diminish it in my eyes. Quite the contrary, seeing how Kirby has used Holling's book illustration has increased my appreciation for the splash. I may use the term swipe but in reality Jack has not stolen anything.