I am afraid I have been very busy helping the Simon family. I hope to resume normal posting soon. In the mean time there are some things I would like to share. Superheroes have not been high on my reading lists although at one time I closely followed Captain America. However I became disenchanted with the writing for that series after Captain America's death. This is not a rant and I understand that changes will be made to a title from time to time. But I feel that if one is not happy with what he is reading then why read it anymore. There was one limited series that I had been following that seemingly gone into limbo some time ago. Recently The Twelve have been revived so I picked up a copy. While reading it I came across a rather unexpected surprise.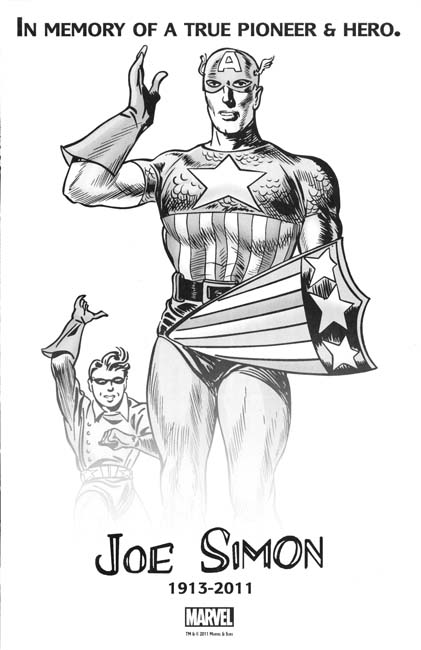 The Twelve #9
I believe this was a rather nice gesture by Marvel. The choice of image is appropriate because this drawing from the first Captain America issue was actually rendered by Joe Simon (although the Bucky figure was done by Jack Kirby). I became curious whether this gesture was present in any other comic book by Marvel. I checked out a Captain America comic book and found the following: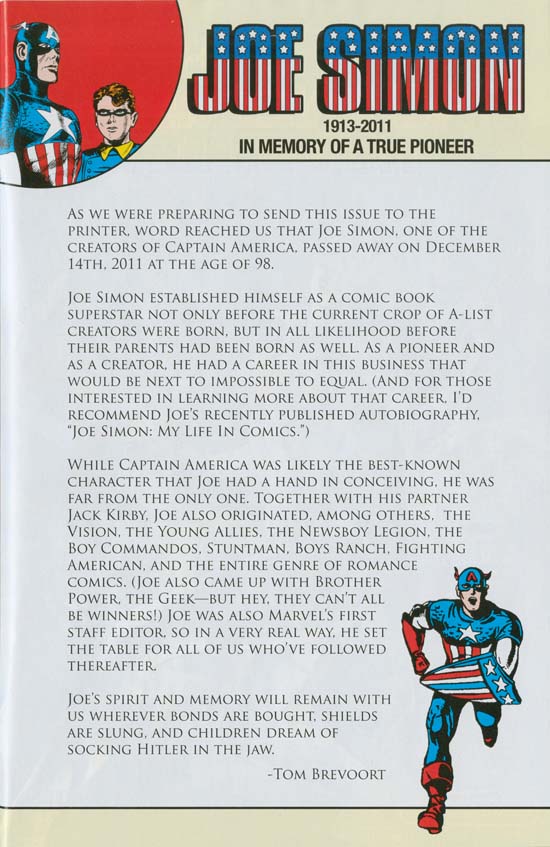 Captain America #8
I have always had a very favorable opinion of Tom Brevoort but now even more so. I get the impression that many fans believe that Joe Simon had an antagonistic relationship with Marvel. Yes Joe went into a legal battle with Marvel over Captain America copyrights not once but twice. But Joe was satisfied with the agreement he finally reached with Marvel. In fact Joe provided some nice statements to the media during Marvel's death of Captain America event. He once again provided publicity for the recent blockbuster Captain America movie. That included an interview that can be found on the blue ray of the movie.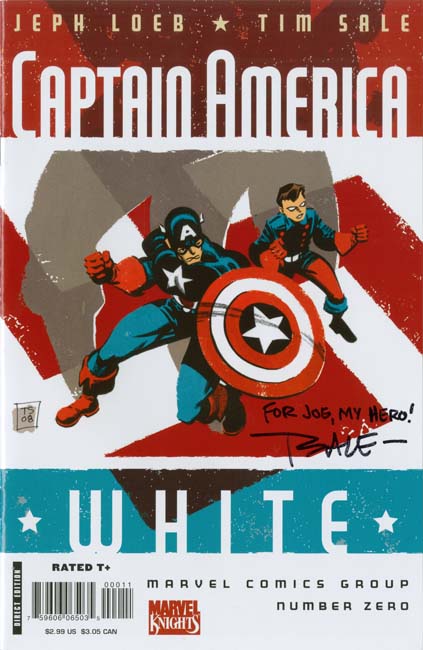 Captain America White by Jeph Loeb and Tim Sale
Many comic book professionals had good things to say about Joe but some went a little further to show their appreciation. Among Joe's possession was this copy of Captain America White signed by Tim Sale. I do not know how Mr. Sale got this copy to Joe but it is nice to see that he was willing to go through a little extra effort. This has special meaning for me because I am a big fan of Loeb and Sale's work. While a number of writers and artists like to rewrite comic book history, I feel Loeb and Sale explore it.
So thank you Marvel, Tom Brevoort and Tim Sale for these class acts.