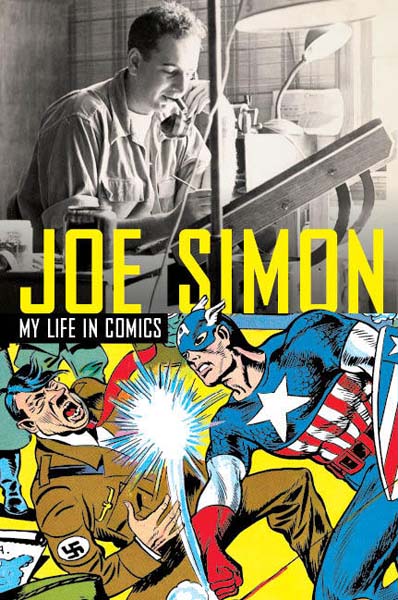 Last week I got a surprise package, some advance copies of "Joe Simon: My Life In Comics". Advanced? Well those lucky enough to go to Heroes Con had the opportunity to pick up copies of Titan's newest book. Amazon says they will release the title on June 21. But now I have seen on the Internet that people have already received their copies and my comic book shop had one as well. So I guess advance is not an accurate term for the copies I received. "Joe Simon: My Life In Comics" if finally out.
There are always some who will disagree, but I like this book cover. Joe's name stands out, there is a famous piece of comic book art and my favorite photograph of Joe. There is he is talking on the phone while working on some art and of course smoking his cigar. And what could be timelier than Captain America who will be appearing in movie theaters in the near future? The spine (not shown in the above image) has a figure of Fighting American.
Generally speaking, biographies or autobiographies of artists can be divided into two categories, those that are primarily about the art and those mainly about the biography. This book falls into the second group. The book is the more standard sized book and not the large size usually used for art books. There are black and white illustrations distributed throughout the book and a small section of colored plates. These are good aids to the story Joe presents but I doubt that anyone would pick up this book just for the art. One of the advantages of being primarily a biography is that Titan can keep the price way down. The book lists as $24.95 for 256 pages. Amazon is selling it for $14.67. Hey in my neighbor a movie and some popcorn will come to much more than that!
Now I have heard on the Internet some remarks from some people about why some would not be buying this book. I have no problem with people being careful about what books they buy. Especially now when we still have not recovered from the Great Recession. But allow me to clarify some facts about this book so that the reader can make an informed decision. The most common statement I have heard is that some already have "The Comic Book Makers" so there is no reason to pick up "My Life In Comics". Simply put "My Life In Comics" is not "The Comic Book Makers" warmed over. Joe is a natural story teller and while both books cover the same life, he tells different stories in each book. So if you want to hear all Joe's stories you have to read both books. Further "My Life In Comics" covers the years that follow "The Comic Book Makers". Among other things Simon has some interesting things to say about his second legal battle over Captain America.
Another explanation I have heard about why some are not planning to purchase Joe's latest book is that their interests lie in comics not in Joe's life. However the title is "My Life In Comics" which should suggest that actually comics are the subject of this book. Yes there is some information about Simon's life outside of comics but it is minimal and often has bearing on his career in comic books. Most of the founders of the comic book industry are now gone. Fortunately some of the important artists had been interviewed over the years but not nearly enough. A book written by a golden age artist is nothing short of a treasure for anyone interested in the history of comics. I am sure people will be discussing and arguing about "My Life In Comics" for years to come.