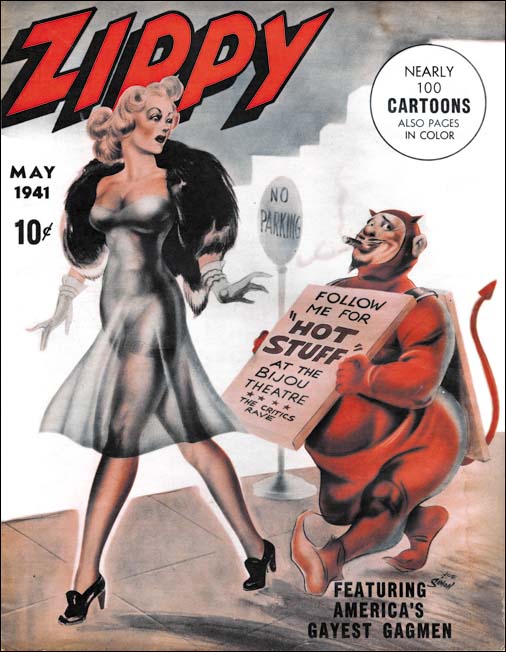 Zippy #1 (May 1941), art by Joe Simon
When Joe Simon was young he tried his hand in a number of different types of art work; political cartoons, sport illustration, portraits, story illustration, and oh yeah comic books. One art media Joe did not do was adult humor, that is except for the cover of Zippy #1. Here Joe provided a lecherous short man wearing a devil's costume and an advertisement sign for Hot Stuff trailing a tall beautiful woman with a rather revealing dress. No punch line, just a visual gag that is more naughty then humorous. Joe executed the art with an air brush, a tool that he had become an expert at when he was a newspaper staff artist.
The first, and I believe only, issue of Zippy was cover dated May 1941. It was a large, tabloid size, publication. The cover reflected the work found in the interior both in subject and in size although some pages had 4 cartoons to a page. Much of the work is unsigned and based on the art styles done by a number of different cartoonists. There is nothing that today would be considered pornographic but all of a sexually suggestive humor. Back in the early 40's, however, many would call it pornographic and such magazines sometimes brought legal difficulties to the publisher. So it is not surprising that the indicium is very short:
Zippy is published bimonthly by Manvis Distributors at Dunellen, N. J. May, 1941, Vol. 1, No. 1
Dunellen is a small community in central New Jersey that in 2000 had a population of 6823. It might seem to be an odd address for a publisher but in 1941 the town's principal industries were R. Hoe Printing Press (manufacturer of letter presses) and Color Printing Company (owned by the W. F. Hall Printing Company of Chicago which at one time was the largest printing company in the world). Color Printing was almost certainly the printer of Zippy #1.
The subject matter is not the only thing that makes Joe's work for Zippy unusual, the date does as well. Simon and Kirby's Captain America was released to great success just two months before Zippy #1. Even before Captain America had made it to the newsstands, Joe and Jack had discontinued moonlighting for other publishers. Simon and Kirby must have felt they had a hit and with the promise of a share in the profits decided to concentrate their efforts to Timely alone. So why at this point would Joe decide to venture out into adult humor?
The answer is that actually Joe was not moonlighting when doing Zippy. A Google search found Manvis listed as a subsidiary of Magazine Management Company and publisher of the pulp Western Short Stories, and the comics Navy Combat and Sub-Mariner. Magazine Management was the name often used by Martin Goodman for his company that today is commonly referred to as Timely. Goodman would want to avoid legal hassles that Zippy might generate and the use of Manvis Distributors in the indicia could be nothing more then a smoke screen. Joe Simon was Timely's first comic book editor and his handiwork can be found not just in the comics but the pulps and crime magazines as well. Joe would have been a logical choice to oversee Zippy and he had used the opportunity to put his own work on the cover.
Many years later, 1957 to be precise, Warren Kramer would create a little devil for Harvey Comics that was also called Hot Stuff. Just a coincidence? Perhaps, but in that year Joe Simon was also working for Harvey and he could have shown Harvey and Kramer one of the copies of Zippy from his collection, copies that he still has today. If so it would not have been the only time that a Simon original had inspired the creation of a popular comic book feature.