As promised I have some more information about Joe Simon's appearance at this year's ComicCon. Joe will be doing a signing at the Titan booth on Saturday (Feb. 7) from 2:30 to 3:30. Then from 4:00 to 5:00 will be the subject of a special panel "Secret Origins of the Comic Book World". Joe will then return for more signing at the Titan booth from 5:30 to 6:30. This is all of the Joe Simon appearances that have been announced, but if that changes I will post about that as well.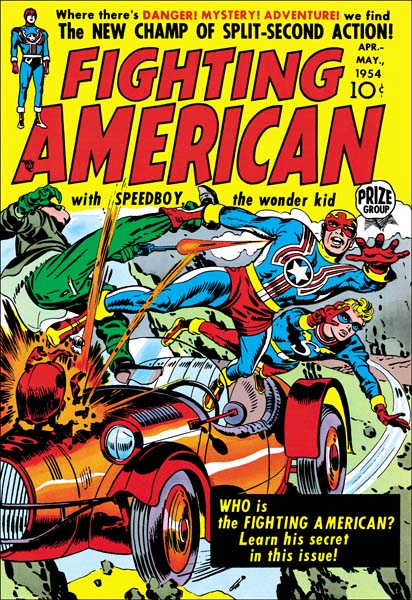 Fighting American Lithograph
Titan first book, "The Best of Simon and Kirby", will not be released until this summer, so what will Joe be signing? Well for one thing Titan will be offering two limited editions lithographs. One will be featuring the cover from Fighting American #1 (see above) while the other will be from the splash from the story "The Girl Who Tempted Me" from Young Romance #17 (see below). I have not seen the actually lithographs but I understand that the image size will be 11 by 16 inches (Fighting American) and 11 1/2 by 16 (Young Romance). The paper size I believe will be 14 by 18 inches. The edition size of each lithograph will be limited to 100, each signed by Joe Simon and are priced at $75 a piece. The two lithographs are being made specifically for this ComicCon and have never been offered elsewhere.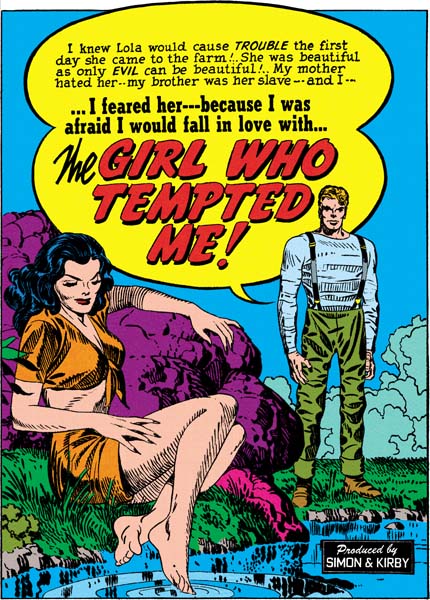 Young Romance Lithograph
At this point I have to admit that my observations and opinions are completely biased, I did the restorations for these lithographs. So take that in account when I say both are just stunning. No line art recreations here, both are based on scans from the original comics; pure Simon and Kirby. Colors were carefully done to accurately restore the original colors while correcting comic book printing problems such as registration errors. What can I say I am truly pleased with how they came out. With such a small edition size I am sure that these lithographs are going to quickly become collectors items.