Mystery Men #10 (May 1940) by Joe Simon
I was pleasantly surprised by a gift I received not too long ago from my niece. It was a calendar with a pulp art theme. I had never mentioned to her any interest in pulp art. In fact it is area of Americana that I have not dealt with very much. Anyway the calendar had some great art and was much appreciated. Then while in a book store I spotted "Pulp Art" by Robert Lesser. Well I really have too many books and even with its great price I was reluctant to buy it. That was until I spotted the painting from The Mysterious Wu Fang (see image below). Then I could not resist it, after all now I could consider the book as part of my Simon and Kirby research.
Now there is are four years between these two publications. Did Joe pick up a copy at a used book store or had he kept a copy from when it first came out? Who can say, but there is little doubt that Joe liked the image.
But there was also an unexpected link. When I looked at caption to the illustration of this painting in Lesser's book it said the original was from the Steranko collection. Seems like Jim and Joe have similar tastes.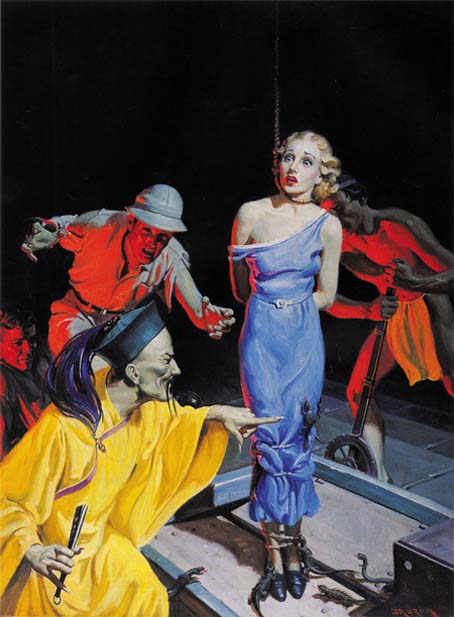 The Mysterious Wu Fang (March 1936) by Jerome Rozen from the book Pulp Art by Robert Lesser