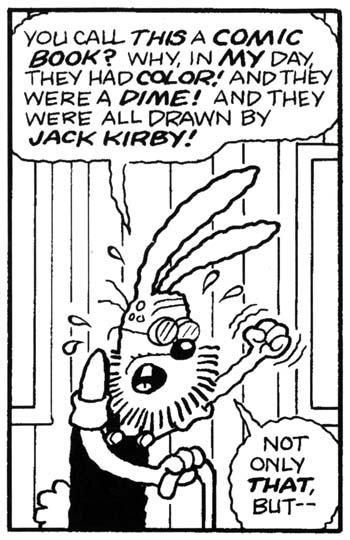 Panel from Usagi Yojimbo #100
I have found that many Kirby fans do not read current comic books. It is an attitude that I frankly neither understand nor share. Granted the days are long gone when you could pick up any Marvel comic and be pretty sure of a good read. When I was young my brother and I would buy Marvel's entire superhero line and Sgt. Fury. Today I suspect anyone on a allowance would not be able to afford to do the same thing. Heck even though adult readers might be able to afford to buy the entire Marvel line would they really want to?
Nonetheless there are still good comics being made (some of them even by Marvel). Often you have to go out of the standard superhero genre. One of my favorites is Usagi Yojimbo written and drawn by Stan Sakai. One might think a comic about a samurai rabbit is as far from Kirby as one could get. One might think that but one would be wrong. Every so often Stan does a pose that reminds me of Jack. I think Jack would approve. I have read comments by Jack that artist can learn things from his work but that they should express them in their own style.
Recently the Usagi Yojimbo #100 issue came out. Not a bad run for an artist especially when you consider that this is the hundredth Dark Horse issue. Usagi had a pretty good history before Dark Horse, they say totally it amounts to 160 issues. Stan and Dark Horse decided to celebrate the event anyway and put together a special celebration. This particular issue is the type of comic only a fan would enjoy, but if you are a fan it is a lot of fun. I particularly got a kick out of a panel that I show at the start of this post. Was this a sort of composite portrait of the standard Kirby fan drawn as a rabbit? I purposely left out the credits with the image. This panel is from a few pages drawn by Scott Shaw! and written by Mark Evanier. Yes that Evanier, former Kirby assistant and renown comic scholar. Stan Sakai (lettering) and Mark Evanier (writing) have a long history together with Sergio Aragones (art) working on a comic called Groo. I guess comics must be a small world since you do not need six degrees to connect Stan Sakai to Jack Kirby. You just need Mark Evanier.