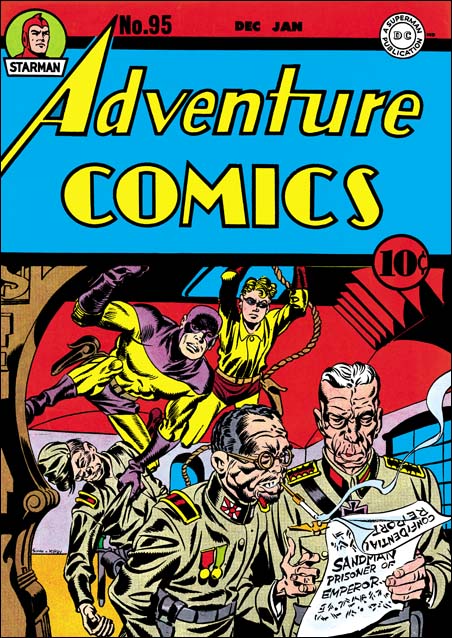 Adventure Comics #95 (December 1944) by Jack Kirby
It was late in the war and both Jack Kirby and Joe Simon were performing their military service. Nonetheless the cover for Adventure #95 was clearly penciled by Jack. Earlier while working for DC and knowing that they would be called to duty, Simon and Kirby had backlogged art for DC to publish while they were gone. It is an indication of the importance that S&K gave toward covers that the stories they provided for Adventure Comics ran out months ago (the last in April 1944) while they still left enough covers to last a few more months to come (the last would be for April 1945).
Jack was under a lot of pressure to produce his art quickly before entering the service. However you could not tell it by looking at this cover. The cover was both beautifully composed and drawn. I use the term 'beautifully' to describe the manner of execution not the subject matter. One would hardly use that term to describe either the Japanese or the German officer. Today such depictions would not be considered politically correct. During World War II what was considered correct was politically something very different. Germany and Japan were our mortal enemies and as such their appearance were meant to reflect their "brutal nature". Certainly Kirby has captured that quality in this cover. In order to be truly patriotic it was not enough to depict the enemy negatively, one also had to make fun of him and show the superiority of Americans. The Japanese officer smugly shows his German counterpart an announcement of the capture of Sandman. But of course this was obviously all part of Sandman's plan because there he is with Sandy ready to pounce on the as yet clueless pair.
That this scene was supposed to be taken place in Japan can be shown by the soldier that Sandman has so quietly subdued. Another clue is the woodwork on our left. I am no more a student of Japanese architecture then apparently Jack Kirby was. But I strongly suspect you would find nothing like this woodwork in Japan. Even so the unusual nature of this wooden frame was meant to suggest the orient and therefore Japan and not America or even Germany. As if their appearances alone are not enough to label the officers as foreign, Jack provides a monocle for the German and cigarette holder for the Japanese. I find it interesting that the same symbol, in this case the cigarette holder, was used to identify someone as foreign and at the same time be such an important part of the image of that American icon, President Franklin D. Roosevelt.