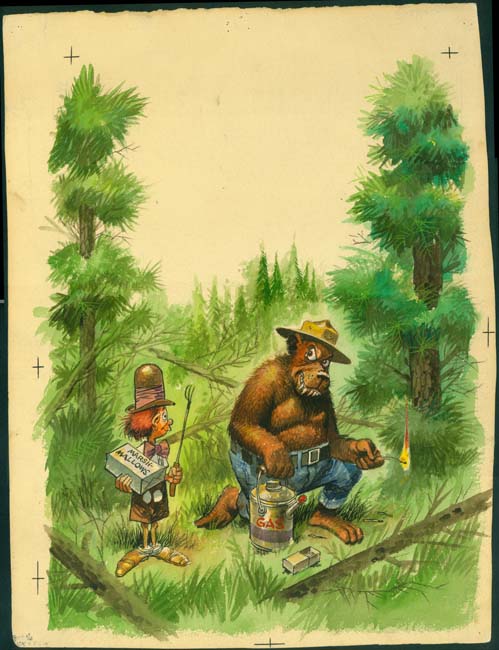 Sick #23 (September 1963), art by Jack Davis (original art)
Joe Simon had a large art collection. It might be expected that most of it would consists of work that Joe did himself or were drawn by Jack Kirby as part of their long collaboration. While Joe owned a fair amount of art drawn by Kirby it still amounts to a small fraction of the total collection. Over his career Simon worked with a lot of artists and work by many of them were in his collection. One that Joe particularly liked was Jack Davis. Joe would say that Jack Davis was as great an artist in his specialty as Jack Kirby was in his. Davis was probably most famous for his covers for Mad magazine but he did cover art for other satirical magazines as well with Joe Simon's Sick being one of them. Joe's collection has a number of the Sick covers that Davis creates, all of them quite wonderful.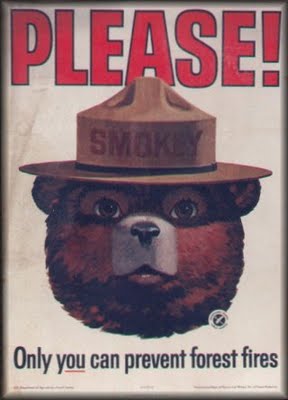 Smokey the Bear poster
Sick was a knock-off of Mad and featured the same irreverent humor. Public icons were frequently subjected to a humor that many adults of the day would find objectionable. Of course that was the whole point. When I was young Smokey the Bear advertisements were quite common but he has since been retired. Although a bear, he had a friendly face not like the toothy bear with an evil grin found on the cover of Sick #23. There he was accompanied by Huckleberry Fink. Huckleberry Fink was the mascot for Sick while Alfred E. Neuman had the same role for Mad.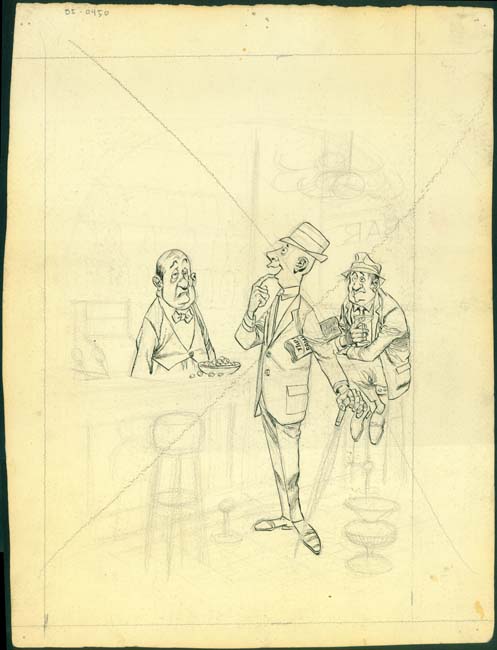 Sick #23 (September 1963), art by Jack Davis (back of the original art)
The back of original comic book art sometimes has interesting art but that found on the back of the art for Sick #23 seems something special. It appears to be an uncompleted cover art for a humor magazine. The size pretty much matches the image that was actually used for the Sick #23 cover and there is ample room at the top for the magazine title. The barroom scene includes three wonderfully characterized figures. It is really quite nice but to be honest I do not understand what is supposed to be the point. Perhaps that is why the art was abandoned. Typically the humor of a cover by Jack Davis is quickly comprehended without the need for thought balloons or any text. That quality is lacking for this unfinished art and is probably the reason the work was suddenly terminated. But there was no reason to waste the cost of the paper so the opposite side was used to create the more successful cover art.