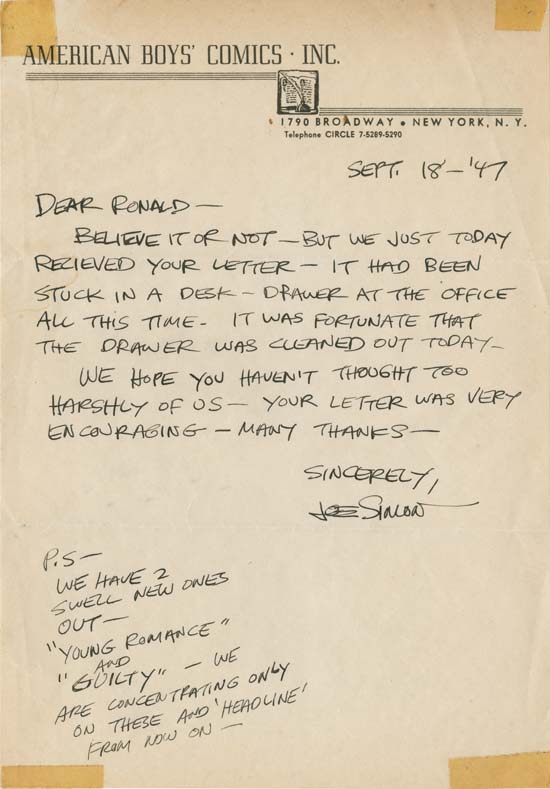 Fan letters did not play a part in Simon and Kirby productions. That is not to say that fans did not write letters just that Simon and Kirby comic books did not include a letters section. I have never seen a fan letter to Simon and Kirby but obviously there were some because there does exist a letter that Joe wrote in response to one fan, Ronald. This letter was issued at a critical time. After the failure of Simon and Kirby's work for Harvey (Stuntman and Boy Explorers Comics), Joe and Jack were forced to find whatever work they could. They ended up simultaneously working for two companies; Hillman (Clue, Real Clue, as well as some other titles) and Prize (Headline). This letter was written at the time that they stopped working for Hillman in order to devote themselves to Prize. Apparently the original fan letter was misplaced and only recovered Simon and Kirby were vacating Hillman.
American Boys' Comics Inc. was one of the names used by Prize Comics; Crestwood Publications and Feature Publications were two others. The name American Boys' Comics was used mostly during mid-forties but its use seems to have been discontinued not too long after Joe's letter. However there was no change of address to accompany the name change.
Ronald must have been very pleased to receive this reply to his fan letter from Joe as he kept very good care of it. The paper has yellowed but the preservation is otherwise very good except for the remains of tape on the four corners. Ronald probably had taped into a scrapbook.