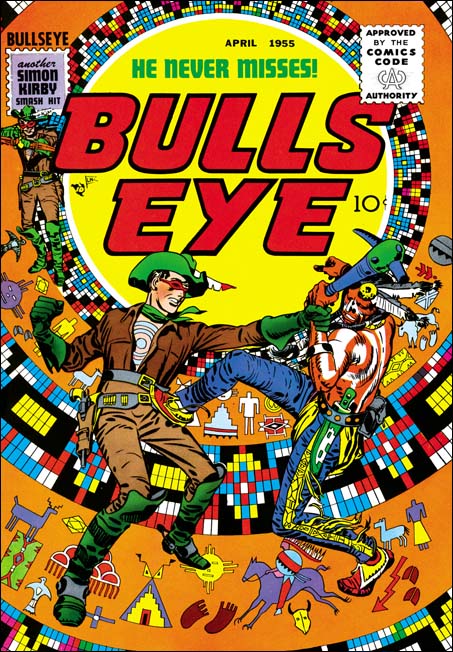 Bullseye #5 (April 1955), pencils and inks by Jack Kirby
Simon and Kirby were big self promoters. They often signed the art they created and included a "Simon and Kirby Production" label in the books that they put together for Prize Comics. Which is why it was so unusual that their names were never used in any of the earlier issues of the Mainline titles. Bullseye #5 was the first to include a stamp reading "another Simon and Kirby smash hit". The exclusion of their names from the Mainline titles up to now was probably an attempt avoid a conflict with Prize for whom Joe and Jack continued to produce comics. I do not think it is a coincidence that the first issue with the Simon and Kirby stamp was also the one with the first postal statement in which Joe and Jack are listed as the editors. If the people at Prize had not figured out who was behind Mainline Comics before this, the gig would certainly have been up with this issue.
My favorite Simon and Kirby cover keeps changing depending on my mood, but if I were to pick the top dozen covers they would always include that for Bullseye #5. The bulls-eye pattern has played the central design element of all the title's previous covers, but it was truly inspirational to convert it using Indian motifs. The bulls-eye now looks like some sort of flattened teepee. It is a pretty busy pattern, so the foreground is just Bullseye grappling with an Indian. The whole thing is topped of by some really beautiful inking of the figures by Jack Kirby. The image I provide has not been restored but rather was based on progressive proofs. Progressive proofs were made of the individual color plates and the sequential combinations that they would undergo during printing. This usually was done from the lighter colors to the darker ones so that proofs were made of yellow, magenta, yellow + magenta, cyan, yellow + magenta + cyan, black then the completed combination of all plates. The above image was made by scanning the individual proofs for yellow, magenta, cyan and black then overlapping them in Photoshop. No editing was needed to provide the most accurate recreation of the original Bullseye cover possible.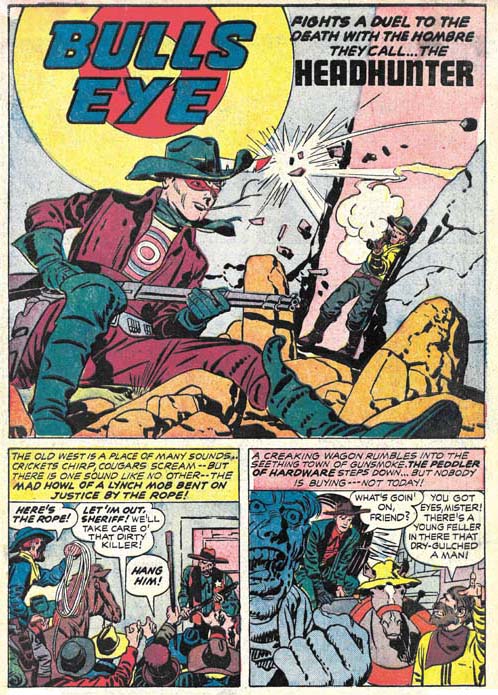 Bullseye #5 (April 1955) "Headhunter", pencils and inks by Jack Kirby
A classic western tale of a cowboy accused of murder, a lynch mob looking to bypass justice, a bounty hunter aiming for a payoff at any price, the true killer trying to pin his crime on an innocent man, and off course Bullseye to save the day. This is the first issue of Bullseye published under the overbearing eye of the Comic Code Authority. However Bullseye was never overly violent and so the censorship does not really detract from this fine story.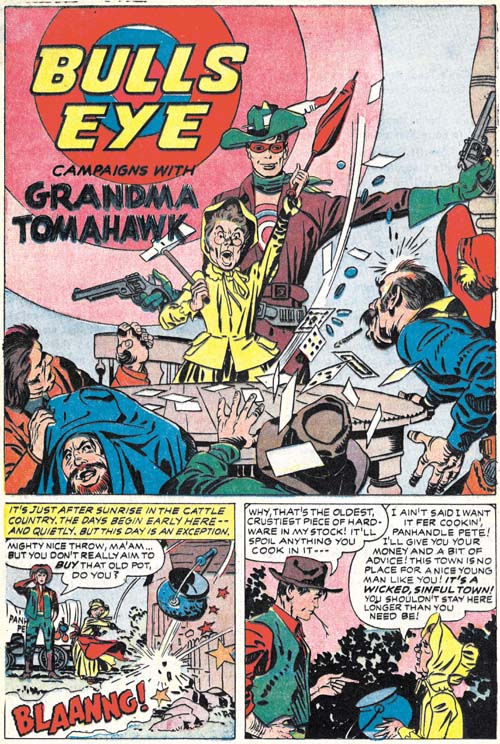 Bullseye #5 (April 1955) "Grandma Tomahawk", pencils and inks by Jack Kirby
"Headhunter" was pure drama so Simon and Kirby backed it up with a humorous piece, "Grandma Tomahawk". A small but spunky elder lady leads a crusade against alcohols and immorality with secret help from Bullseye. One again inked by Kirby himself except for page 2.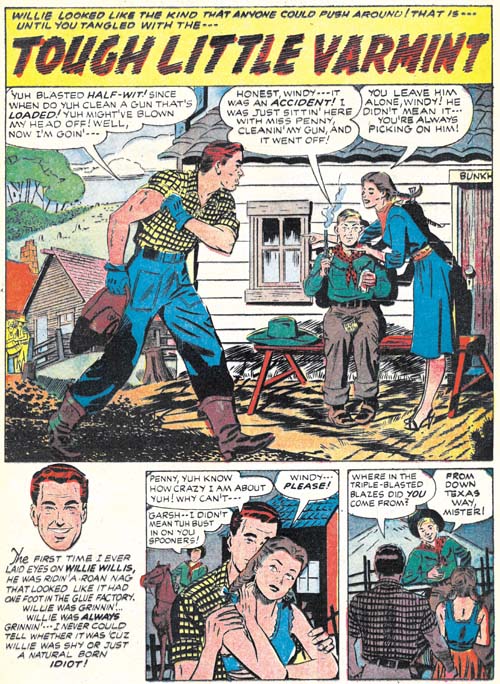 Bullseye #5 (April 1955) "Tough Little Varmint", art by unidentified artist
Another humorous piece but this time drawn by an artists other than Kirby. Frankly few attributions have given me more trouble than trying to figure this piece out. There are suggestions of Mort Meskin throughout but on a whole this look so unlike his work that I very much doubt that he was the penciler. The inking is very distinct from Mort's style as well. I played with the idea that this might be have been done by George Roussos whose work often shows Meskin's influence. But comparing side-by-side this piece with some by Roussos shows they are very distinct. And again the inking is nothing like that by Roussos. It is very frustrating not to be able to come up with a convincing attribution because the artist clearly was very talented.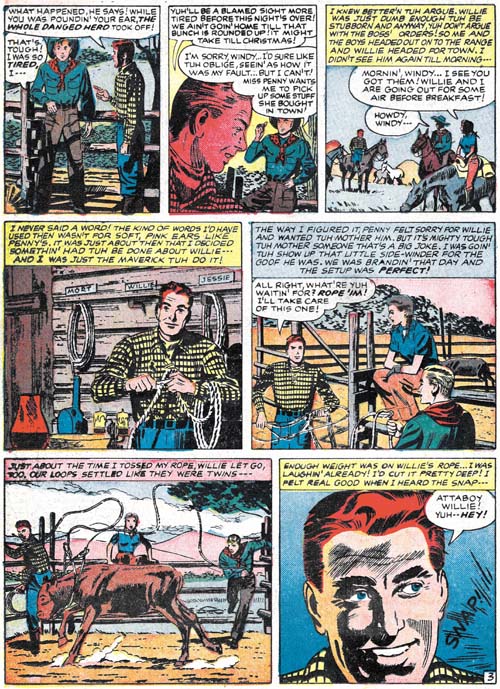 Bullseye #5 (April 1955) "Tough Little Varmint" page 3, art by unidentified artist
Mort was not that common a name so I consider the placard with that name in panel 4 as a homage to Meskin by the artist of this piece.
I do not think it is a coincidence that the leading lady of "Tough Little Varmint" and "The Adventures of Sheriff Shorty" (Bullseye #3 link 1) were both named Penny. The most likely explanation would seem to be that the scripts for both were done by the same writer.