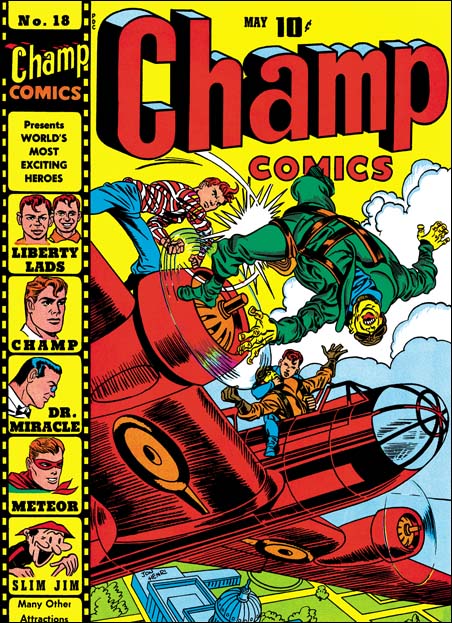 Joe and Jack had done three covers for this series when it was published by Worth under the title Champions. Now the line was being done by Harvey after his unsuccessful pocket comics. Here and in the comics published at the same by National, we find the start of the real Simon & Kirby style. I believe the reason this happened now is that before at Timely there was a large crew working on Captain America. But initially there was probably only Joe and Jack at National. This really forged their collaboration. The Captain America covers were exiting but now Joe and Jack have taken it to a new level. Forget about how the Liberty Lads managed to get into this aerial fight. Who cares how one of them is able to slug a Jap off the plane with the propeller in between them? What matters is the story of the daring rescue of our capitol from the Japanese menace. How could a kid possibly pass this cover up without at least stopping to see what was inside. Unfortunately the contents did not, could not, live up to the cover. For that the comic reader would have to buy National's Adventure or Star Spangled comics.
Another Harvey cover signed as Jon Henri. But does anyone have a doubt, that Kirby penciled this cover?
By the way, the Checklist uses an incorrect date for this cover as well as for #19, #20 and #21. They were all done in 1942, not 1941.